This months Poppins Book Nook theme is Composers. Introducing this subject to my daughter has been on my long list of to do's for a while now, as there have been so many natural openings to do so. My daughter LOVES to dance! I mean probably daily she dresses herself up in a costume, sometimes assembles an audience (aka dolls, teddies, or ponies), asks me to put music on for her, and puts on a show.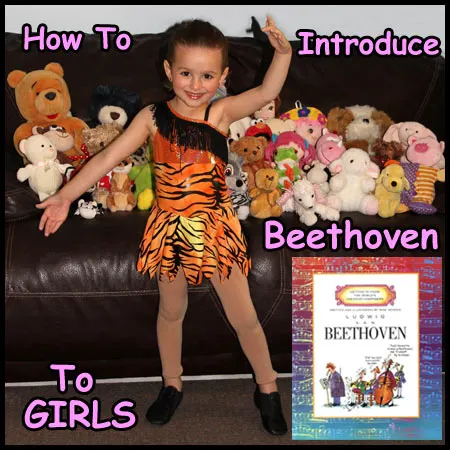 She enjoys dancing a variety of styles but her preferred I'm confident to say is ballet. She's a true girly girl, that loves pink and pretending she's a ballerina. Somehow she figured out that ballet and classical music go well together. She doesn't use the word classical, but asks me to "put on music that doesn't have words in it". I previously didn't really have a lot of classical music except for a part of "Symphony No. 9 in D Minor" by Beethoven, so she very quickly learned to ask for the song by name when she wanted to dance ballet.
So this month I decided it was a great time to introduce Beethoven and a few of his more familiar works to her.
We started with the book Ludwig Van Beethoven
from the series "Getting to Know the World's Greatest Composers". In a kid-friendly way, it told the story of Beethoven's life in a way that is appealing and fun for kids to learn about. It also touched on a few pieces of his music. I personally am all for when I find a book that makes learning a topic fun.
Whenever the book mentioned any of Beethoven's music, I would do a search on iTunes and let my daughter listen to a few of the song previews so she could hear the music she was reading about.
As a treat for my daughter, I chose 3 of his more familiar pieces and downloaded them from iTunes. I know she will have a lot of opportunities to listen to each song every time she decides to dance ballet. As well, dancing to Beethoven's classical music allows my daughter to create her own interpretation of each song. For example, she feels the mood of Moonlight Sonata is more on the sad side and dances to it accordingly.
Symphony No. 5 In C Minor, Op. 67 "Fate": I. Allegro Con Brio
I now often hear my daughter humming one of these songs, so I feel I've accomplished my goal. I didn't want to drown her in classical music, but simply expose her to it. So that when she hears one of these songs, she will recognize it. For example, the Symphony No. 5 song my daughter informed me was "Peg & Cat's song", as she heard it before on the popular kids show. At least now when she hears it on the show she will remember that the music was composed by Beethoven, and she knows a little bit about who Beethoven was.
They say kids learn best through play and I totally agree. I often see my daughter incorporate things she's learned into her play. The other day she decided all on her own to compose her own song. She sat down at her school desk, took out a paper and started writing. I had no idea what she was doing, except she kept asking me "How do you spell…?" and I heard her singing and trying out different notes. At the end she handed me a paper that has lyrics she came up with and written on the paper she also marked where there should be trumpet, trombone, and piano. There were also letters randomly placed on the page (C, B, A…) which was her way of showing the notes, and also numbers indicating the timing. I was quite impressed.
Writing the numbers, I'm sure she got from the free online piano lessons she does. She has already completed a few lessons on composition. I decided to replay for her a lesson on rhythm composition, after which she had fun composing the rhythm to her song. Overall, introducing my daughter to Beethoven was a great success that brought a lot of learning fun.SaveSave