Here's a free printable kindergarten family word search.
The word search puzzle is a fun and educational activity for kindergarten or preschool children.
It's free to download and can easily be printed from your home or classroom printer.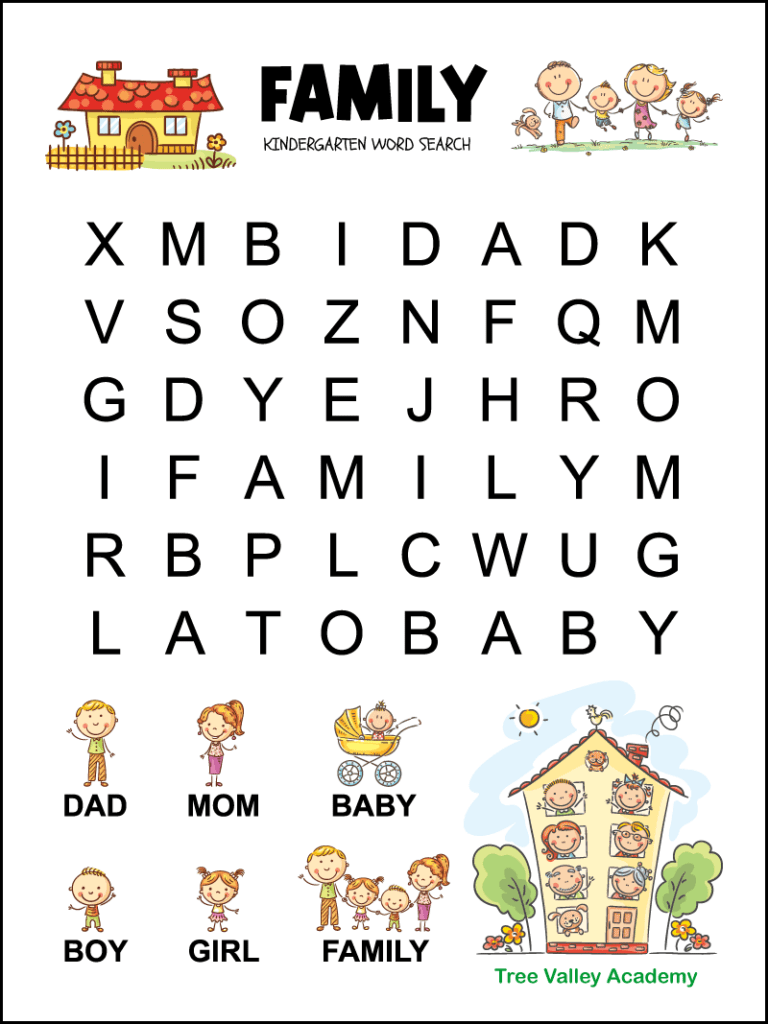 Difficulty Level
This is an easy beginner level word search ideal for young children who are new to word searches, especially kindergarteners and preschoolers.
Kids don't need to be able to read to do this puzzle as each word has a picture beside it showing them what the word is.
Words to Find
The family themed word search only has 6 hidden words for kids to find and circle.
Most of the words are simple 3 or 4 letter family themed words. Words of family members like:
The last word "family" is a little larger with 6 letters.
The family words are hidden in a 6 X 8 grid of uppercase large print letters.
The words are not too hard to find. They can be found horizontally in the direction we read (from left to right) or vertically (from top to bottom). There are no diagonal, backwards or upside down words.
Educational Learning Activity
The kindergarten level word search is a fun worksheet that helps kids build reading skills.
Children will be able to read the words to find with the help of a small picture beside each word.
They will be reading it again when they find the word in the puzzle.
Free Printable Easy Family Word Search
The family word search for kindergarten can be downloaded free below.
The printable pdf contains 2 versions of the puzzle to choose from. There's:
a version in color
a black and white version to save on ink
For those that choose to print out the black and white version of the puzzle, children will be able to have fun coloring all the pictures.
The last page of the pdf is an answer page.
More Kindergarten Word Searches
Looking for some more fun easy beginner word searches for kindergarten or pre-K? I've got you covered. They all have large print letters and pictures for each of the words.