If you're having trouble accessing any of the free printables, check this frequently asked question section to see if your question is answered.
If you have a question that is not answered on this page, please ask your question in the comments and I will do my best to answer.
How Do I Print A Printable?
Most of my free printables are subscription based. That means to get instant access to the printable you need to first sign up with your email address.
At the bottom of the post you should see a coloured box where you can enter your email address and first name.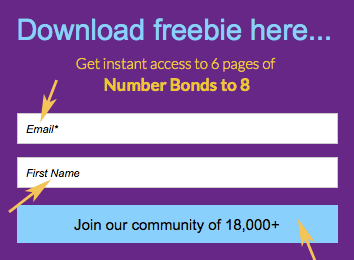 Enter that info and then click the button to join the community.
Immediately the printable will open.
At the top right of the printable page, you will see options to download the the pdf to your computer or just print it directly.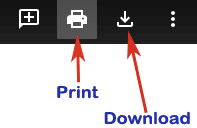 Why do I need to give my email address each time I want to download a free printable when you already have my email address?
Consider your email address your login to access the free printables on this website.
Just a tip, after the first time, you don't need to enter your first name anymore, the email address will be enough.
The email program I use, keeps track of which printables you have logged in to download. I use this information to make sure I don't email you about the same things you already have downloaded and to try and email you only about things I think you might appreciate.
Why Do I need to give my email address before printing a free printable?
A lot of time and work goes into my creating the printables. The vast majority I am giving away at no cost. However there is considerable cost, time and expenses for me to run and maintain the website.
I try to recoup those costs through advertising revenue. I get advertising revenue when I have traffic on my site. And one of the ways I get traffic is through my email list.
So you get quality educational worksheets and homeschooling resources for free, and in exchange you give me your email address. This allows me to email you from time to time and let you know of other printables I've created or other homeschooling resources I think you might be interested in.
When you revisit my site because you've clicked on a link in an email I've sent, you're getting quality educational worksheets, and I'm getting more traffic, which brings me advertising revenue. So it's a win win for both of us.
Your email is not used for any other purpose. And I will not spam you. To date I've barely been managing to email once a month. My goal is weekly, but so far that hasn't happened. You're also free to unsubscribe at any time with no hard feelings.
I want to download a printable but it won't work.
I apologize for this and I know how frustrating that can be. In every case I've investigated, the server on the user's end has blocked access. Most times it's because the download was attempted at the user's workplace, and that workplace restricted access.
My suggestion is to talk to your computer administrator if that's possible to see if they can approve access. But probably an easier suggestion would be to try again at your home computer.
I sometimes get emails from readers requesting access. Many times I've tried to respond back and have even tried attaching the printable you've requested to my email back to you. However in most cases, I get an error message when I try replying back to you. The error message basically says your company has blocked access. So if you've sent me a request, and you're reading this, please accept my apologies if you haven't heard from me. I had no way of replying to your message.