These 3rd grade spelling words are grouped into themed weekly lists. This will help make spelling a little more fun for your third grader.
The 36 weekly spelling lists are free to download and print.
There is also a growing collection of printable spelling worksheets and activities that go along with the words of the week.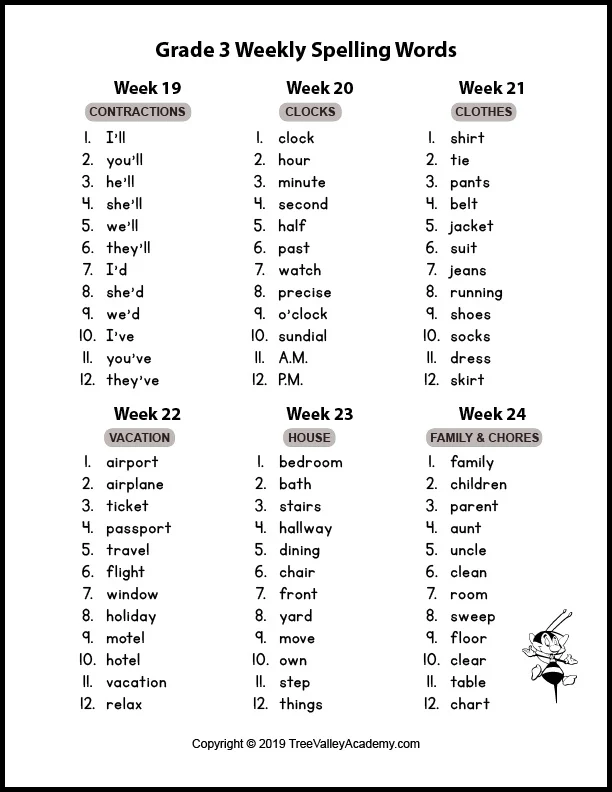 Themed Spelling Lists
In an effort to make learning to spell a more enjoyable experience for children, I've created these themed spelling lists.
As each week has a different theme, no spelling week will feel the same, helping alleviate boredom.
They also allow for more opportunities to use the words in its correct context which helps build vocabulary connections.
For example, the theme of one week is "Baseball". You might decide to incorporate different baseball learning activities during that week. The words will then be very familiar to the child and have meaning to them, as opposed to just random words they have to learn.
Another weeks theme is "Fairy Tales". This might be a good week to focus on reading a few fairy tales. When the child is having a lot of exposure seeing and reading the same words, it will make learning to spell them that much easier.
36 Weekly Spelling Themes
There are 36 weekly spelling themes for these grade 3 spelling words. They are listed below.
Some themes below are linked to the weekly spelling list.
Y as a Vowel
Animals
Contractions: To Be
Mixed Bag of Words
Shopping & Money
Fairy Tales
Music
Medical
Contractions: Not
Contractions
Clothes
House
Family & Chores
Manners & Greetings
Outer Space
Shapes
Math
Trees & Nature
Colors
Fruit Adjectives
Homophones
About these 3rd Grade Spelling Words
36 weeks of words
12 words per week
Of the 432 words, 180 of them are Fry words. 52 of the words are Dolch words.
So by the end of third grade, including the first and second grade words, your child will have learned the spellings of 589 Fry words + 563 additional words. 286 of the words learned will have been Dolch words.
spelling lists are secular
Printable 3rd Grade Spelling Words
The themed lists of grade 3 spelling words can be downloaded free below. It's a 6 page printable pdf.
3rd Grade Spelling Worksheets
New spelling games, word puzzles and worksheets to go along with these spelling words are continually being added. Here is the link where you can see a list of all the 3rd grade spelling activities to date.
More Elementary Spelling Lists
Not yet ready for third grade spelling words? Here are the spelling word lists for other elementary grade levels: