If you're looking for a word search for kids, this is the place to find a collection of free printable puzzles with varying themes.
Back To School Word Search
These back to school word search puzzles are a nice activity for the beginning of a school year. There's a word search for 2nd, 3rd, and 4th graders.
If you have an older elementary aged student, you can try this 5th grade back to school word search or this 6th grade puzzle.
Or, for kids ready for a challenge, you can print off this difficult back to school word search.
Weather Word Search
Complete a weather unit with one of these weather word searches: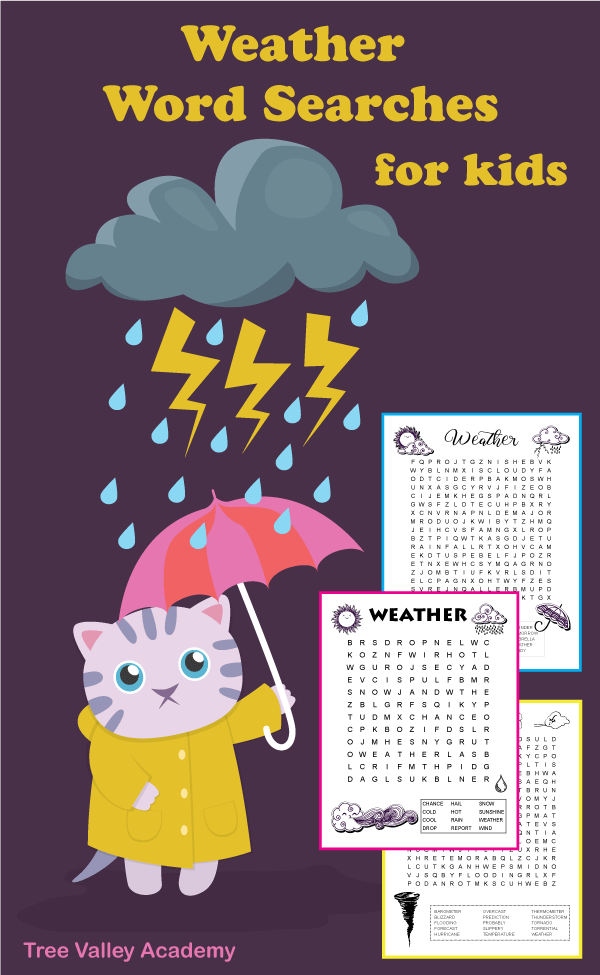 Apple Word Search
This apple word search printable is ideal for first graders. The letters of the puzzle are in the shape of an apple. There are 20 words to find.
Here's another apple themed word search for grade 3. This puzzle has 17 third grade words.
Fall Word Searches
Try one of these autumn themed word searches. There's a fall puzzle for each level of difficulty: easy, medium or hard.
Winter Word Search
A winter word search is a fun educational activity for kids to do on a cold winters day.
As of this moment, there is a 3rd grade winter word search and a 5th grade puzzle.
Spring Word Search
Celebrate spring in the classroom with a spring themed puzzle. Here is an easy spring word search for 1st grade.
Teachers can even send a spring break word search home for kids to work on during their week off.
And for elementary aged kids that can handle a bigger challenge, try this difficult spring word search.
Earth Day Word Search
Here's an easy Earth Day word search best for 1st or 2nd graders.
And if you need something more challenging, then try this Earth Day word search for 6th grade.
I created all kinds of Earth Day activities including this save the planet Earth word search puzzle. It has 35 Earth Day words and once completed will reveal a hidden message.
Summer Word Search
Summer word searches can be a relaxing past time for kids in the summer months.
Here are 3 summer word search puzzles with spelling words from 2nd, 3rd, and 4th grade respectively.
And if your child can handle a little bit more of a challenge, try this summer holidays word search that has 35 hidden summer words.
If you're going camping as a family, you can bring along this difficult camping word search, or this campfire camping word search.
French Word Search
Here is a french body parts word search. Kids can work on their french vocabulary by searching for the french words for various body parts.
I will be making many more french word searches in the future.
Word Searches by Grade Level
Here is a list of the printable word searches by grade level:
1st Grade Word Search
2nd Grade Word Search
3rd Grade Word Search
4th Grade Word Search
5th Grade Word Search
6th Grade Word Search
Educational Benefits of Word Searches
I find word searches especially useful for helping students learn spelling words. It is also beneficial for improving a child's reading and vocabulary skills.
Spelling
Spelling is worked on, as the whole idea of the puzzle is to focus on finding the letters that make up each word.
They will be looking at the letters that make up a word, possibly repeating the letters to themselves as they search for a word, and further reinforcing the words spellings when they find the letters in the puzzle.
Vocabulary
Another benefit of word searches for kids, is it helps them improve their vocabulary skills.
As word search puzzles usually are based on a theme, the words of the puzzle usually relate to that theme.
Sometimes they will be introduced to a word or words they aren't familiar with. For example, the 5th grade winter themed word search has the word "solstice". Looking up the definition of any word or words they don't know, well help increase their vocabulary.
Reading
A smaller benefit of a word search for kids is working on reading skills. Children usually begin a word search by reading a word. If a child doesn't know how to read the word, they're going to try to sound it out, or even ask someone how to say the word.
Think of a word search as a way to master the reading of words of a theme. So after completing a 1st grade apple word search, kids will be able to read more fluently any children's books about apples.
So choose any word search for kids above. They are all free and printable. Answers almost always accompany its puzzle.