Here is a free garden word search you can print out for your kids.
A word search for kids can be a relaxing activity that also has the benefit of helping kids work on their spelling.
The large print of the puzzle will make it easier for kids to search through the letters to find all the garden themed words.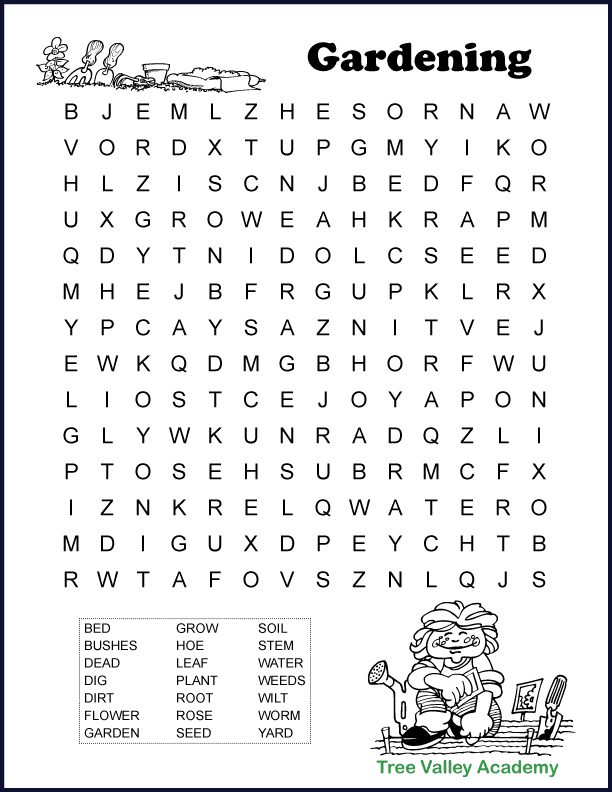 For kids that enjoy a bit of coloring, there's a couple gardening pictures for kids to color.
Difficulty Level
This word puzzle is best suited for elementary age students in 1st, 2nd or 3rd grade.
Twelve of the words are from the gardening themed spelling list of the 3rd grade spelling words. The remaining words are at a 1st, 2nd, and 3rd grade spelling level.
There are 21 hidden garden themed words for kids to find and circle. They are hidden in a 14 X 14 grid of letters.
The words of this printable puzzle are hidden in all directions – horizontally, vertically and diagonally: forwards and backwards.
Printable Garden Word Search
You can download and print the gardening word puzzle below. The free pdf comes with an answer sheet to keep things easy for teachers and parents.
More Fun Word Puzzles for Kids
Your primary school children might also enjoy these free educational word puzzles:
Answer Key
Here is a color-coded answer key in case you need to help a child find a word: