Spelling can be fun! These Grade 4 spelling words aim to do just that with a variety of weekly themes.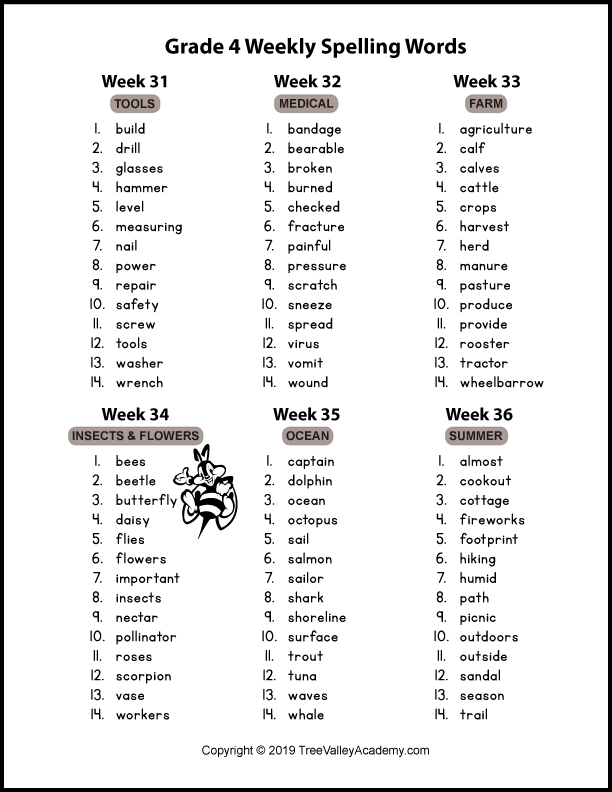 Spelling Lists
I'm not a fan of spelling lists. At least for us trying to learn to spell with a list has been extremely boring.
The words are usually random words without any context associated with them – just words on a page, instead of words rich with meaning.
I found my daughter would "get through" learning the words she was supposed to learn but had trouble retaining much in the following weeks.
This only makes sense as with learning anything, to absorb things well, it helps to have as many connections as we can to real life. So with that goal, I decided to create spelling lists with weekly themes.
Spelling Lists With Weekly Themes
Since each week has a different theme, no spelling week will feel the same, which helps alleviate boredom.
Also, the words will have more meaning behind them as they will be able to work with them in their context.
For example, the theme of week 14 is "Baking". You might decide to do some baking with your kids, allowing them to not only read a recipe but perhaps write down some of their favourite recipes.
They will be reading, and using and writing the words, and probably saying them out loud as they read an instruction to you. And so, learning the spellings of these words will naturally be happening.
There are 36 weekly spelling themes for these grade 4 spelling words. They are:
Silent Consonants
Mixed Bag of Words
Friendship
Art
Geography
Emotions & Feelings
Sports
Baking
Hair & Beauty
Books
Math
Words
Fairy Tales
Movies
Fractions
Babies
Homophones
Eating Out
Fashion
Bank Account & Money
Tools
Medical
Farm
About these Grade 4 Spelling Words
36 weeks of words
14 words per week
504 words total: 183 of them are Fry words and 18 are Dolch words.
By the end of fourth grade, your child will have learned the spellings of 770 Fry words + 886 additional words. 304 of the words learned will have been Dolch sight words.
secular spelling lists
You can download a free printable .pdf of the themed grade 4 spelling words below.
Are you looking for a different grade level?