Here is a free printable book themed crossword puzzle for kids.
A crossword puzzle is a fun way to build vocabulary. This word puzzle is a perfect vocabulary and spelling activity for elementary students 4th grade older.
There are 2 versions of the puzzle to choose from. There's a version with and without a word bank.
It is free to download and print.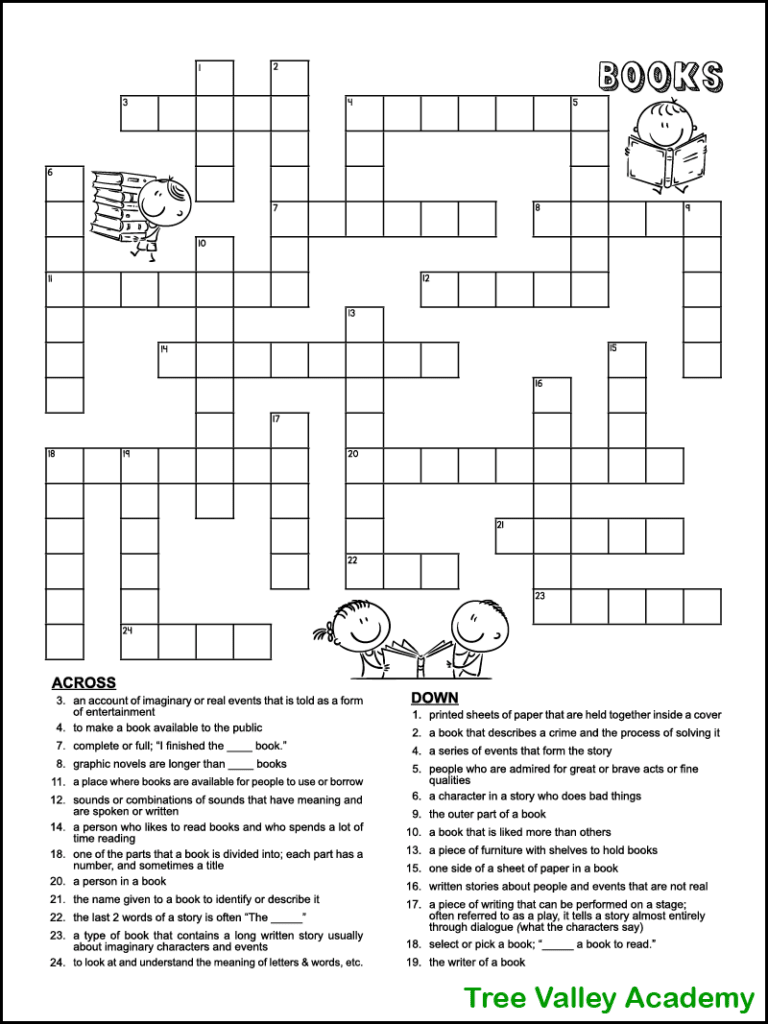 Difficulty Level
The book themed crossword puzzle is best suited for elementary students 4th grade or older.
Children working on the book themed grade 4 spelling list will especially benefit as all of the words on their list are included in this puzzle.
There are 26 words to solve. Most of the clues given are definitions of the word.
Some of the clues are not too difficult to solve. There are a few clues that might challenge the student, if they had not previously learned the book and literature vocabulary.
To help with this, a few minutes advanced preparation making sure they know some of the vocabulary will help them greatly when doing the puzzle.
How to Use This Crossword Puzzle
The crossword puzzle is a great way for kids to build their vocabulary and work on spelling.
Here's one way to use the puzzle to help maximize the student's learning:
print pages 1 and 3 of the pdf. Page 3 is the answer page of the puzzle. It also has a list of the 26 words used in the puzzle.
Get the word list by cutting on the dashed line.
Give the word list to your student. Ask them to go over the list and highlight any words they are unsure of its meaning.
Ask them to look up in a dictionary any words they are unsure how to define. They might be looking up words like: drama, fiction, novel, and plot.
The next step is to focus on spelling. Ask them to go through the list and put a little check mark beside each word they think they know how to spell.
Have them spend a couple minutes going over the spelling of any words that didn't receive a check.
Now they are ready for the crossword puzzle.
Take away the list of words when they do the puzzle. You can give the word list back to them later, if after having done the puzzle, there were some words they were stuck on.
Book Themed Vocabulary Words
The crossword puzzle has clues or definitions of 26 words. Here are the book themed words of the puzzle:
author
book
bookcase
bookworm
chapter
character
choose
comic
cover
drama
end
entire
favorite
fiction
heroes
library
mystery
novel
page
plot
publish
read
story
title
villain
words
Printable Book Themed Crossword Puzzle
The book themed crossword puzzle can be downloaded free below.
The 3 page pdf includes:
2 versions of the crossword puzzle (with and without a word bank)
an answer page (which includes a word list)
The printable puzzle is black and white to make it economical to print. There are a few cute little images that kids might enjoy coloring.
More Book Themed Activities
This 3D book themed coloring page is great for kids of all ages.
Answer Key
Here are the answers for this book themed crossword puzzle: