Here are the 6th grade spelling words that use weekly themes in the goal of making spelling more enjoyable.
You can download a printable pdf of the 36 weekly spelling lists free below.
There is also a growing collection of printable spelling worksheets and activities that go along with the words of the week.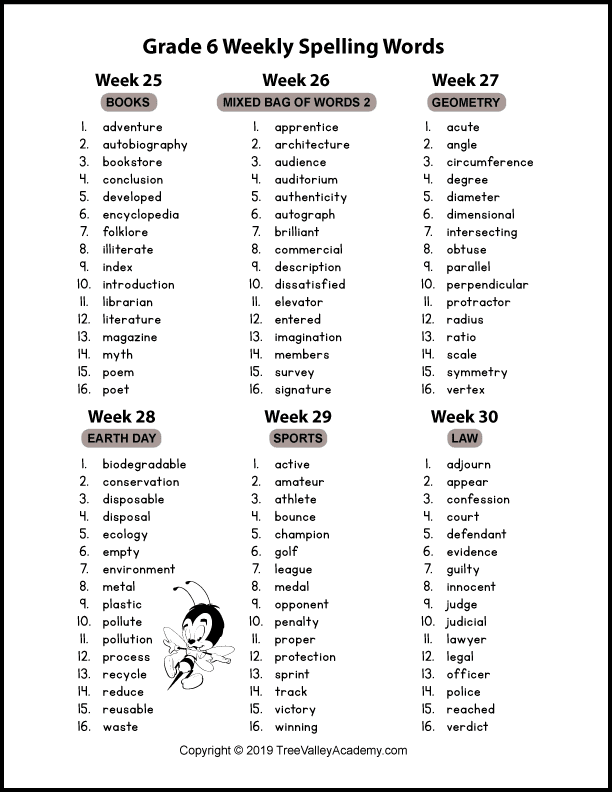 Spelling Lists With Weekly Themes
The grade 6 spelling words have 36 weekly themes. They are:
Silent Consonants
Natural Disasters
Science
Money
Government
IE / EI Words
Tricky Words
Communication & Movies
Shopping
Animals
Winter & Weather
Nutrition & Food
Jobs
In The Kitchen
Eating Out
Mixed Bag of Words
Science 2
Colors & Art
Emotions & Qualities
Words
Books
Mixed Bag of Words 2
Geometry
Sports
Law
Mixed Bag of Words 3
House
Medical
Friendship
Summer
About These Grade 6 Spelling Words
There are 36 weeks of words, 16 words per week.
Of the 576 words, 96 of them are Fry words, and only 1 of them is a Dolch word.
By the end of 6th grade (having previously completed the spelling lists of grade 1 thru 5), your child will have learned the spellings of almost all 1000 Fry words and nearly all of the Dolch words, plus of course many other words.
Secular Spelling Lists
I say "nearly" and "almost" all the Fry and Dolch words because these spelling lists are completely secular. So any words that were in any way religious were not used in these spelling lists.
Since everyone has different religious beliefs, please feel free to add whichever religious words are important to your student.
The Fry words that were not included in these themed elementary spelling lists are: "God" and "church". The Dolch nouns that were not used are "Christmas" and "Santa Claus".
Free Printable 6th Grade Spelling Words
A pdf of the themed lists of grade 6 spelling words can be downloaded free below.
6th Grade Spelling Worksheets
Here is a growing collection of 6th grade worksheets and activities to go along with the weekly spelling lists:
Week 1 – Back to School
Week 15 – Winter & Weather
Week 28 – Earth Day
Week 32 – Space
Week 36 – Summer
More Spelling Lists by Grade
Here are the spelling words for earlier grades: