Here are 5th grade spelling words that use weekly themes to make spelling more enjoyable for kids.
The 36 weekly spelling lists are free to download and print.
There is also a growing collection of printable spelling worksheets and activities that go along with the words of the week.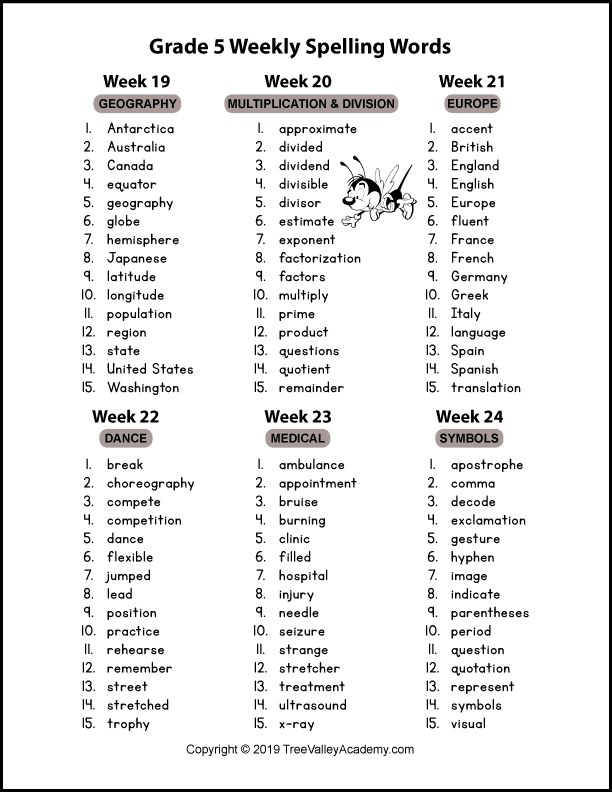 Weekly Spelling Themes
The grade 5 spelling words have 36 weekly themes. They are:
Mixed Bag of Words
Chores
Vegetables
Silent Consonants
Neighborhood
Birds
History
Music
Loud & Quiet
Fashion
Math
Transportation
Science
Geography
Multiplication & Division
Europe
Dance
Medical
Symbols
Groceries
Computers
It's A Party
Wedding
Animals
Jobs
About these Grade 5 Spelling Words
36 weeks of words
15 words per week
English words are at a 5th grade spelling level
540 words in total: 133 of them are Fry words and 3 of the words are Dolch words
By the end of fifth grade (having previously completed the spelling lists of grade 1 thru 4), your child will have learned the spellings of 898 Fry words + 1256 additional words for a total of 2154 words. 307 of the words learned will have been Dolch words.
all spelling lists are secular
Themed Spelling Lists
Themed spelling lists have a lot of benefits.
Possibly one of the most obvious is that it adds some fun and keeps things more interesting, each week being different than the previous.
When something is more fun, it naturally makes learning easier and kids are more motivated to learn the spellings.
There's also the possibility of combining other activities to go along with a week's theme.
For example, in grade 5, students usually learn about the water cycle in Science class. This would be a great time to study the "Water" theme words as they contain a lot of the vocabulary used when learning about the water cycle.
When we're able to build connections to real life learning, it helps with spelling, because the words stop becoming just random words to learn to spell. Instead the words will have more meaning behind them as students are able to work with them in their context.
Free Printable 5th Grade Spelling Words
The printable spelling lists of themed grade 5 spelling words can be downloaded below. It's a free pdf.
5th Grade Spelling Worksheets
Here is a growing collection of 5th grade worksheets and activities to go along with the weekly spelling lists:
Week 1 – Back to School
Week 15 – Winter
Week 26 – Weather
Week 29 – Water
Week 31 – Shapes
Week 32 – Space
Week 35 – Fruit
Week 36 – Vacation
More Spelling Lists by Grade
Are you looking for spelling words for a different grade level?