This water cycle crossword puzzle would make a fun science vocabulary worksheet.
It's ideal for middle school or high school students learning about the water cycle in science class.
Students are given the definition of 24 water cycle themed words to solve.
The printable pdf of the crossword puzzle is free to download and print.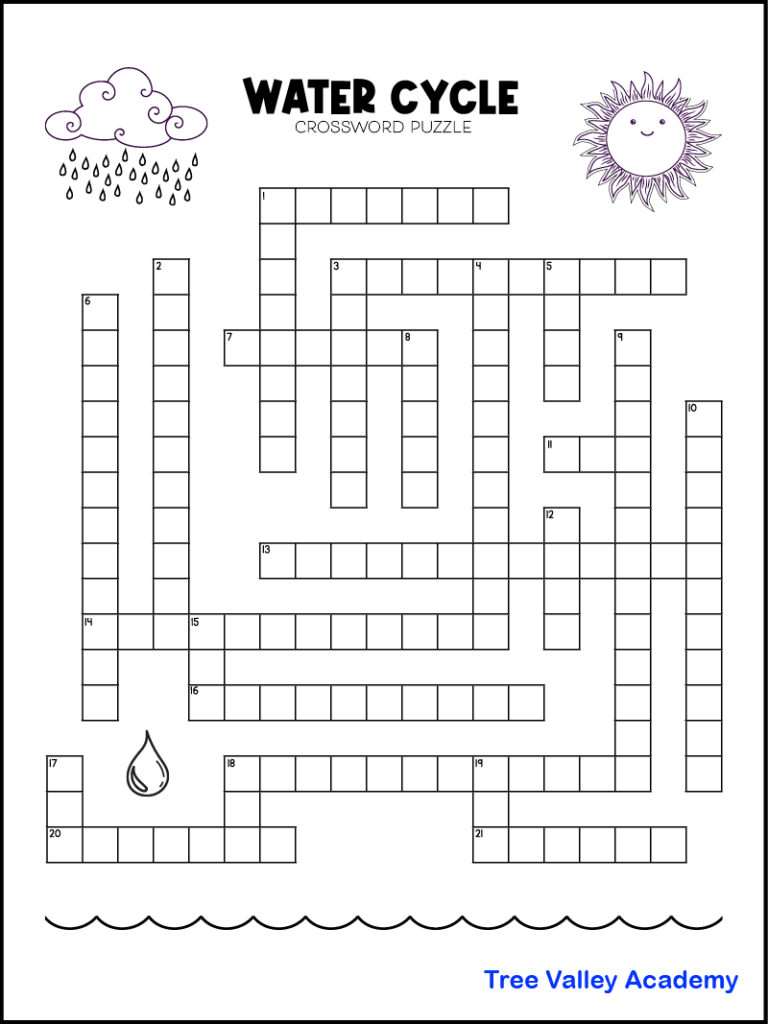 Difficulty Level
The water cycle crossword puzzle is probably best for middle school or high school students.
6 of the puzzle's words are included in the water themed 5th grade spelling list. So advanced 5th graders learning about the water cycle could give it a try to combine spelling with vocabulary. However I recommend that teachers or parents make sure to cover the vocabulary beforehand.
While there are some easier words (like rain, clouds or sun), there is also more challenging vocabulary like hydrological, aquifer and sublimation.
Water Cycle Words
The student will be given the definitions of 24 water cycle themed words.
There are words like:
water cycle, hydrological cycle, and atmosphere
7 of the words are the stages of a water cycle:
evaporation
condensation
sublimation
precipitation
transpiration
runoff
infiltration
There are precipitation words like:
rain, drizzle, sleet, and droplets
Condensation words like:
Collection words like:
aquifer, groundwater, glacier, and ice
And some easier evaporation words like:
Printable Water Cycle Crossword Puzzle
The pdf of the water cycle crossword puzzle can be downloaded free below.
The pdf is 3 pages. It includes the puzzle, a page of clues for down and across, and an answer sheet.
The word puzzle is black and white to make it economical to print.
More Science Word Puzzles
Here are some more science word puzzles for upper elementary to middle school students:
And check out these other fun water cycle activities for kids.