Teachers and homeschooling parents can download a free copy of this printable water cycle word search for kids.
The word search is perfect for 5th grade students and older who are learning about the water cycle in science class.
The water cycle worksheet has 40 hidden words for kids to find. The words to find are grouped into the 4 steps of the water cycle and are shown as part of a water cycle diagram.
When all the words are found, the remaining letters will spell a mystery message.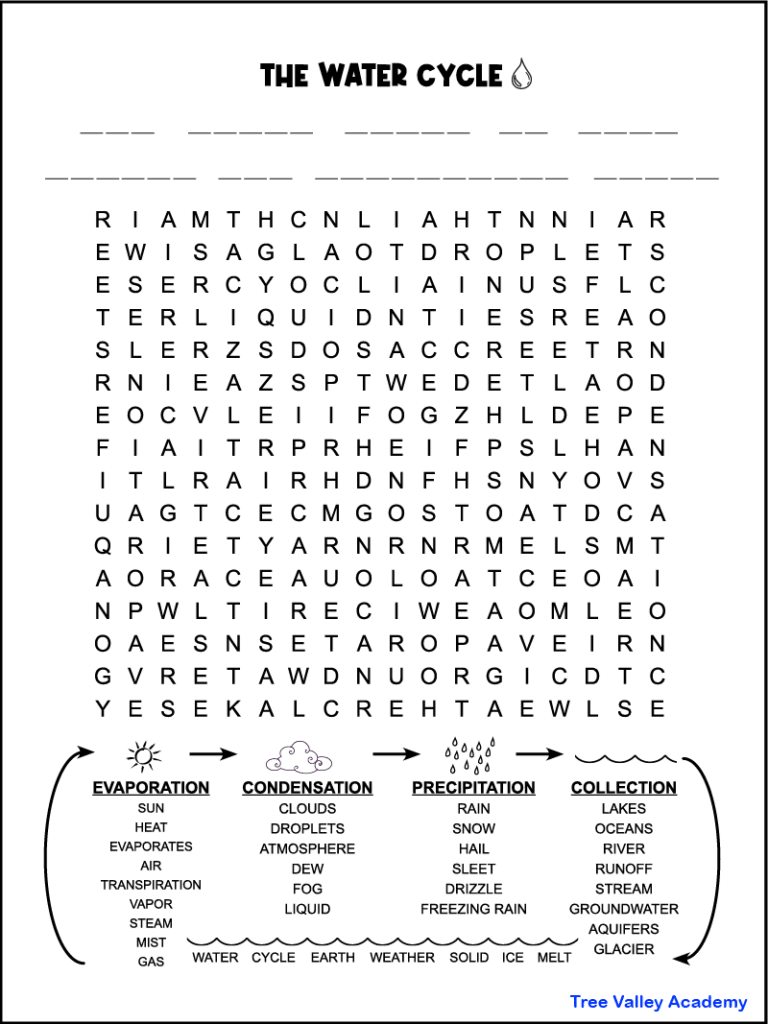 Difficulty Level
The skill level of this water cycle word search is between medium and difficult.
There are 40 words hidden in a 16 X 18 grid of letters.
The words can be found in every possible direction: forwards, backwards, upside down – horizontally, vertically and diagonally.
The puzzle is a perfect spelling activity for children working on the water themed 5th grade spelling list. 10 of the 15 words on the list are included in the puzzle.
Water Cycle Words
This activity sheet has 40 water cycle themed words. There are words like:
water
cycle
earth
weather
solid
ice
melt
The remaining words are grouped into the 4 stages of the water cycle.
There are evaporation words like:
sun, heat, evaporates, air, transpiration, vapour, steam, mist, gas
Condensation words such as:
clouds, droplets, atmosphere, dew, fog, liquid
Precipitation words:
rain, snow, hail, sleet, drizzle, freezing rain
And collection words:
lakes, oceans, river, runoff, stream, groundwater, aquifers, glacier
Mystery Message
This science word puzzle has 40 words for kids to find and circle.
Once all the words have been found, there will be 43 letters left over.
The remaining letters can be written on the lines provided at the top of the puzzle. It will reveal an educational mystery message about the water cycle.
Printable Water Cycle Word Search
The water cycle word search pdf can be downloaded free below.
The 2 page pdf includes an answer sheet.
The word puzzle is black and white to make it economical to print.
Check out these other fun water cycle activities for kids.
Or this water cycle crossword puzzle to work on the vocabulary of water cycle themed words.
Water Cycle Word Search Answer Key
Here is the color-coded answer key for this water cycle word search: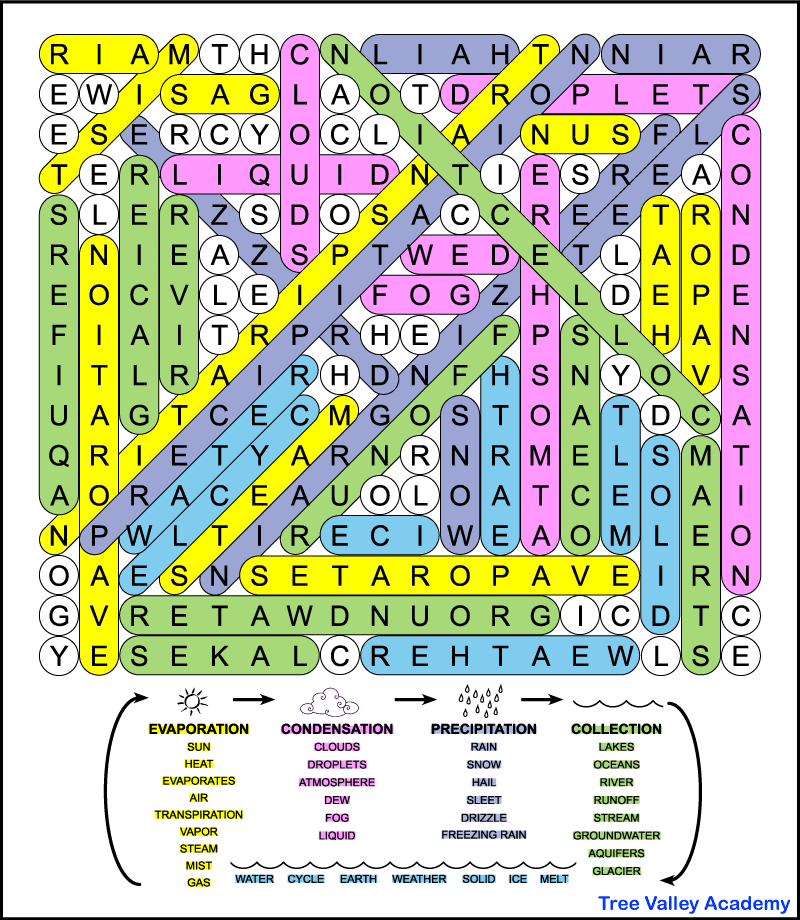 The word find's secret message is:
"THE WATER CYCLE IS ALSO CALLED THE HYDROLOGIC CYCLE"