Learning number bonds is an important skill for kids to master. To help with this, I created a math series with over 100 pages of free number bonds worksheets for kids.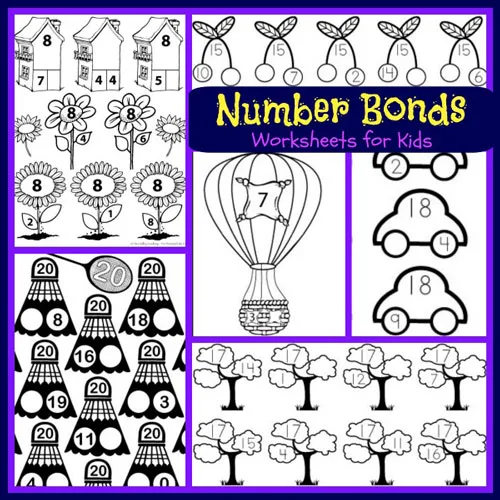 The worksheets will help kids learn various math skills such as:
the number bonds from zero to twenty
most if not all of the math skills they need to be able to figure out the number bonds such as place value and various addition and subtraction skills
how to write numbers in words. This is a big part of this series as this is a Grade 1 math skill that kids will need to learn.
I first decided to create these printables for my preschool daughter at the time, who was quite capable and enjoyed learning the math, but too young to do typical worksheets that required much writing.
The pictures made it look inviting and fun to my young student, with minimal writing, and lots of coloring, circling, drawing lines, cutting or glueing. I hope your children enjoy them just as much.
Number Bonds Printables
Below you'll find links to every number in our number bonds worksheets series:
Number Bonds Review Worksheets
My daughter has learned all the number bonds to 20. As a way of review, I will be creating and adding to this page a variety of themed number bonds worksheets.