Welcome to our number bonds worksheets series.  This week we're learning about the number 9.  Math skills covered include learning the number bonds to 9, writing the number 9 in words, and more.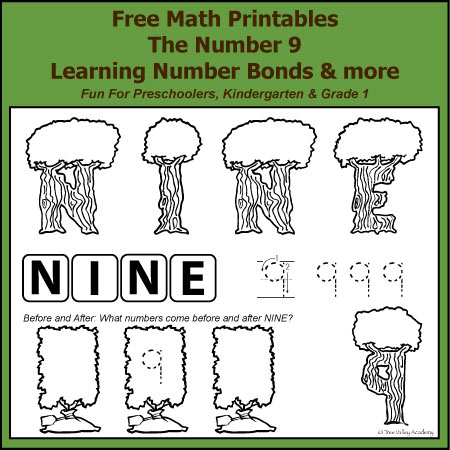 To begin at the beginning of this series, go to the pre-lesson or the number zero.
If you don't already have the letter tiles from previous lessons, you can download them again here.  Your child will need them  to glue the correct letters that spell NINE on the first page. 

Mental Math
This week there are quite a lot of levels on Abacus Adventure 1 that can be done.  They have the background to try Addition Lv6 (7), Addition Lv7 (8), Addition Lv8(9), Addition Lv9(10), Addition Lv9(11), Addition Lv10(12), Addition Lv11(13), and Addition Lv12(14).
I would suggest sitting with your child when they do this to help them along until they get the hang of it.  For example, if they need to add 6, you might help prompt them that 6 is really 5 and what? So they would need to add one "5 bead" & one "1 bead".   And if they are subtracting, they just need to remove those beads.  The same thing for 7 (5&2), 8 (5&3), and 9 (5&4).  And remember, generally you use your thumb and index finger to move the beads.
The brain levels especially are a little more challenging as it takes practice for them to picture the abacus in their head.  So definitely help walk them through it, and if you feel they might not be ready to attempt those levels yet (the ones with an image of a brain), just skip them and come back to them later.  Keep sessions short, but frequent.  For example, one level a day, would be great.  If they want to do a little more (as a level could be done in less than 2 minutes), then they can always repeat a previous level to see if they can improve on their time.
If you have any questions at all about this, please just ask.  There's no question too small.  You can write me a comment below and I will respond.
Number Bonds of 9 Card Game
Reinforcing the number bonds of 9 by playing a card game is another great idea.  The rules are the same as we played with the number 7, except of course we are making number bonds of 9, and we are adding all the 8 cards & 9 cards to our deck.
Next #MathMonday, we'll be playing games to practice number bonds and there will be new printables to master all the skills we've learned to date.