Welcome to the first week of Math Monday! For 32 Monday's, I will present a weekly math lesson for parents of Grade 1 students. However, these lessons are designed for even younger children to be able to learn these Grade 1 skills. So if you have a Grade 1 student, or even a child as young as 3, or any age in-between, join my 4-year-old daughter & I weekly for Math Mondays.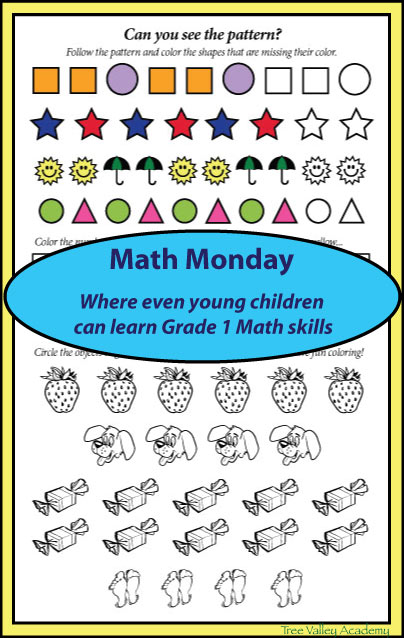 From my experience, children are quite able to learn what we might consider "complicated older math", they just have to learn it in a different way. Hurdles for young children to be able to learn math are: the inability to read or write, their attention span, adults underestimation of their abilities, and because well they will learn math in school, so we just wait till then. But why wait?
Kids brains are wired to learn math. In a lot of ways, math is very similar to learning a language. The earlier they are exposed to it, the easier it is for them to pick it up. So my goal in these lessons is to teach various math skills (usually learned in Grade 1 and repeated in future grades) and teach them in a child friendly way.
Let's give them a solid foundation, and let's take away the hurdles that would prevent that. These lessons won't require the current ability to read (except from the parent of course). The only prerequisites for these lessons are for your child to know the alphabet, how to count from 1 to 10, ability to hold a crayon to colour, and to use a pencil to make some basic marks, like circling objects or tracing a number. And of course, parent participation is sort of key here.
So don't stress, if you think math is fun, chances are your kids will think it's fun as well, and if you think it isn't fun, let's make it fun together. Join me as we teach our children together various math skills as we study the numbers 0 through 20.
The first lesson is sort of a pre-lesson, so they will better understand certain things when we start playing with the number zero next week.
How to Teach Patterns to Preschoolers
Play with patterns with your child. Show them you can make patterns out of anything, their toys, crayons, beads, cutlery, legos, anything. You start a pattern, and have them finish it.
Patterns Worksheet
After playing with physical objects, you can give your child some crayons and help them as they do page 1 of the .pdf for this weeks lesson.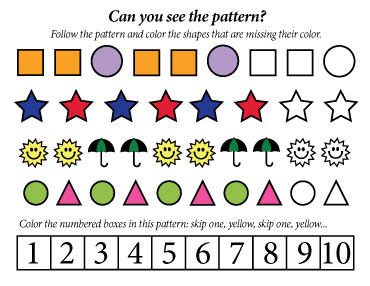 Counting by 2's
Now show them with the numbered pattern they completed, how we can count by 2's, and what counting by 2's means. And that's it, just introduce them to the concept of counting by 2's.
Informal teaching is next. Randomly, when your child is sitting on the counter as you're cooking, or as your driving, or any other time you're together, say to your child "Let's count by 2's together." Then say the numbers at a slower speed as your child tries to repeat with you. "2 4 6 8 10" "2 4 6 8 10" "2 4 6 8 10".
Very quick to do, less than a minute each time, keep it stress free, informal, and fun. Repeat randomly and it won't be long before your child has those 5 numbers down pat.
Skip Count by 2 Worksheet
When you feel confident that your child can count by 2's to 10, then do page 2 of the .pdf with them.
They get to colour the pictures and circle every 2 objects.
Then tell them you're going to count the strawberries together. But instead of counting each one, to count faster, you're going to count by 2's. Then verbally together count the strawberries, etc. by 2's.
It might be a good idea to later count by 1's, after having arrived at a number from counting by 2's. This will help them see that you get the same number both ways, just one way is a "trick" to count faster.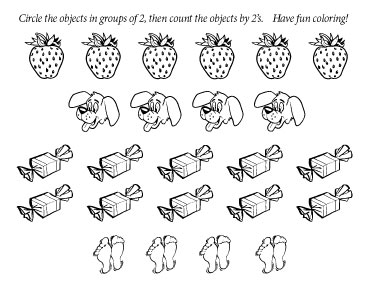 Printable Preschool Math Worksheets
The preschool math worksheets can be downloaded free below. The 2 page pdf includes:
patterns worksheet
count by 2 worksheet
Hope your child has fun, and when they're ready, they can have more math fun with the number zero.