I hope your kids will enjoy these free summer word search puzzles with summer themed words. A word search for kids can be a fun and relaxing past time for kids during the summer break.
But it is also a nice way for kids to improve their spelling over the summer months. So it is both relaxing and educational.
The summer word searches below are ideal for students in grade 2, 3 and 4. They can be downloaded free below.
For older grades see this summer holidays word search.
Grade 2 Summer Word Search
This first puzzle is at a second grade level. The words are from the summer themed spelling week of these grade 2 spelling words.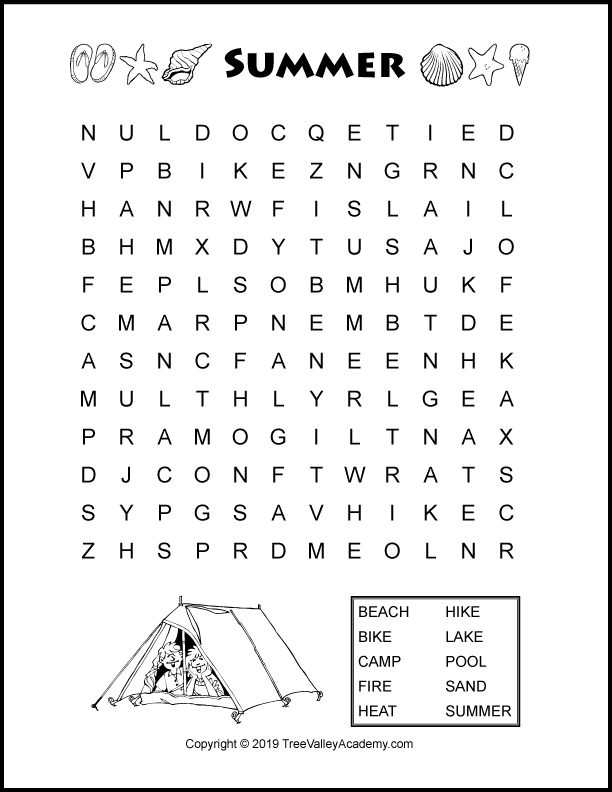 It's a great beginner level word search. It has large print letters and only 10 hidden words for kids to find and circle in a 12 X 12 grid of letters.
The words can be found horizontally, vertically or diagonally.
Since this is an easy summer word search, all horizontal or diagonal words are forward facing, or the way we read from left to right. And any vertical hidden words can be read from top to bottom.
It's free to print and can be downloaded below.
Grade 3 Summer Word Search
This next summertime word search is designed with a third grader in mind as the words are from these grade 3 spelling words.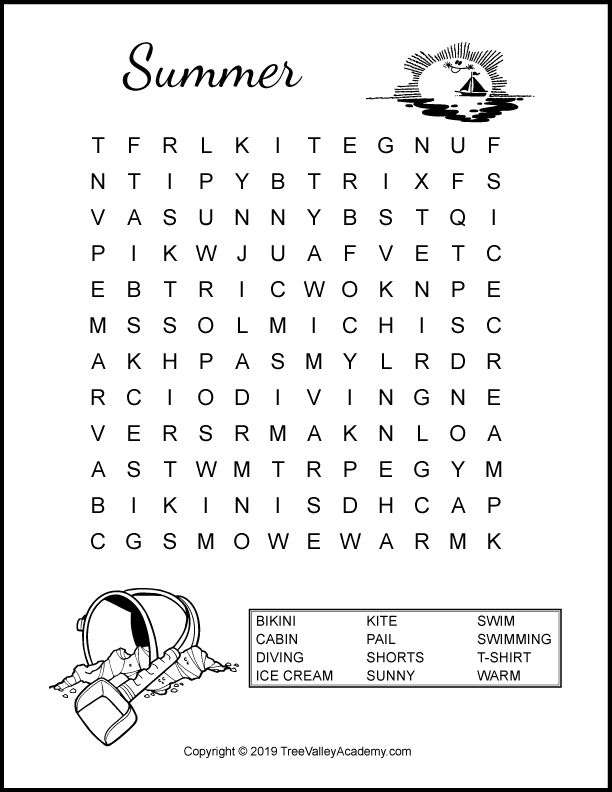 This is also a beginner level word search.
The words can be found horizontally, vertically, or diagonally, but all the words are facing forwards or the direction easiest to read.
Kids will have 12 hidden summer words to search for and circle. They are hidden in a 12 X 12 grid of letters.
Grade 4 Summer Word Search
And finally this word search puzzle has the summer themed 4th grade spelling words. So it would be perfect for a grade 4 student.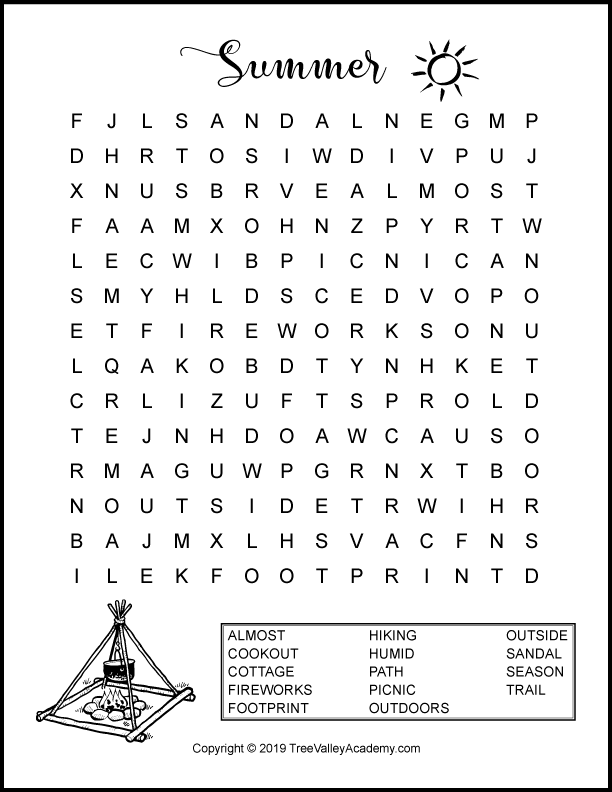 This puzzle has 14 summer words for kids to hunt for in a 14 X 14 grid of letters.
Like the other word searches, the words can be found in any direction but are always forwards facing, never backwards or upside down.
Free Printable Summer Word Searches for Kids
Each summer word search printable has a few images that kids can colour if they enjoy colouring. I find having a little bit of colouring just adds to the calm and relaxed feeling that doing a word puzzle brings.
All that's needed is a pencil, optional pencil crayons, and the printable summer word search pdf.
All of these summer word search puzzles are free and can be downloaded below. The pdf includes answers.
Summer Spelling with Word Searches
We homeschool throughout the summer, all year round. However, we have a much less formal, lighter schedule in the summer.
Spelling is a subject I like to subtly weave throughout the summer months. This summer, we are going to be working with the summer themed words, one grade at a time. This is my plan:
introduce each grades list of summer words with the corresponding crossword puzzle
later the matching summer word search puzzle
and possibly summer word scramble
spend a few minutes discussing the letters that make up the sounds of each word
create regular journal entries throughout the summer
Crossword Puzzles
I have also created summer themed crossword puzzles that go along with these summer words, one puzzle per grade.
Crosswords are a great way to work on the vocabulary or meaning of the words, as well as their spellings.
Summer Word Search Puzzles
Word searches are an excellent way for kids to naturally learn the spellings of words.
They will be looking at the letters that make up each word and probably repeating those letters to themselves. For example if the word is "picnic", their internal dialogue will probably go something like this: "PICNIC, ok I got to look for P I C….P I C….oh there's a P…..P I…no no C….oh there I found it, P I C N I C."
Phonics Discussion
My daughter is not yet able to learn the spellings of a list of words by herself. If she tries to study by herself, it's almost like she tries to memorize the letters. She repeats the order of the letters to herself, and then moves on to the next word, hoping that she will magically retain it.
This rarely works so I find spending a few minutes with her to almost guide her studying. It saves us both a lot of time. This is generally what I have her do:
say the word out loud while looking at the word
spell the word out loud while looking at it
verbally break the word in syllables
I'll ask her which letters make a certain sound in the word
one syllable at a time say the syllable and then say the letters that make up that syllable
Repeat steps 1 & 2
Summer Journal Entries
The best way to learn the spellings of words well is to use the words regularly. And what better time to use summertime words than during the summer.
Do you know those kids notebooks (affiliate link) that are blank on the top half of each page, for kids to draw a picture, and has lines on the bottom half for kids to write? Well those are the type of books my daughter uses as a journal.
And this summer I'm going to have her keep a journal. She loves to draw so she'll enjoy that part. And below she can write a few sentences about what she did that day or whatever.
I don't mind if she looks at the summer themed words when she needs some help with the spellings, almost like a word bank or a custom dictionary. And the more she uses the words, the more she'll learn them. Eventually she'll know them well and won't need to look at them at all.
Download your free copy of the summer word search puzzles below.
More Summer Word Searches for Kids
Here are some more fun word searches for kids to enjoy during their summer vacation:
Early Elementary Kids
Kids that enjoy sports will love this baseball word search with a secret message.
Or what about this gardening word search?
Older Elementary Kids
Here are some fun printable summer word search puzzles for the older kids, grades 4 and up:
Going on a camping trip this summer? Bring along a copy of this difficult camping word search for your older kids to enjoy at the campsite.
Or maybe this campfire camping word search.
Want even more? See our whole collection of word puzzles for kids where you can find fun summer activities like this ice cream, ocean or summer fill in puzzles.
Summer Word Searches Answer Keys
Here are the answer keys if you need help finding a summer word hidden in one of these puzzles. They are color-coded so that you can find any hidden word fast.
2nd Grade Summer Word Search Answer Key
The 2nd grade puzzle: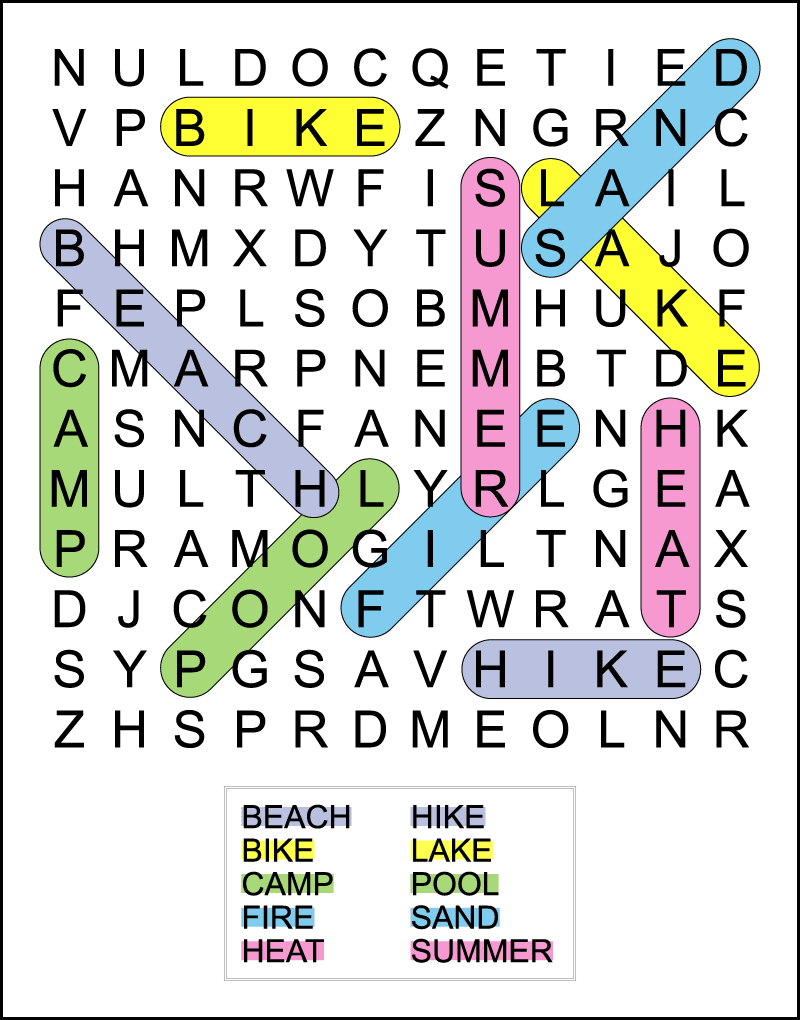 3rd Grade Summer Word Search Answer Key
The 3rd grade puzzle: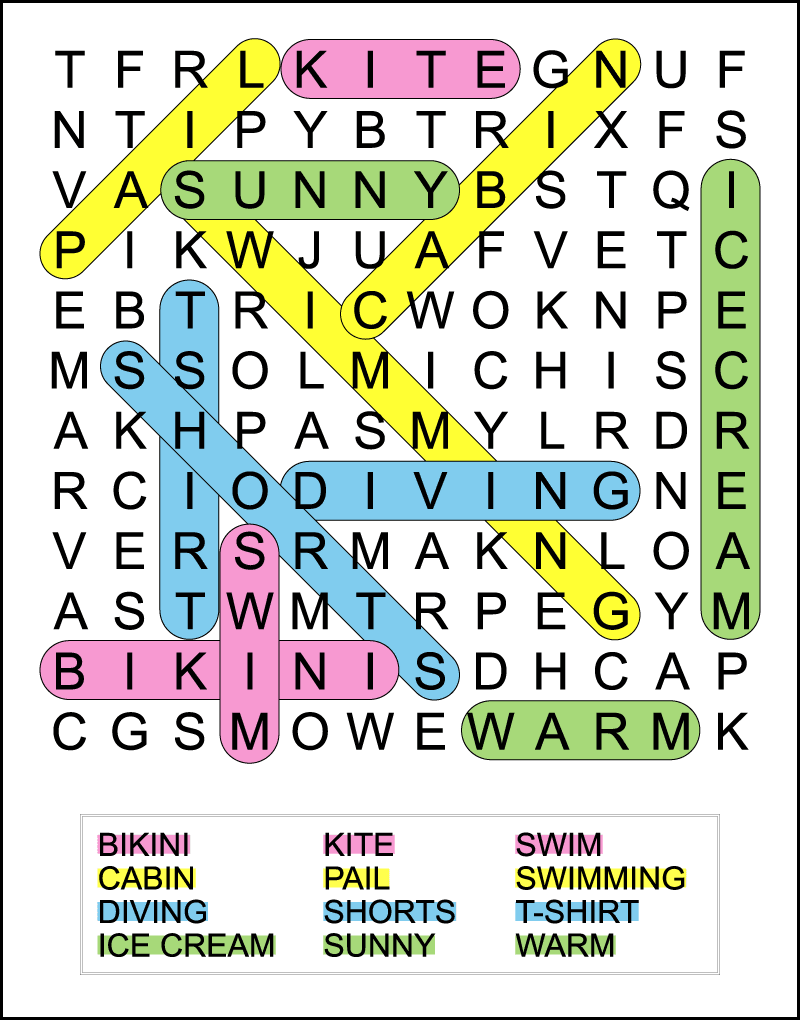 4th Grade Summer Word Search Answer Key
The 4th grade puzzle: