Word puzzles are fun, educational, and a great activity for kids to do during the summer months.
For the next 2 weeks, I will be posting new word puzzles for kids each day (M-F). Check back daily for more printable puzzles.
There will be 6 different types of word puzzles:
word searches
crossword puzzles
word scrambles
fill-in puzzles
word shape puzzles
cryptograms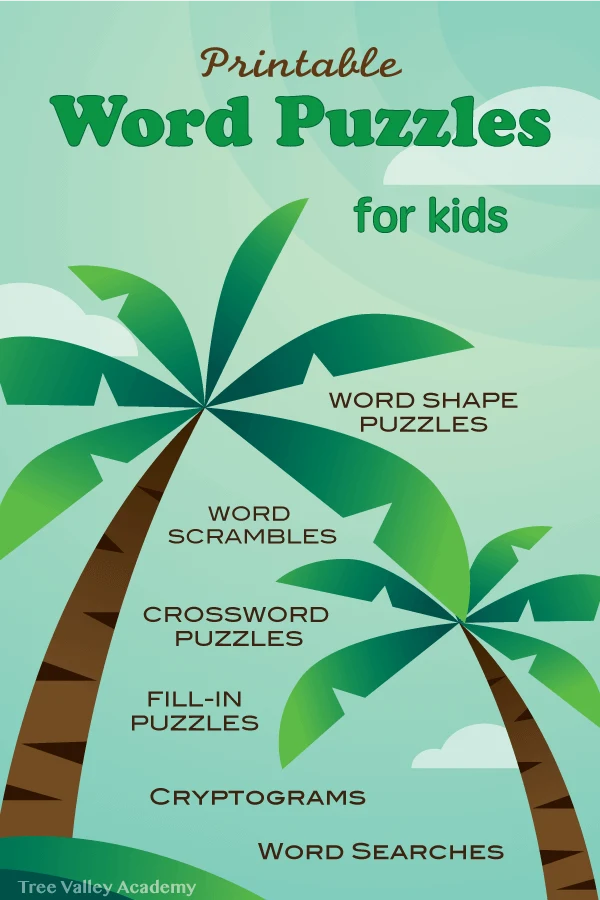 Benefits of Word Puzzles
When I was a kid, I absolutely loved doing word puzzles. I would sit in a hammock, or in a chair around the campfire and found it so relaxing to work on a puzzle.
I did them for fun, but there are some other real benefits to word puzzles for kids. A word puzzle:
can help keep kids brains active and engaged, which helps reduce summer slide
introduces and expands vocabulary
improves spelling
enhances logic and problem solving skills
helps self esteem when they succeed in solving a puzzle
can aid reading ability
is portable and easy to take anywhere or anytime you need to keep your child occupied and quiet for a few minutes
10 Days Series
For the next 10 days, I will bring you a collection of printable word puzzles for kids.
Day 1 – Fill-In Puzzles
Day 1 begins with these fun summer themed fill in puzzles!
Day 2 – Word Search
Here's a fun printable activity to take with you on your next camping trip or backyard bonfire: a campfire camping word search.
Day 3 – Cryptograms
Challenge your 4th grade and older children with these Disney movie themed cryptogram puzzles for kids
Day 4 – Word Shape Puzzles
For elementary aged students in the early grades, here are 2 letter writing and mail themed word shape puzzles.
Day 5 – Word Search
Either to celebrate the eagerly anticipated summer vacation, or as a relaxing activity during summer, here is a summer holidays word search for kids.
Day 6 – Crossword Puzzles
A space themed crossword puzzles for kids in grades 5 or 6 – or older.
Day 7 – Word Scramble
An African Safari animals word scramble for kids in grades 4 and up.
Many of the jumbled words are African animals that are 4th grade spelling words. This would be a fun worksheet to help kids work on the spelling of these words.
Day 8 – Fill In Puzzle
An ocean themed fill-in puzzle!
Day 9 – Word Search
A weather word search with 5th grade spelling words.
Day 10 – Crossword Puzzle
A summer crossword puzzle for students around 6th grade.
But the fun doesn't stop there!
I've joined up with some other homeschooling moms and bloggers to bring you this series with a variety of activities, printables, tips and encouragement for homeschooling families. Join us for 10 days of: