Using a theme as a starting point for learning is one popular method of homeschooling. Below you'll find a weather unit study for teachers and homeschooling parents to teach kids about the weather.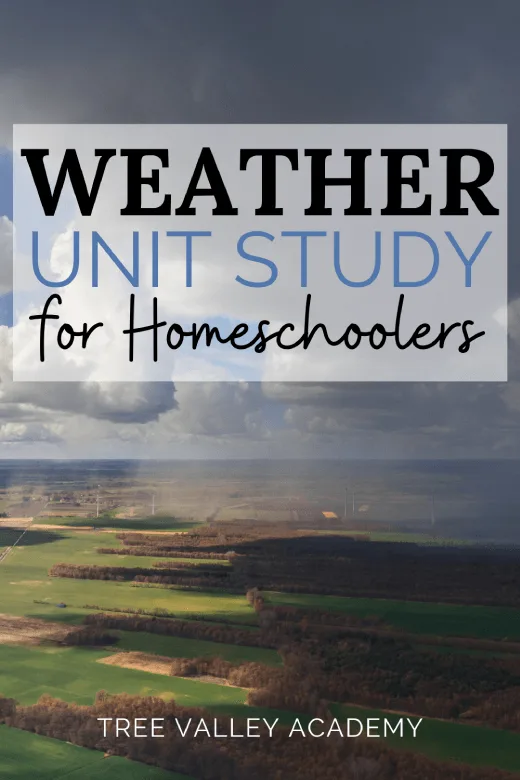 Facts About Weather
No matter where you live, weather can be a fascinating topic to study because there are so many aspects to it. Jumpstart your weather unit study with these amazing facts:
Weather is the state of an atmosphere at a specific time and place.
Weather is generated by many different forces.
Landforms, such as mountains, can affect the weather.
Rainbows, flashes of lightning and sunsets are effects of weather.
The pattern of weather a place has over a significant amount of time is called climate.
Gather more facts about weather from DK Find Out!, Nat Geo Kids, and Britannica. As you gather facts, use the following ideas to take the study even deeper.
Books About Weather
Books always provide a wealth of information, as well as an enhanced opportunity of learning about any topic. Here is a list of fiction and non-fiction books that can be found online or at most public libraries:
Videos About Weather
Videos (and movies) have a way of engaging even the toughest learner. They have a way of piecing together gaps by giving kids a visual of what they may read or be taught by another resource type.
Here is a list of YouTube videos to consider adding to your weather unit study:
Don't forget to check for documentaries and movies on platforms such as Netflix, Amazon Prime movies, and Hulu.
Weather Projects
Projects have a hands-on way to help teach kids about a topic. When it come to weather, there are some pretty cool ones to try.
Paint scenes from all four seasons.
Tornado in a bottle.
Keep a weather graph.
Build a weather "station".
Create a cloud types poster.
DIY weather vane.
Weather and Other Subjects
The biggest perk about unit studies is the ability to incorporate multiple subjects for a holistic learning approach. Don't forget to add these into your weather unit study:
Geography
When checking the world weather report, there are major cities that are shown. Kids can learn the locations of these cities. They can also map weather in different locations.
History
Kids can study the history of weather in an area.
Math
Learn about temperature
Calculate temperature and barometric pressure throughout the day
Chart or graph precipitation by temperature and month
Spelling
Weather themed spelling lists for:
Printable word puzzles are a fun way for kids to work on learning the spellings of their words. Here are 3 weather word searches for kids you can print off:
Vocabulary
Kids can learn weather vocabulary such as the definitions of:
weather
climate
meteorologist
rain gauge
thermometer
anemometer
barometer
air pressure
wind vane
atmosphere
They can also learn the vocabulary of weather forecasting. Afterwards they can test their knowledge with this weather forecast crossword puzzle for kids.
Art
The possibilities are truly endless when it comes to studying the weather.
Hopefully these resources will put you off to a good start of taking a deep dive into helping your kids learn some fascinating things and have a good time while doing it.