We've been doing a lot of weather learning lately. It's usually a part of circle time for preschoolers or Kindergarten so I knew I wanted to include it somehow. After some thought, I decided on two weather related directions that I wanted to incorporate into our daily routine, at least for this year. The first I wrote about yesterday in Understanding The Weather Forecast For Kids. The second, I wanted my daughter to do some learning about temperature.
Concept of Below and Above Freezing
The first thing I did was teach my daughter about "below freezing" and "above freezing". This turned out to be easier to teach than I could have hoped for due to the time of year we are currently in, with the temperature hovering around that point.
I mostly-filled a plastic water bottle with water and placed it near our glass door where my daughter could readily see it.
First thing in the morning, it was usually a solid block of ice. A great time to teach "below freezing", and we would check the temperature to see if we were right.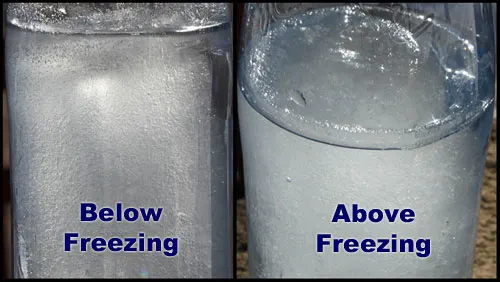 Later on in the day when the sun had warmed things up a few degrees, often the previous ice block had some water around it, which meant it was "above freezing", again verifying on the thermometer if our assumptions were correct.
Very quickly my daughter was able to apply this knowledge. When looking out the window or when she's outside she will point out signs she sees that are a good indication if the temperature is below or above freezing. Hanging icicle's dripping; ice on the ground that's starting to turn into a puddle; a wet pavement; sidewalks that are slippery or not, etc.
Learning about Temperature by Tracking It
We live in Canada, where Celsius is used. My daughter now knows that 0ºC is the temperature that water begins to freeze or ice begins to melt. Now to take things a step further.
The best way I thought to learn what it means when someone says 30ºC or -30ºC is to experience the temperature oneself. This would take time, but that's not a problem because learning is a journey, not a race. I decided we were going to take and track the temperature every day for a year. I created this printable to help do just that. Every day, we will take the temperature, and then record it on our sheet. I put little pictures on the side as a visual aid in remembering what all the temperatures are like. So for example, if the temperature is 28ºC that day we will briefly discuss things like what types of clothing we wore, what activities we did or felt like doing, perhaps it was a great day to go swimming, perhaps we had a lot of refreshing foods or drinks, etc.
I plan to begin this with my daughter tomorrow as it will be April 1st, beginning of a new month, and hope to continue this daily for one year. At the end of the year, we will be able to see very easily the trends in temperatures, what months or seasons it was cooler or warmer, and perhaps we will notice other patterns.
Free Printable
You can download a copy of this printable to use in your family below. as always completely free, or you can pin it for later if you're not ready to do this just yet. There's one page for those who use Celsius, and one page for those who use Fahrenheit.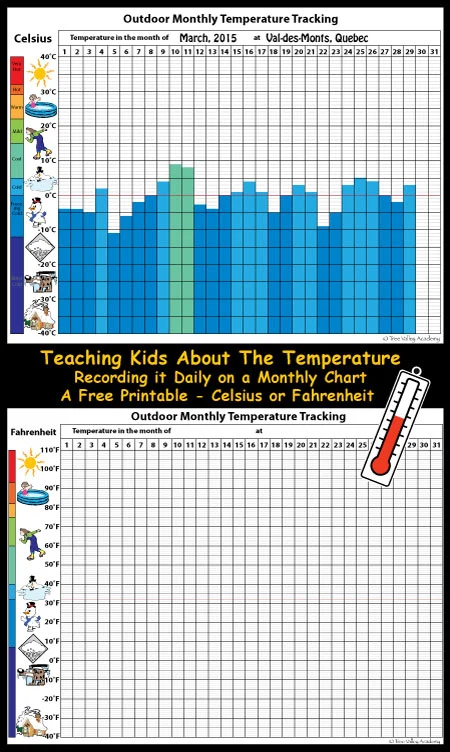 You can use this chart with many different variations. Perhaps you will use 2 or 3 charts at a time, and record the temperature first thing in the morning, middle of the day, and before bed. I think I will try to do that with my daughter for one month, but I don't think we would remember to do it several times a day for longer than that.
You could also record the temperature by placing a small dot at the temperature on the day in question. If you check the temperature several times in a day, you can add a dot each time at the new temperature. Then later, you can connect the dots to graph the highs and the lows. Lots of different ways this can be used.
Additionally I should mention, we live in Quebec Canada where there's lots of snow in the winter and we're sort of used to (although not happy about) a colder temperature than those who live down south. So the images I used reflected more what is common to us. I know when we go down to Florida in the winter, we are excited to swim at the beach, as the locals stand on the sand wearing fur coats and winter hats looking at us like we are crazy, when we are looking back at them thinking the same thing about them. No offence meant to you fortunate ones that live in a warmer climate, just making a point that people of different locations have different ideas of what's cold or hot. So if that's the case, it would be very easy to cut the paper vertically to remove the images, and you could draw new images (or have your child do so) on a paper beside it that would more accurately reflect your location.
This learning about temperature activity would go nicely with the children's book Oh Say Can You Say What's the Weather Today? (affiliate link), as temperature and thermometers are discussed in a true Cat in the Hat way.