Teaching kids about the weather is the theme for this months online book club for kids called "Poppins Book Nook". When I saw this months theme, I thought, how can I teach weather to my daughter?  She will be 5 in a month.  She already can tell you if it's sunny, raining, snowing or cloudy, so I wanted to teach her something new that would be simplified for a kid her age.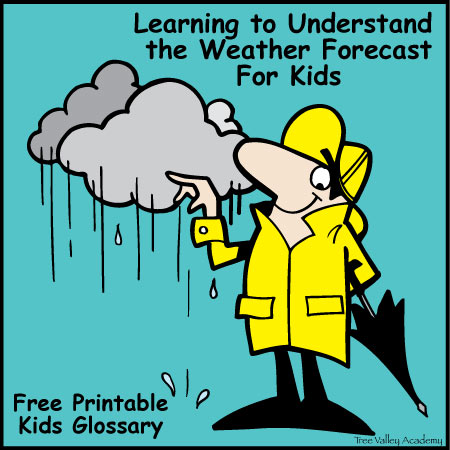 I purchased the book Oh Say Can You Say What's the Weather Today?
for my daughter.  It's a Cat in the Hat book, and it turned out to be a really great find.
She sometimes watches the Cat in the Hat on tv, so it's characters she is familiar with and easily attracts her to wanting to read this book.  I've probably read it to her a dozen or more times already this month.  There is a lot of information taught in this book, everything from the water cycle, to different types of clouds, temperature, thunderstorms, climate, precipitation, and everything in between.  It's way more than she would be able to grasp at one time, but that's ok, it's a book she can learn from every time I read it to her, and she will be able to benefit from it for years to come.
In our weather learning this month we made an Anemometer together.  In truth it didn't work out the greatest but well enough for her to understand that the speed of the wind can be measured, sometimes it's faster and sometimes slower.  We also learned about temperature.  Then we made a rain gauge but since we've had nothing but snow, we will have to wait to try it out next month with April showers.  We also did things like inserting a ruler in fresh snow to see how much it snowed, and we watched many educational weather related videos that we have access to with our Supercharged Science membership.
It has all been educational but I wanted to focus on a specific area of weather with her.  I check the weather forecast on the internet daily and I've decided to include her from now on when I do so.  However there is a lot of terminology a Meteorologist uses, so I created 3 pages of some common weather terms with easy to understand explanations in kid friendly language.  My plan is to keep this handy glossary near my computer.  When we're checking the forecast, we can refer to the notes and discuss what the weatherman means when he's predicting scattered showers for example.  Then she might be able to see a real life example of scattered showers that day.  I'm sure weather discussions will naturally happen during the day as she sees forecasted weather happen or not happen.  And since everyone loves to talk about the weather, she will have something to contribute to conversations :P.
You can download the 3 page weather glossary for kids, or you can pin it for later.  As always, all my printables are free for your personal use. If you would like to share with someone else, please give them a link to my post and not the download directly.  Thank you for your understanding, as a lot of work and time go into my printables.
Kid's Meteorologist in the Making Bundle Giveaway! Every month the Poppins Book Nook group will be offering readers a chance to win a brand new storybook or product that ties in with our theme for the month. This month one lucky entrant will win the Kid's Meteorologist In The Making Bundle. The winner will enjoy two fun weather themed learning items. The two items that they will win is the Weather Tracker
and National Geographic Kids Everything Weather
(*kindly note that these are affiliate links and your purchase helps to run this book club). These two wondrous weather items can bring your children a fun weather activity or two.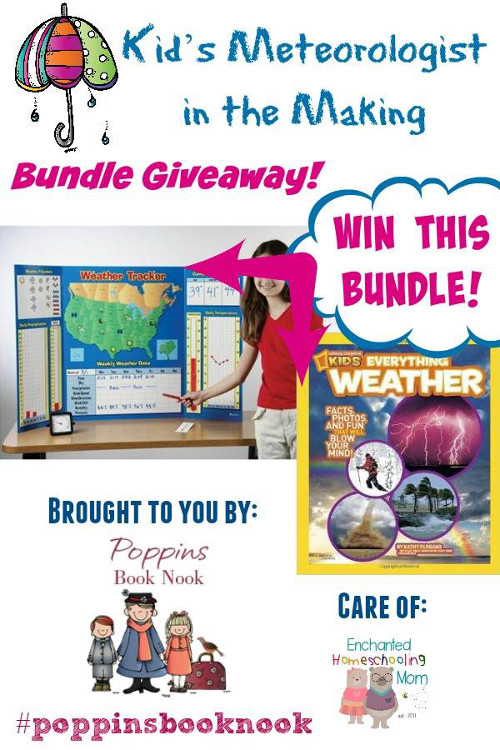 Entrants must be 18 years or older and reside in a country that receives U.S. Postal mail. This giveaway is brought to you by the company Enchanted Homeschooling Mom who is owner and founder of the Poppins Book Nook. By entering this giveaway you are also acknowledging that you have read and agree to all of the PromoSimple terms & conditions as well as Enchanted Homeschooling Mom's disclosures found here.  Just enter the PromoSimple below to win:
Visit these talented bloggers to see more weather related posts from the Poppins Book Nook:
Loading InLinkz ...