Here's a fun word puzzle for kids. It's a free printable ocean themed fill in puzzle.
Whether your children are studying the ocean or you want them to have a fun educational activity to do during summer vacation, this puzzle won't disappoint.
So far, of all the different types of word puzzles, the fill in puzzle is my daughter's favourite. It's one of the easiest ways I have found to get her to work on spelling words willingly during her school break.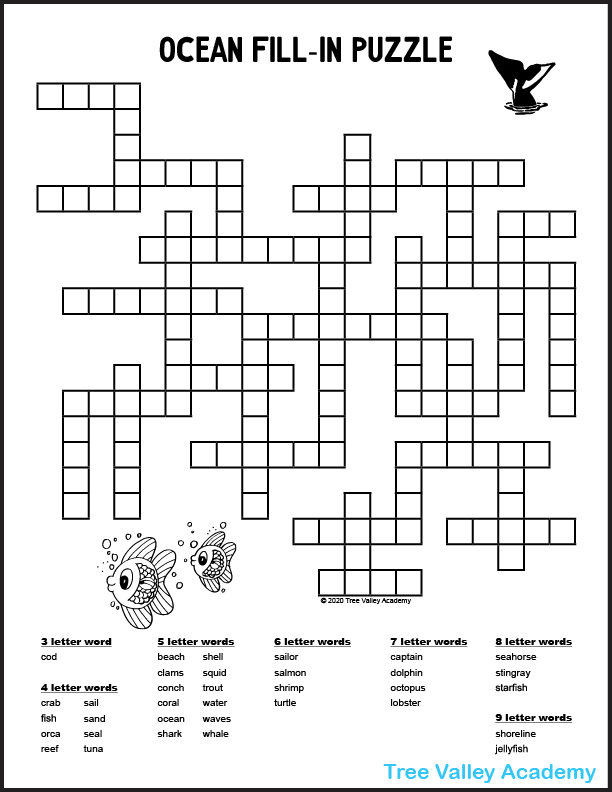 A fill-it-in puzzle is very similar to a crossword puzzle, with words needing to be filled in both down and across. The difference is that there are no clues.
The words are given to the child and their job is to fit all the words into the puzzle.
Ocean Vocabulary
This puzzle uses 34 ocean themed words.
There are ocean animals, beach words and sailor words.
Download Here
A printable copy of this ocean themed fill in puzzle is available below. It's free. The pdf file includes an answer page.
This is Day 8 of a 10 day series of printable word puzzles for kids.
Want more of these puzzles? Try these printable summer fill in puzzles.
Ocean Fill In Puzzle Answers
Here is the answer key for this ocean fill in word puzzle: