Here are some free printable summer crossword puzzles for kids.
They are perfect for elementary aged students around 2nd to 4th grade. Older students around 6th grade can try this summer crossword puzzle.
Crossword puzzles are a fun way for kids to work on vocabulary or to practice some spelling.
Each of the printable puzzles are decorated with summer images that kids can color.
2nd Grade Crossword Puzzle
This first easy crossword for kids has 10 clues to solve.
The puzzle is at a grade 2 level. The answers are the spelling words from the summer themed spelling week of these grade 2 spelling words.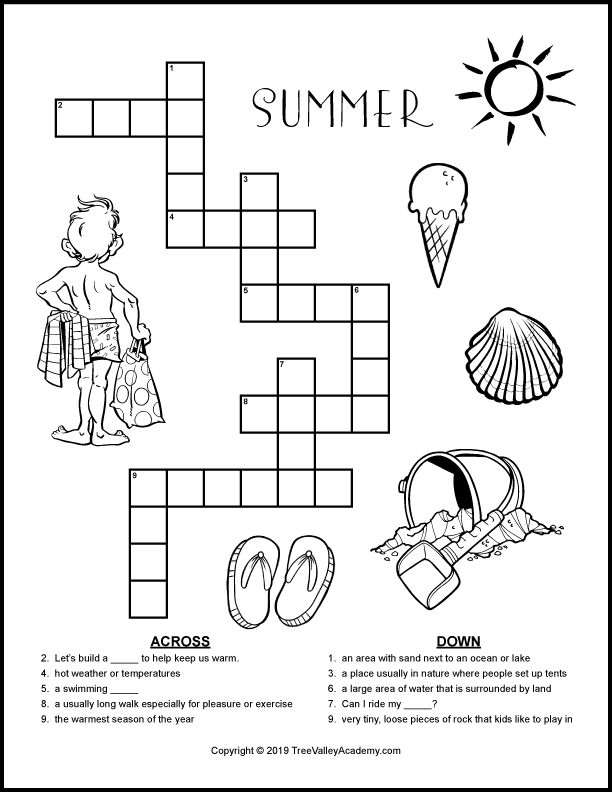 3rd Grade Crossword Puzzle
This next puzzle uses the summer themed grade 3 spelling words.
It has 12 clues for kids to solve.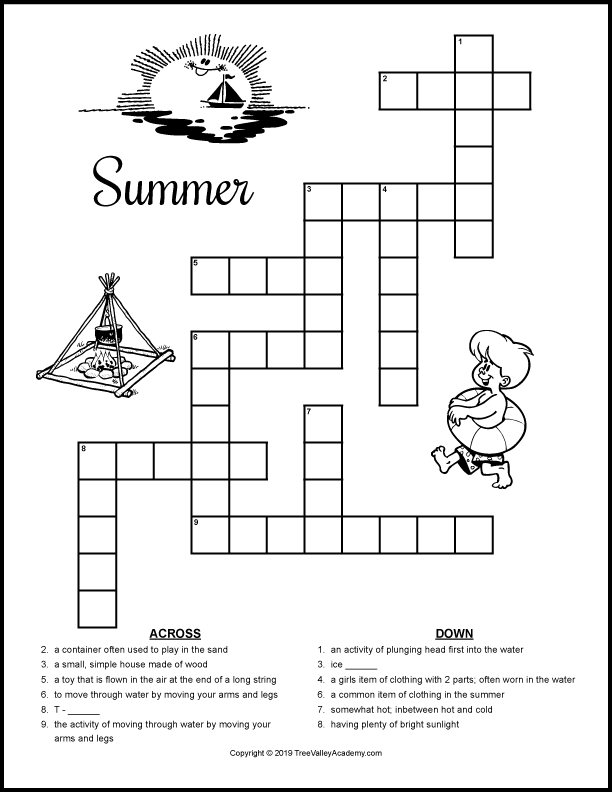 4th Grade Crossword Puzzle
And this last one uses the summer themed grade 4 spelling words.
Kids will have 14 clues to solve.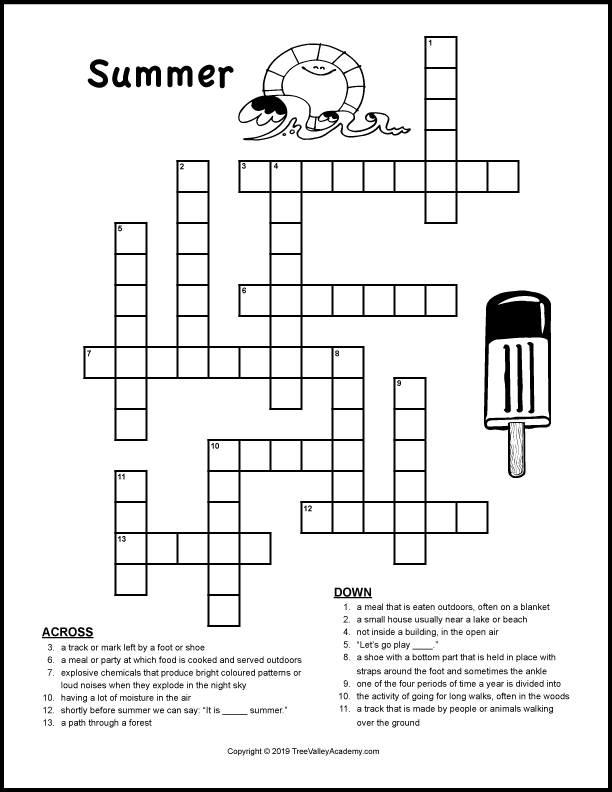 Printable Summer Crossword Puzzles
You can download these free summer crossword puzzles for kids below. The answers are included.
The 4 page pdf includes 3 summer crosswords for kids and an answer page.
Learning With Crossword Puzzles
These crossword puzzles are a fun way to sneak in some summer learning. I love giving them to my daughter as they allow for both vocabulary and spelling to be practiced.
I tell her to try her best and answer the ones she can. Often times I'll hear "How do you spell….?" I'm ok with her asking and usually I'll just guide her in sounding it out.
When she's answered all the easier ones, I will then give her the summer spelling words the crossword is based on.
I always get her to begin by reading the spelling words out loud. This accomplishes two things. First it ensures that she knows what all the words are. And second, it is a help in learning the spellings of the words. The more she is looking at the words and working with them, the easier it will be to remember how to spell them.
Vocabulary is worked on as she's matching the definitions of the crossword clues to the correct words. Spelling is further practiced as she's looking at a word on the spelling list, saying the letters in her head, and copying them out on the crossword puzzle.
A lot of learning going on and it's disguised as a crossword puzzle.
Summer Crossword Answer Key
Would you like to see the answer keys for the summer crossword puzzles? Here you go.
2nd Grade Crossword Answer Key
Here is the answer key for the 2nd grade puzzle: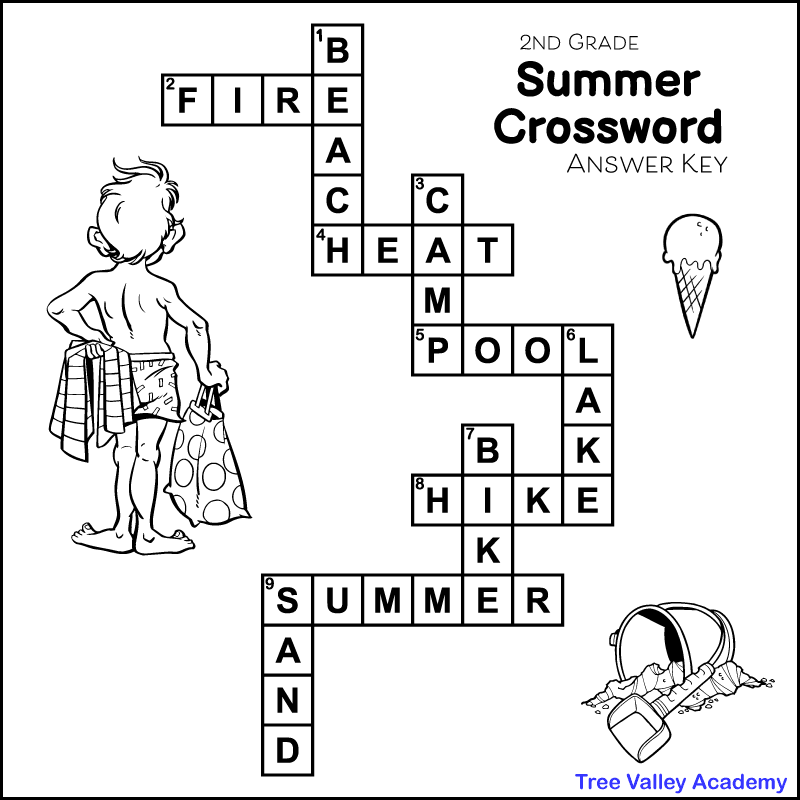 3rd Grade Crossword Answer Key
The answers for the 3rd grade puzzle…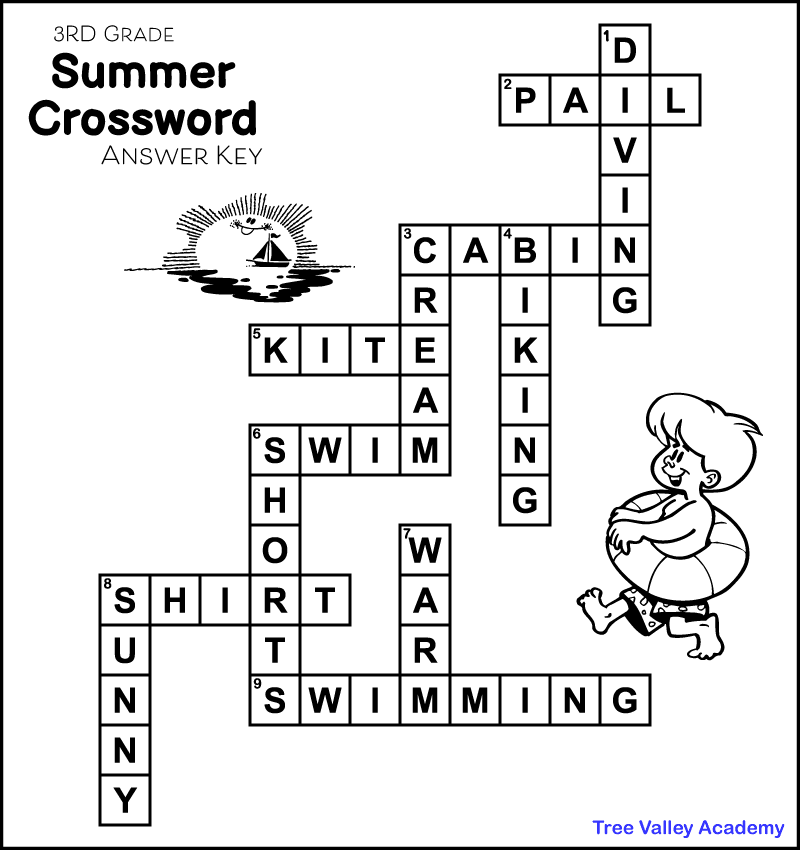 4th Grade Crossword Answer Key
And here is the answer key for the 4th grade summer crossword puzzle: