This difficult camping word search is a great print and go activity to take with you on your family's next summer camping trip.
Challenge your upper elementary or older child to find all the hidden words of this printable word search.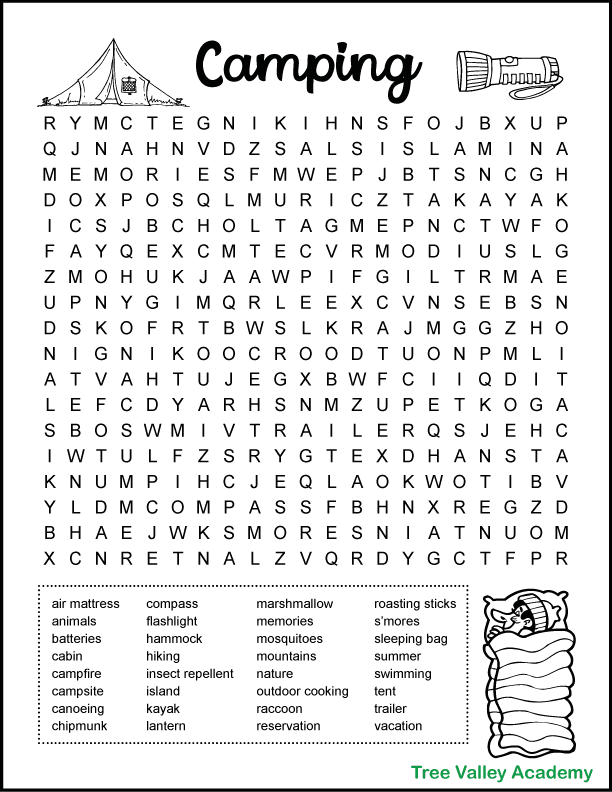 Needing only a pencil, a camping themed word search can be a fun and relaxing activity to do at the campsite.
Besides being enjoyable, it is also educational as it helps to improve both vocabulary and spelling.
And if you have a few pencil crayons, kids that wish can also have fun coloring the images on the page.
Difficulty Level
This tough camping word puzzle has 32 words for the searcher to hunt for. More than half of the words are 8 letters or longer, with the longest 2-word combination having 15 letters.
The words can be found in every possible direction. Of course there are a few words hidden the way we read: forwards, horizontally. But to make it more challenging, many of the words are also hidden backwards or upside down – horizontally, vertically and diagonally.
The 32 camping themed words are hidden in an 18 X 21 grid of letters.
While this hard word search was designed for kids 5th grade or older, it is also challenging enough for adults to try.
Camping Themed Words
Here is the list of words of this camping themed puzzle:
summer
vacation
memories
campsite
reservation
campfire
marshmallow
outdoor cooking
roasting sticks
s'mores
cabin
trailer
tent
sleeping bag
air mattress
hammock
animals
chipmunk
raccoon
mosquitoes
insect repellent
compass
lantern
batteries
nature
island
mountains
hiking
swimming
canoeing
kayak
Free Printable Camping Activity
You can download this difficult camping word search free below. The pdf includes an answer sheet.
Here are some other great word puzzles to take on your next family camping trip:
Answer Key
Here is the answer key for this difficult camping word search: