Looking for some fun camping activity sheets to take on your family's next camping trip?
Here's a printable campfire fill in word puzzle for kids or even adults. It's a relaxing activity to enjoy while sitting around the campfire or your backyard bonfire.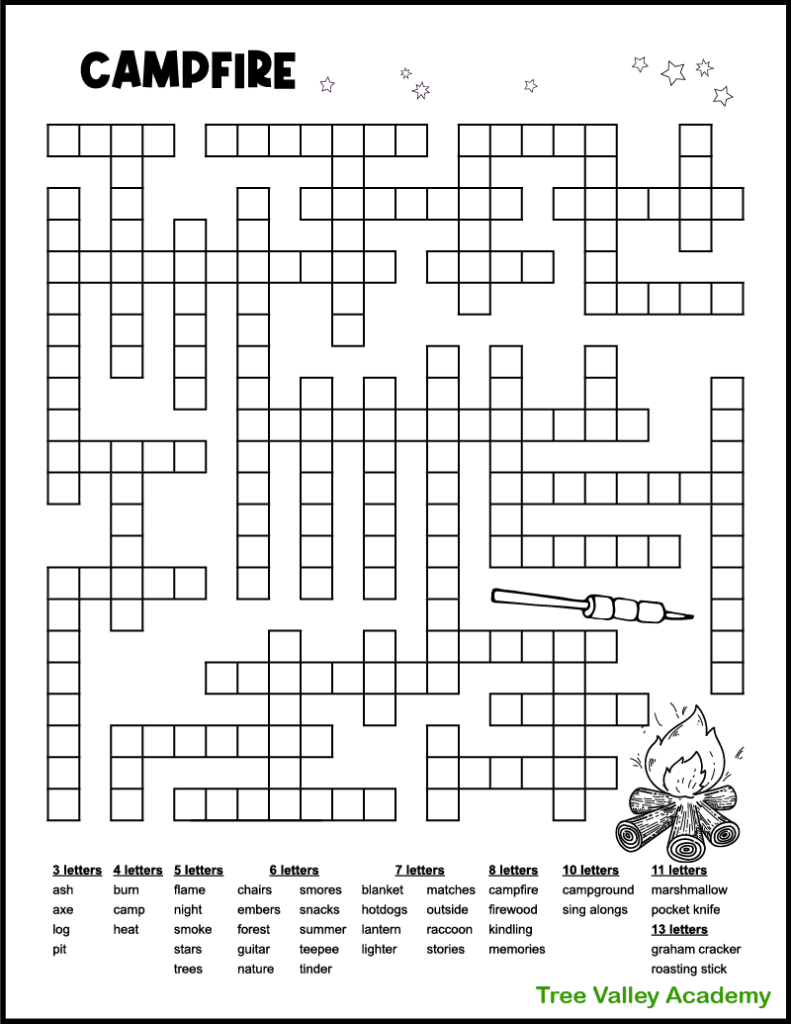 What is A Fill In Puzzle?
A fill in puzzle is very similar to a crossword puzzle. With a fill it in puzzle there are no clues to solve. The words to fit in the puzzle are already given.
The puzzle's words are grouped by the amount of letters it has.
The challenge of the word game puzzle is to fit all the given words into the available spots. An 8 letter word can only be put in a spot meant for 8 letters.
About This Fill In Puzzle
This camping word puzzle is best suited for ages 8 and up.
There are 3 letter words all the way up to 13 letter words.
Campfire Words
The fill in puzzle is packed with 40 campfire themed words to fit into the puzzle. It's a fun way for kids to build their camping vocabulary.
Some of the words are equipment or supplies needed to build a fire:
axe
log
fire pit
lighter
matches
tinder
kindling
firewood
One type of technique for building a fire:
teepee
Fire vocabulary:
flame
embers
ash
smoke
heat
burn
campfire
Items you might have around a campfire:
chairs
blanket
guitar
pocket knife
lantern
Food and tools for eating around a campfire:
snacks
smores
graham cracker
marshmallow
roasting stick
hotdogs
Campfire activities:
tell stories
make memories
sing alongs
Vocabulary related to being in nature:
forest
nature
outside
trees
stars
night
raccoon
summer
And of course camping vocabulary:
camp
campground
Printable Camping Activity Sheet
This print and go campfire themed fill in word puzzle can be downloaded free below. The pdf includes answers.
More Printable Camping Puzzles
Here are some more fun and educational camping activities for your kids to do while camping:
Answer Key
Here is the answer key to this campfire fill in word puzzle: