Going camping with the family? Here's a list of 10 fun educational camping activities for kids.
Even if you're taking a relaxed approach to homeschooling this summer, you can still combine the excitement of camping with some hands-on, nature-filled activities that will have your kids learning without even realizing it.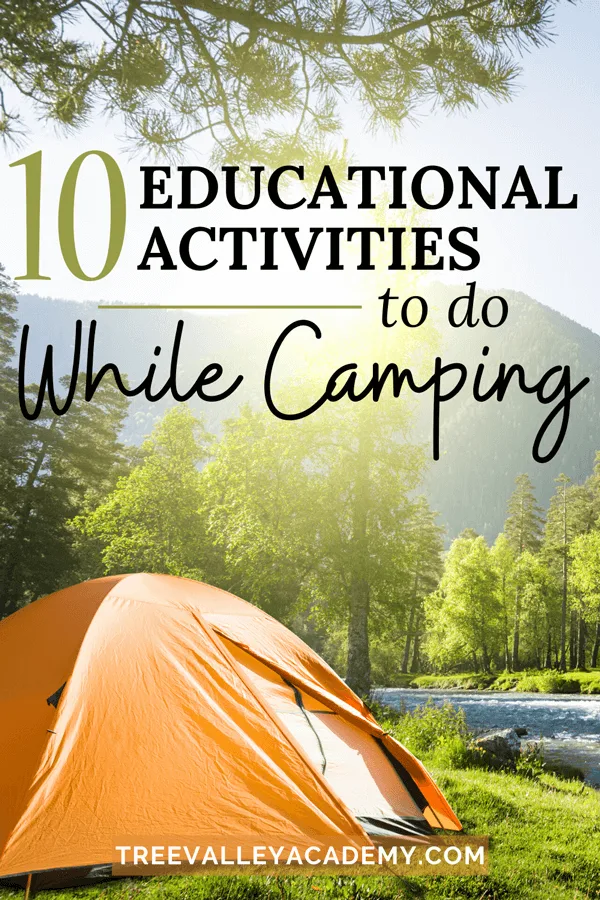 # 1 – Plant Identification
Children can learn a lot through plant identification, especially when the trees are indigenous to the area.
Before traveling to your campground, consider snagging a couple of books that can help with identifying a wide variety of leaves.
A frugal tip is to stop by your public library and check a couple out for free, or download a free plant identification app on your phone.
To make this activity even more engaging, consider letting your children create leaf charts, collages, and or art.
Don't forget to help them learn how to identify the poisonous plants such as poison ivy, poison oak, poison sumac, poodle dog bush, and the like.
#2 – Nature Scavenger Hunts
Going on a nature scavenger hunt, especially after learning how to identify plants, is a great way to sharpen those identification skills.
Create a list of things you want your children to go searching for. If you're not sure where to start, use common things like:
Different colored flowers
Different types of leaves
Sticks and twigs that look a certain way
Rocks or stones
Certain insects (that don't bite)
Have your child collect the items in a bag, take pictures, or make drawings as they begin to find the items on their list. Let your children help make the list as well. You never know what their imagination may cook up.
#3 – Learn About Navigation
In addition to plant identification and going on a scavenger hunt, camping trips can be a good time to teach children about navigation.
There are many important skills that can be taught from how to use a compass to using the stars to navigate around. You could also teach your child basic map skills.
I've used a pirate's treasure hunt to teach my daughter mapping skills, but you can exchange the pirate's treasure for something else that can be found in your camping area.
Encourage your child to draw a map of their own and incorporate different learning objectives, such as:
landmarks
symbols
a map key
compass
cardinal directions
#4 – Learn Wilderness Skills
Not that we anticipate something bad would happen while camping, but just in case, it's always a good idea to be familiar with some basic wilderness survival skills.
Some basic skills that could help boost your child's confidence in the wild are:
starting a fire
filtering water
how to read a map
how to tie different knots
basic first aid
Many, if not all, of these skills can be taught from setting up the tent, preparing a fire to roast marshmallows, and going on that scavenger hunt.
# 5 – Take Nature Walks
Nature walks have always been a fun way to learn about the great outdoors.
Not to mention, many state or provincial parks offer resources that can be used to accommodate your nature walk. Even without extra resources, a good journal and pencil will suffice.
Look for trails, creeks, and open fields and use them as an opportunity to teach about what makes a path, how the water cycle works, and about different landforms.
Kids could also be taught to identify different animal tracks and learn to be observant to signs of wildlife presence.
# 6 – Observe Wildlife
Being out in nature presents the perfect opportunity to observe wildlife.
If possible, do some research beforehand to determine which animals you might have the chance to see, and maybe learn a bit about some of them in advance.
Did you know that most wildlife is nocturnal? And since campers are often outside after dark, what a great opportunity to try and see some of these animals in nature, like bats, owls, or raccoons.
Another idea is to learn to identify different animals by their sound.
We might not always "see" an animal, but we can observe their presence if we are alert to signs like their:
sound
tracks
droppings or scat
feathers or fur snags
food or water sources
maybe broken shells
nests, dens or dams
bark scratchings, etc.
The Chipmunk
One of my favourite little animals to observe at the campsite is the chipmunk. One time my daughter and I spent a whole afternoon just observing chipmunks and we learned quite a bit.
And this summer, on a daily basis, we have had the opportunity to observe and interact with some chipmunks.
One of them we've named "Chippy" comes running when we call, eats nuts out of our hand, allows my daughter to pet him, and will let us know (looks in window & scratches on door) when he wants us to come out and give him more nuts.
When we camp, my daughter likes to spend some of her time trying to tame a campsite chipmunk.
# 7 – Board Games
One method of homeschooling that is popular with some is called gameschooling. Gameschooling like the name implies, is learning by playing board games. There are lists and lists of games to play for each academic subject.
We've been playing games on our family camping trips since I was a small child, and now I carry on that tradition with my daughter.
And one bonus is that this educational camping activity can be done even when it's raining. I have so many good memories playing games as a family, sitting at a picnic table under a tarp or kitchen tent, while it rains outside.
# 8 – Read Books
Whether sitting in a chair by the fire or lying in a hammock with a light blanket, there's something very relaxing about reading books while camping.
To encourage reading while camping, make sure to pack some books. Perhaps take a trip to the library with your kids beforehand, and let them pick some books to pack.
# 9 – Learning about the Stars
Being away from the city lights, camping is a great time to help kids learn to identify stars and constellations and maybe even some planets.
There are all kinds of websites or apps where you can see a map of the sky at your location.
#10 – Word Puzzles
Another of my favourite educational camping activities to have on hand for kids is printable word puzzles.
It's a fun activity to do while sitting at the campfire or swinging in a hammock.
Word puzzles help kids improve spelling, vocabulary and logical reasoning.
Here are some fun free printable camping word puzzles:
Or try one of these fun summer puzzles:
The next time you plan a camping trip, remember how easy it is to incorporate a little fun learning. And don't forget to take some good camping printables for your children to do on the way there!