I have decided my daughter will continue her "Animal Studies" learning about local animals, animals she can actually study in real life herself. We are currently studying the chipmunk.
If she were older I would give her a notebook to take outside to jot down her observations on the chipmunk. She's only 4. Although she can print her letters and draw pictures, the notebook method would be very impractical and slow at her age. However, I still feel animal observations can still be made at her young age.
To help her capture her observations, I sent her out with her Leapster Explorer
. It has a camera built into it, so she was to take pictures of things she observed.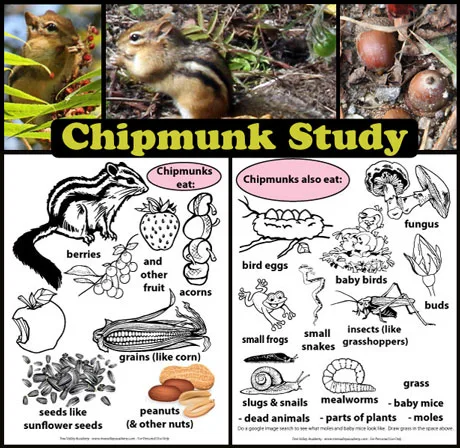 Preliminary Research
Before going out into the field, I explained to her a little about chipmunks. I told her that unless they have babies or are mating, chipmunks generally live alone. Each chipmunk has their own territory or area of land, where other chipmunks don't go, tho sometimes their territories could overlap a little bit.
Although they do climb trees a little, they mostly stay on the ground and live in tunnels they build in the ground. They are awake during the day, and sleep in the night, which is great so we get a chance to watch them. They spend much of their time finding food to eat and store in their tunnels for winter.
Now I could tell her a list of what they eat, but I might as well read to her from an encyclopedia. So I created a 2 page colouring printable that would be a better way for her to learn. She has referred to it several times on her own. A great way for little ones to learn what chipmunks eat. You can download a free copy here, or pin for later.

Field Studies
Now armed with some background knowledge, we were ready to go out into the field, aka our backyard. Our first outing I realized that being 4, and quietly observing while staying still was a tall order. So I learned I needed to break up our observation time in smaller task oriented intervals.
The first task, I gave my daughter her Leapster Explorer
, as I mentioned at the beginning, and told her to walk around our yard and see if she could find food that a chipmunk would eat in our backyard. When she found a food source she was to take a picture of it with her Leapster Explorer
camera. I went with her. Here are some of the things we found: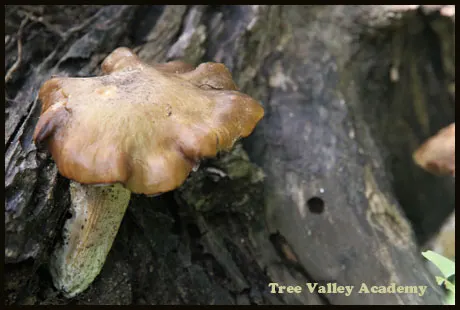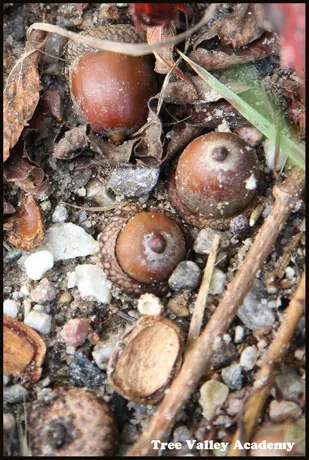 Acorns on the ground, gave us a clue to look up. We found 2 oak trees on our property, a great source of food for a chipmunk.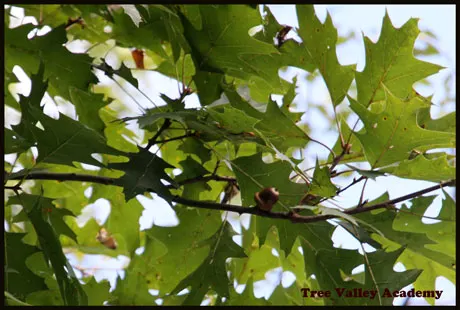 We also found crab apple trees. This chipmunk gave us a great education in a short amount of time. He was constantly eating, and quite a variety. After this apple, he went to a more dry sandy area where he had some bugs for a snack. Then a strawberry from my garden, only ate half of it, what a guy.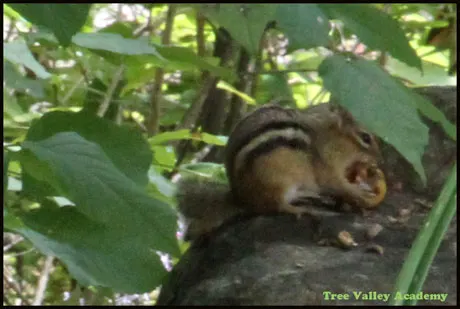 Then he climbed up this Sumac bush, and spent several minutes eating this fuzzy red plant.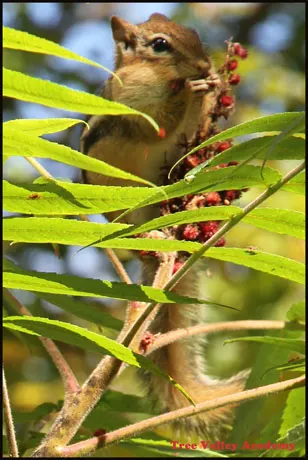 We learned so much more than we could have ever learned from a book. Besides answers, we also found ourselves with more questions. We developed some theories that we are looking forward to testing out. We are so ready for winter to be over so we can continue our chipmunk studies.
SaveSave