Earth Day is fast approaching! I've spent quite some time preparing our learning activities for that week. Even our Language Arts will follow the theme of taking care of the earth. My 6 year old will be learning to read, write and spell the vocabulary of 35 words.
The challenge is always to make learning fun, engaging, and almost effortless. I think I have just the thing.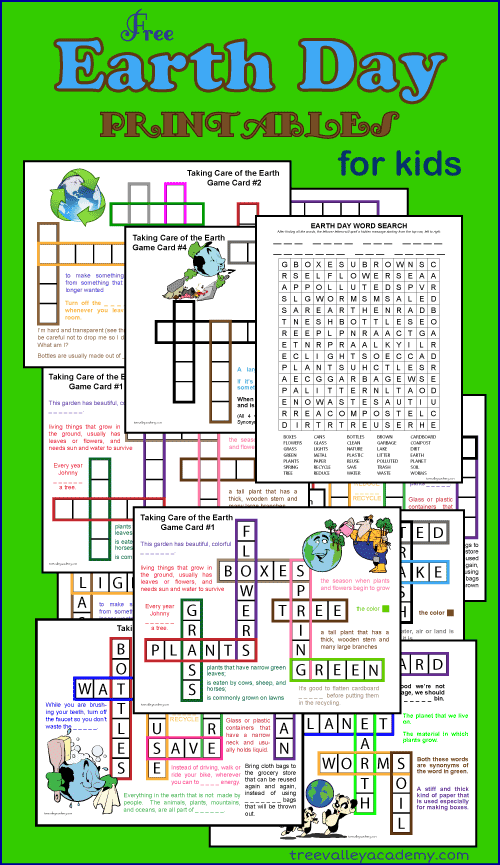 Learning to Read Earth Day Vocabulary
We will start each day reading a different children's book about taking care of the earth together.
My daughter loves it when I read to her. Her own reading improves all the time, but she doesn't have a ton of patience for reading too much herself. She's ok to read for a few pages or a few minutes, but then she's had enough. So I try to balance that sometimes by telling her we are going to read a story together. That means she is to read all the easy words I know she knows, and I will read the rest. I also get her to read words that I know are repeated often in the story. This gives her a lot of practice to get used to those new words.
There are 35 words I'm going to be focusing on for the week. So there will be a lot of practice learning to read the earth day vocabulary as we read a new book each day.
Beginner Level Crossword Puzzles For Kids
My daughter is not ready for crossword puzzles yet. The clues are often too difficult for her, usually the boxes to write in are too small, there's too many words to solve and just generally too intimidating for any young child to even want to attempt. Not to mention that she is only at the beginning stage of trying to spell words by sounding them out.
So I created some very kid friendly crossword puzzles. The goal of these puzzles are to make learning to spell fun. Here's how it works:
There are 5 crossword puzzle game cards – 1 for each day of the week. So each day they will be working with 7 of the 35 words.
The clues are meant to not be too difficult. In some cases there is more than one clue for a word, with the clues getting progressively easier. The focus here is lots of fun practice and repetition on sounding out words to learn to read, write and spell.
As well, there are no "Down" and "Across" in these kid-friendly crossword puzzles, but rather the text of the clues are coloured the same color as the box around the answer.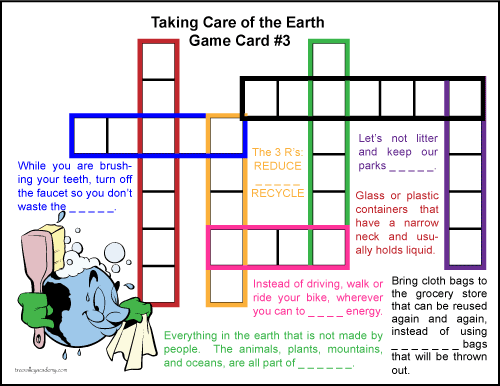 A Little Parent Preparation
Before your child begins their crossword puzzle, have the letters prepared that they will need in their puzzle. I designed the crosswords to be the perfect size to be used with scrabble letters. So if you have a Scrabble game at home you might want to borrow the letters for this. Of course you can use any type of letters you have on hand as long as they're not too big, even writing them on a paper and cutting them out will work fine. There's 7 words, so you should have 7 piles of letters.
I plan on putting a crayon or marker that matches the words color beside each pile of letters to help my daughter identify which pile of letters is meant for each word.
Sounding Out Earth Day Vocabulary
So your child has the crossword game card for the day. They read a clue and come up with the answer, but they don't know how to spell it. No frustration here, as they get to take the pile of letters for the word and try to rearrange the letters in the right order as they sound out the word. They just need to do their best and place their letters in the spaces of the puzzle. Of course, with occasional silent letters and other odd spelling rules they might not get it perfect, but that's ok. When they are finished, you can go over any words that they might need help in, possibly throwing in a few mini phonics lessons.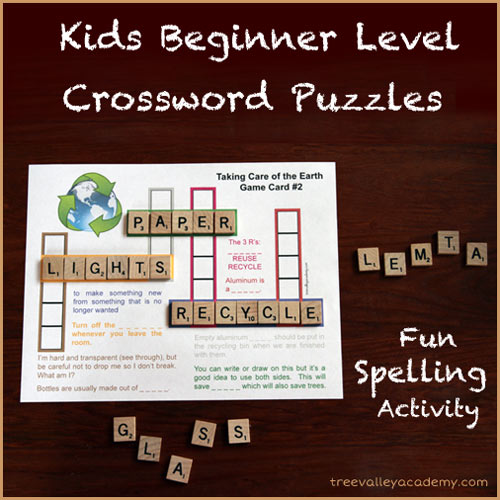 Learning to Write Earth Day Vocabulary
So now having completed their crossword puzzle with the scrabble letters, it's time to write the letters in. This gives extra practice going over the spelling of each word in their mind as they neatly write it out. Feel free to skip this next step, but I plan to get my daughter to write it out twice, first in pencil, and later over top of the pencil in black marker. I'm pretty confident that she will not mind in the least as she will enjoy helping to make some new game cards to play with.
Earth Day Spelling Game
Have you ever played Scrabble Jr. with your kids? My daughter loves to play it. When I first looked at the game in the store, I bought it thinking that it would be a fun way for my daughter to practice some spelling. I couldn't see inside the box, but I mistakenly envisioned at least several game cards to play with. Unfortunately I later found only one and the teacher side in me was disappointed. I've always had in mind to create some more game cards to play with, and now I finally have.
My daughter's completed crossword puzzles will each be a finished game card that she can play with again and again. I have even ordered a laminator so we can protect and make each card more durable to play with. I will laminate the cards that has the words in my daughter's writing, but I have also included printables with the words in typed version in case you prefer that version for your game.
The rules of the game, inspired by Scrabble Jr., but not lol:
2+ players
Each player chooses a card to play with.
Each player begins with 7 letters.
Players take turns, and on their turn they can place any 2 letters on their game card. The letters of each turn needs to be part of a single word. On each turn, they can work on any word on their card without needing to have completed a word before beginning another.
If a word only needs 1 letter to be completed, then they will just use 1 letter for their turn.
After each turn, they pick up new letters to replace the ones they've used. They should have 7 letters.
If a player doesn't have the letters needed, then their turn is exchanging any 2 of their letters for another 2 from the pile. They could also make the decision to completely change their letters, and that will be their turn.
The object of the game is to be the first player to complete your card.
Earth Day Word Search
To finish with even more Earth Day vocabulary spelling practice, here's a word search featuring the same 35 words. To make it easier for beginner searchers, the words only go up and down and across. There are no diagonal or backwards words.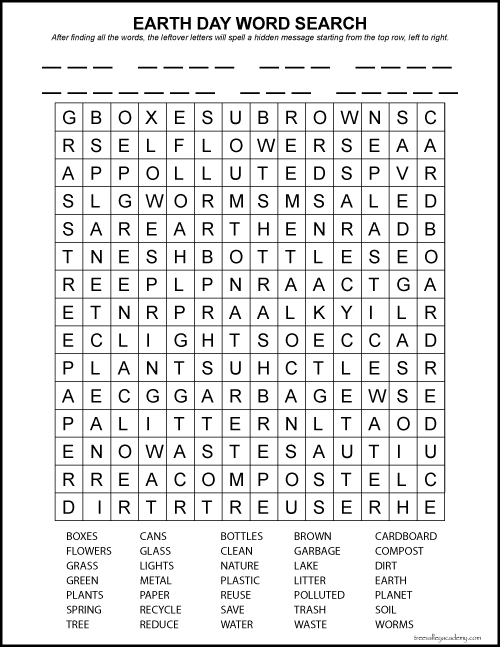 And there you have it! A week full of learning to read, write and spell Earth Day vocabulary for kids.
To get your free copy of the Earth Day Word Search and Crossword Puzzles for kids, subscribe to our email list below and you will get free instant access. Make sure when printing you print actual size or at 100%.