Spring is almost here and there are so many great children's books that can help kids learn about this wonderful season!
Here are some of our favourite spring books for kids: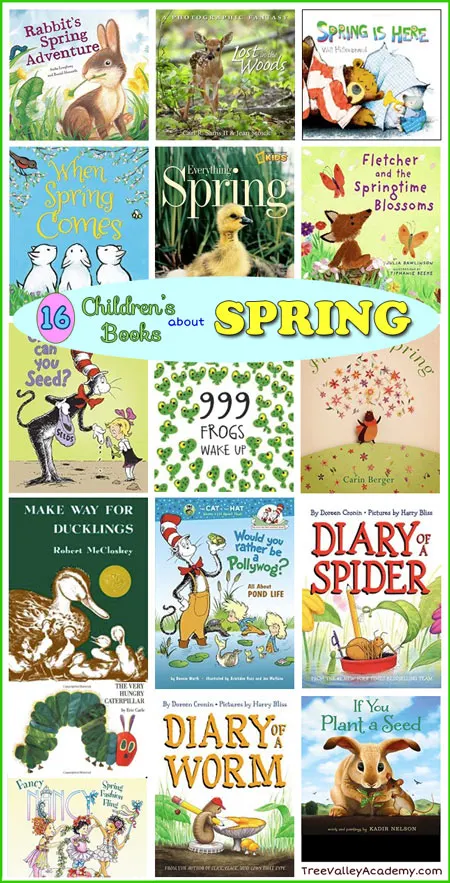 by Eric Carle
A classic, about a caterpillar turning into a beautiful butterfly. Ideal for Kindergarten or younger. The images are bright and colourful and very captivating.
Learning activities from this book are endless. Learning the days of the week or about caterpillars turning into butterflies are a given for this book.
You could also throw in some sight word practice with these colourful downloadable word puzzles or with this sight word game from Playdough to Plato.
Or if crafts are on the day's menu, then try one of these fun crafts.
by Anita Loughrey and Daniel Howarth
I have read this to my daughter many times. Rabbit goes on an adventure to discover what spring is and ends up getting lost.
There are several activity ideas and spring learning on the last few pages of the book.
#3 – Spring Is Here (A Bear and Mole Story)
by Will Hillenbrand
An entertaining picture book ideal for ages 3-6.
Mole tries so hard to wake up his friend Bear, but no matter how hard he tries he just can't wake him up. In the end Mole is so exhausted he falls asleep before Bear wakes up and announces that "Spring Is Here"!
This book would be a great way to introduce learning about hibernation.
by Carin Berger
If you can find it at your local library, another good spring book that deals with hibernation is Finding Spring.
It's about a baby bear cub that instead of hibernating in the winter like his mother, leaves his cozy den in search of spring.
by Robert Mccluskey
Another classic and a Caldecott medal winner in 1942.
The story is of 2 adult ducks (Mr. and Mrs. Mallard) searching for a place that's safe enough to raise their 8 little ducklings.
For some learning ideas see Make Way For Ducklings – Lesson Ideas.
by Doreen Cronin
Ideal for ages 4-8 but I think readers of all ages will enjoy its humour.
One of my favourite books, this story had my 5 year old (and myself) laughing hysterically. If you haven't heard of this book, you probably should check this one out.
by Doreen Cronin
Same thing for the Diary of a Spider. Both books are a great way to introduce worm and spider learning.
by Ken Kimora
A humorous book about 999 frogs that try to wake up all the other animals for spring.
Another entertaining book that has quite a bit about the frog life-cycle. It's a great way for kids to learn about the animals and plants that make their home in ponds or lakes.
Like most Cat in the Hat books there's a lot of information packed into the book. So while some preschoolers might enjoy them, I think they'll be better understood by school aged children.
My 5 year old enjoys the stories and learns a lot from them. But I know we'll be reading them again and again over the next few years and I'm sure she'll absorb something new every time.
A great book to read for spring that teaches kids about plant life cycles, photo synthesis, pollination and more.
by Kadir Nelson
A book with beautiful images that teaches a great moral lesson. A fuzzy brown rabbit and a little mouse get more than the fruits and vegetables they planted.
by Kevin Henkes
A book to read at the end of winter when spring can't seem to come fast enough!
by Jill Esbaum
A photo book that is a beautiful way to introduce spring.
by Carl R. Sams II and Jean Stoick
I really enjoyed the photography in this book about a little fawn without his mother.
The other forest animals are trying to help a little deer they think is lost.
There's a good story to the book but it's also educational and teaches kids some valuable information about deers and why the fawns might be alone.
by Jane O'Connor
Just for the enjoyment of reading. A fun book for girls!
My daughter is all about getting dressed up and fashion so she was entertained by this book.
by Julia Rawlinson
Fletcher the fox was so excited for spring until he noticed something unexpected: snow!
Worried about what this means for the other animals, Fletcher sounds the alarm.
A cute springtime story!
by Dr. Seuss
Babies and toddlers will love this cute rhyming spring book.
And there you have it, 17 of our favourite children's books about spring!
What spring time books are your child's favourites?