Here are 29 of our favorite spider books for kids.
Whether your children are learning about spiders at home or in the classroom, these fiction and non fiction books will be enjoyable for kids to read.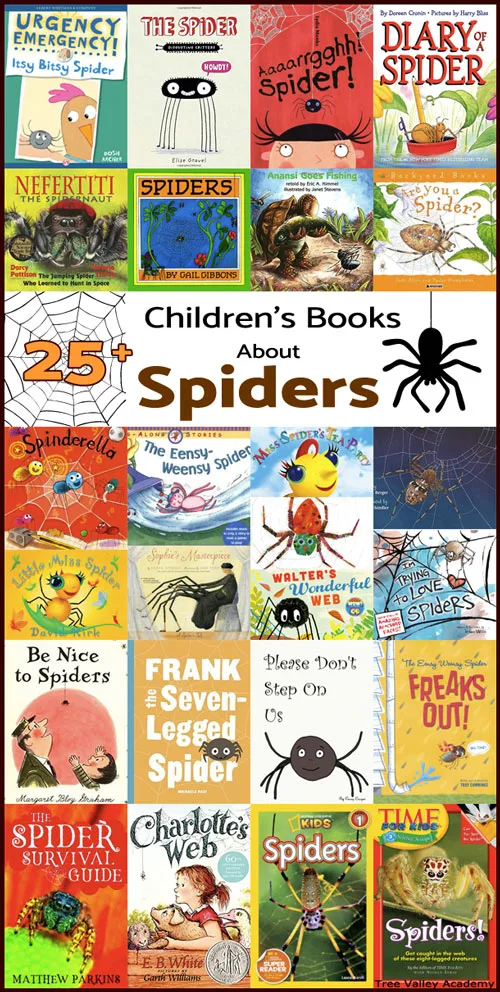 Fiction Spider Books for Kids
My Kindergarten aged daughter loves spiders. She thinks they're cute and plays with them like they are pets.
I read to her as many spider themed books as I could find. These are the story books she loves the most:
by Margaret Bloy Graham
preschool – Grade 3
The story of a spider named Helen. Helen is left at the zoo by a little boy who can no longer keep her.
When Helen arrives at the zoo, the animals are miserable having to deal with all the pesky flies. But with Helen spinning webs and eating flies, the animals are suddenly quite happy.
One day the Zoo Keeper had all the animals' cages clean and the web's removed for the visit of the mayor. Before long, the flies were returning and the animals were miserable again. But not for long…
by Lydia Monks
preschool – Grade 1
The story of a spider that tries so desperately to become a family's pet. But each time she tries to impress the family, she manages to scare them instead.
by Bethany Barton
preschool – Grade 2
An arachnophobe tries to talk him / herself into liking spiders. There's a great balance of facts about spiders mixed with humour. Every few pages there's an outline of a hand where the arachnophobe contemplates squishing the spider.
by Doreen Cronin
preschool – Grade 3
Learn about spiders with this hilarious story that will have you and your children laughing out loud.
My daughter (or even me for that matter) didn't get every single joke, but we still quite enjoyed this book and the others in the series.
A picture book that tells about the adventure of a spider through his daily diary entries.
by Casey Crayne
preschool – Grade 1
A spider and his friends try to convince you not to step on them.
It teaches kids compassion for spiders. They learn that most spiders that come into the house are harmless and only want to eat the mosquito's and other bugs that come into our house.
Simple illustrations with a humorous story.
S. D. Burke
Preschool – Grade 4
A funny story that will have kids laughing.
by Michaele Razi
Preschool – Grade 3
One morning a spider wakes up discovering he's missing a leg. Is he still a spider if he only has 7 legs? Frank isn't sure but he's determined to discover the answer and find his missing leg.
by Eileen Spinelli
Preschool – Grade 2
Sophie is not just a spider, she's an artist.
A touching story of a spider who does her best to help the tenants in the house she lives in. All her efforts go unappreciated as all the tenants can see is that she's a spider, and she only gets swatted at and shooed away.
Time goes by, and when she's getting old and weak, she sees a need and musters up the strength to create her masterpiece.
by Eric A. Kimmel
Kindergarten – Grade 2
A story of a lazy spider named Anansi who gets tricked into doing all the work of catching a fish.
This had both my 6 year old and I laughing almost the whole way through.
It's part of a whole series of Anansi books based on West African folklore. Usually he's playing a trick on someone and there's always a lesson to be learned. We've read quite a few in the series, some we liked and some we didn't. "Anansi Goes Fishing" was a favourite.
by Eric Carle
preschool
An Eric Carle classic about a spider who spins a web on a farmyard fence.
One by one the animals ask the spider if she wants to play, but she doesn't answer, until the end when she finishes her web.
Truth be told, I did not care too much for this book. I prefer books with a bit more of a storyline, and was debating whether or not to add it to this list. But I can't deny that it's a well known children's book about spiders, due to its famous author Eric Carle.
by Tim Hopgood
Ages 2-4
Walter the spider builds webs in different shapes, and the wind blows them all away. Finally he builds a perfect web that is able to withstand the wind.
A book to teach little ones shapes.
by Mary Ann Hoberman
preschool – Grade 1
The story follows a day in the life of "The Eensy-Weensy Spider".
Kids are sure to like singing along with this story. Each page can be sung to the tune of "The Eensy-Weensy Spider".
There's 11 pages so parents are sure to get a lot of singing practice each time through. One of the perks of having kids hehehe. 😉
by Troy Cummings
Preschool – Grade 2
A spin-off on the classic nursery rhyme. Instead of going up the spout again, the eensy-weensy spider FREAKS OUT!
Eensy is embarrassed by her fall and vows to keep all 8 legs firmly on the ground. But Eensy's ladybug friend helps her overcome her fear. She encourages her to start small and eventually Eensy builds up her courage to climb higher and higher.
by Dosh Archer
Preschool – Grade 2
Another spin-off, this time a mix of 2 nursery rhymes with spiders: Itsy Bitsy & Little Miss Muffet.
A great little story about a spider that ends up in the hospital with a head injury. And the only one who is available to take care of the injured spider when she leaves the hospital is Little Miss Muffet.
by David Kirk
Preschool – Grade 1
When a spider pops out of her egg, she doesn't see her mother and wonders where she is.
She goes on a journey to find her mother, and in the end decides she found her mother, because "your mother…is the creature who loves you the best."
by David Kirk
Preschool – Grade 3
Miss Spider wants to have a tea party but none of the bugs want to accept her invitation. That is until they discover that Miss Spider is actually a nice spider that eats flowers and drinks tea.
A cute story with beautiful illustrations and lots of rhyming.
by Julia Donaldson
Preschool – Grade 1
A cute book about spiders for the younger ones that teaches the importance of counting and numbers.
A spider named Spinderella wants to learn about numbers and how to count. But her mum and siblings all think numbers are not important.
But then come's Spinderella's hairy godmother who takes her to a classroom of kids where Spinderella is able to learn about numbers. With her newfound knowledge, Spinderella is able to play soccer with her family.
by Megan McDonald
Grades 1 – 4
Perfect for kids beginning to read chapter books.
by Matthew Parkins
Grade 2 – 6
From the cover, it might not be obvious that this is actually a children's fiction chapter book about spiders.
An imaginative funny story about an 11 year old boy that spends a day as a spider.
by E.B. White
Grade 3-6
A classic, well-known story about a spider's friendship with a pig.
Non-Fiction Spider Books for Kids
Here are some great spider books for kids that would like to learn about spiders:
by Gail Gibbons
preschool – Grade 2
by Judy Allen
Kindergarten – Grade 3
(Let's Read and Find Out Science 2)
by Melvin Berger
Kindergarten – Grade 4
The Jumping Spider Who Learned to Hunt in Space
by Darcy Pattison
Kindergarten – Grade 5
In 2012, Nerfertiti, a jumping spider journeyed to the International Space Station for a series of experiments in near zero gravity. She spent 100 days in space.
Jumping spiders eat by jumping to catch their prey and then fall back to earth because of gravity.
Could a spider survive in a very little gravity environment? And if she does learn how to adapt, will she relearn how to catch her prey when she returns back to earth.
This is Nerfertiti's story.
Spiders spin webs based on how much they weigh. But how would a spider spin a web in space where they would weigh nothing?
In 1973, a spider named Arabella was the first spider to spin a web in space. This is her story.
by Miles Kelly and Camilla de la Bédoyère
Ages 6 – 10
This educational book has 100 interesting facts about spiders, beautiful photos, quizzes and activities to keep kids wanting to learn about the world of spiders.
by Emily Morgan
Kindergarten – Grade 2
by Laura Marsh
Kindergarten – Grade 3
by Elise Gravel
Grade 1 – 4
Even tho this is a non-fiction, it still has an entertaining element as it teaches kids about spiders with almost comic-book like graphics.