Letters and the mail is the theme of this 4th grade word search.
You can download a free printable copy below.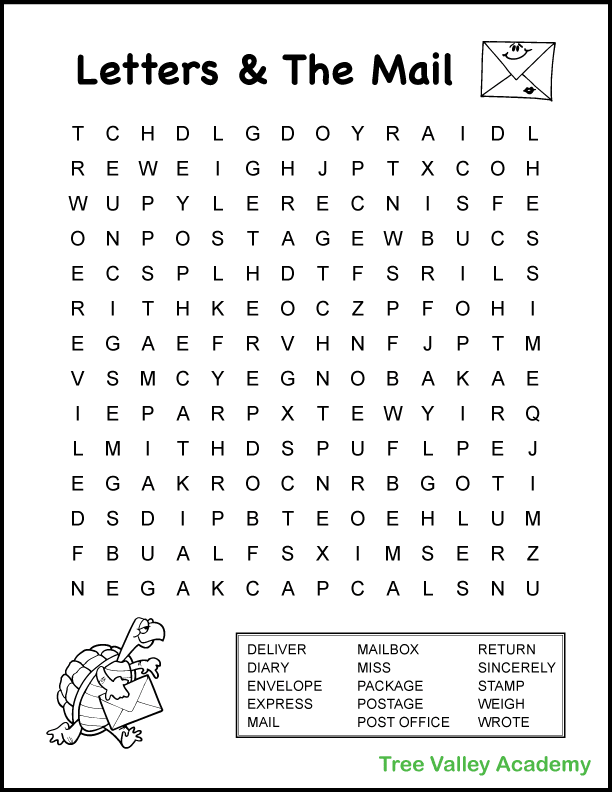 4th Grade Mail Theme Words
There are 15 words to find in this word search. 14 of the words are from the "Mail & Letters" themed 4th grade spelling list. And the word "weigh" is a previously learned spelling word.
The words of this word search are hidden in every direction – backwards or forwards, horizontally, vertically or diagonally.
Doing a word search is a good way for kids to begin learning the spellings of these words.
Printable 4th Grade Word Search
You can download a free printable copy of this mail themed 4th grade word search below.
The pdf includes the answers.
More Letter Writing & Mail Themed Activities
For an easier mail themed word search, see this 2nd grade letter writing & cards word search.
If your child is doing the 4th grade mail themed spelling list, another worksheet to help practice the words is this word shape puzzle.
If you're doing a letter writing theme, you might be interested in this geometric animal art lesson for a fun card making idea for kids.
Mail Word Search Answer Key
Having trouble finding one of the words? Here is a color coded answer key that will show you where the hidden words are hiding: