Here is a free printable long I word search for kids.
The word search is a fun worksheet for kids learning about the long I sound. It's a fun way for them to practice reading and spelling long I words.
It's especially perfect for students in 2nd grade. Grade 2 is the year students learn that the long vowel can be heard in words with:
IE
one syllable words ending in Y
and I_E words or words with an I and a silent E.
The phonics worksheet can be downloaded free below.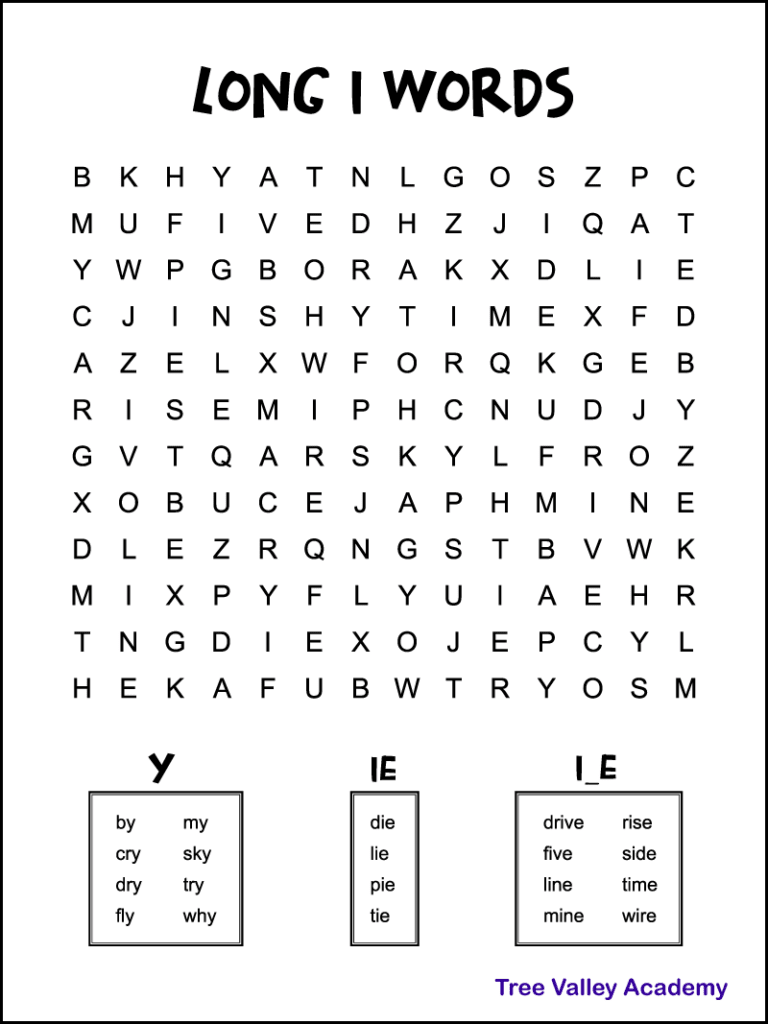 Skill Level
This long I word search is an easy beginner level puzzle for early elementary kids, around 6 or 7 years old.
The large print word puzzle has 20 long I words for kids to find and circle. They are hidden in a 12 X 14 grid of letters.
To make it easy for kids, the words are only hidden horizontally and vertically. There are no diagonal words.
The horizontal words are all forward facing, from left to right. The vertical words are in the direction easiest to read, from top to bottom. There are no words that are backwards.
Long I Words
The long I sound word puzzle will have kids searching for long i words:
ending in Y
with IE
with a silent E
Words Ending in Y
There are 8 hidden one syllable words ending in Y:
by
cry
dry
fly
my
sky
try
why
IE Words
And 4 IE Words to find:
die
lie
pie
tie
Long I Words With Silent E
And 8 I_E words:
drive
five
line
mine
rise
side
time
wire
Download and Print
The long I vowel sound word search can be downloaded free below.
The printable pdf includes an answer page to make it easy for parents and teachers.
There are more free printable 2nd grade spelling word puzzles and worksheets available like this long E word search.
Long I Word Search Answer Key
If you need to help a child find a word, here's a color-coded answer key showing where the words are hidden.