Here is a free printable easy math word search for kids.
The difficulty level of this kids word search is easy. It is best suited for elementary students in grades 1 or 2.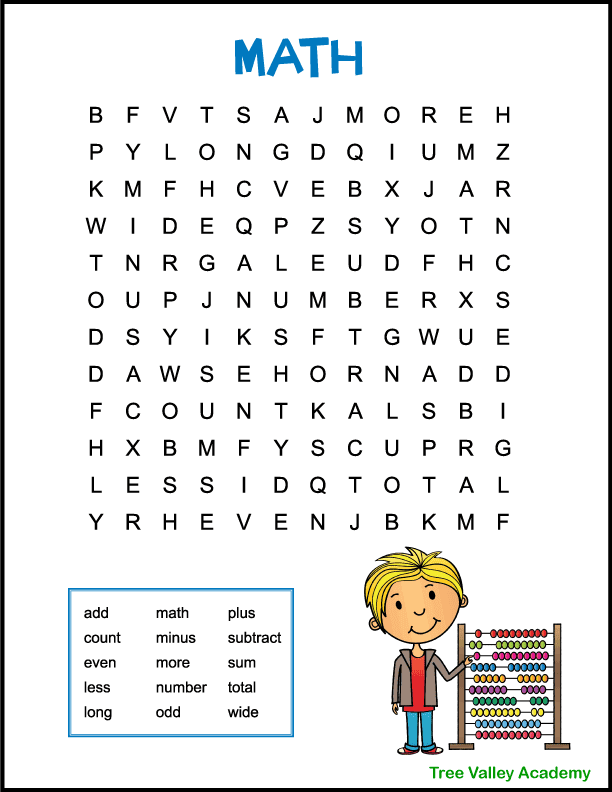 About This Word Search
There are 15 words for children to seek, find and circle.
Since this is a beginner level word puzzle, the words are hidden horizontally and vertically. There are no diagonal words.
The horizontal words will be found in the direction we read, from left to right. And the vertical words are also easier to find as they can all be read from top to bottom.
Math Words of the Puzzle
The words of the puzzle are 2nd grade spelling words. They are beginner math terms kids will frequently use. Words like:
math
number
count
odd
even
more
less
Addition vocabulary like: add, plus, sum, and total.
Subtraction words like: subtract, and minus.
And measurement words like: wide and long.
Printable Math Word Search
Your child will only need a pencil and a print out of the word search.
You can download a free printable copy of the math word search below. The pdf includes an answer page.
More Math Word Puzzles
For some more fun printable word puzzles at a 2nd grade spelling level, you can check out these word puzzles that will help kids learn to spell the number words 1-10.
There's a word maze, crossword puzzle, word search, word scramble, word shape puzzle and more.
Answer Key
Here is a color coded answer key for this math terms word search puzzle: