Here is a fun multiplication coloring activity for kids. It's a color by number printable that combines math with geography.
Kids will get to practice their multiplication facts, while learning the names and locations of countries in Africa. And all this learning comes in the form of a coloring activity.
It combines math with geography and art.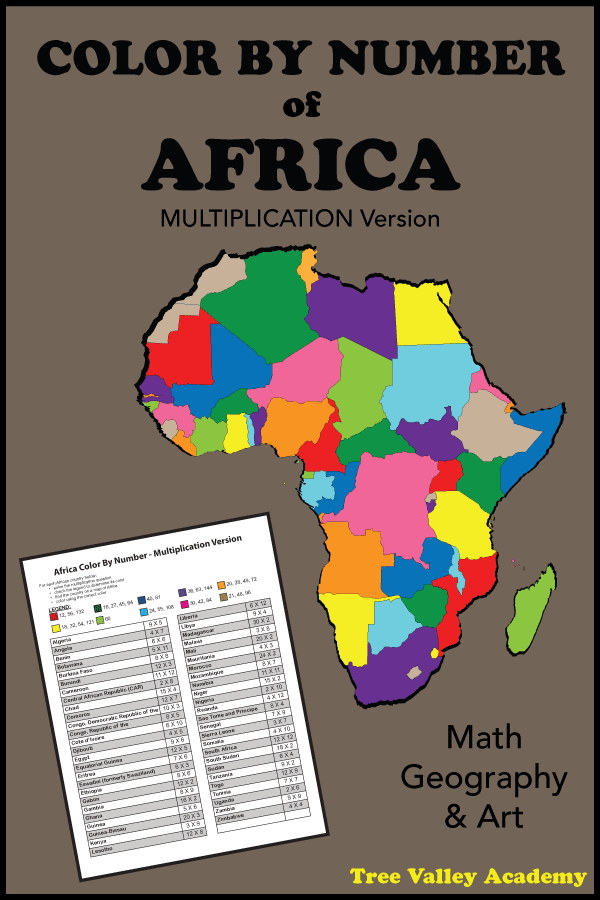 Supplies Needed
Kids will need 3 things for this multiplication coloring activity:
10 colored pencil crayons
the 1 page Africa multiplication color by number printable
a printable map of Africa (with or without country names)
How This Coloring Activity Works
The downloadable color by number printable has a page with a list of 51 African countries.
Beside the name of each African country is a multiplication question.
For example, beside the country "Algeria", you'll find the question 9 X 5.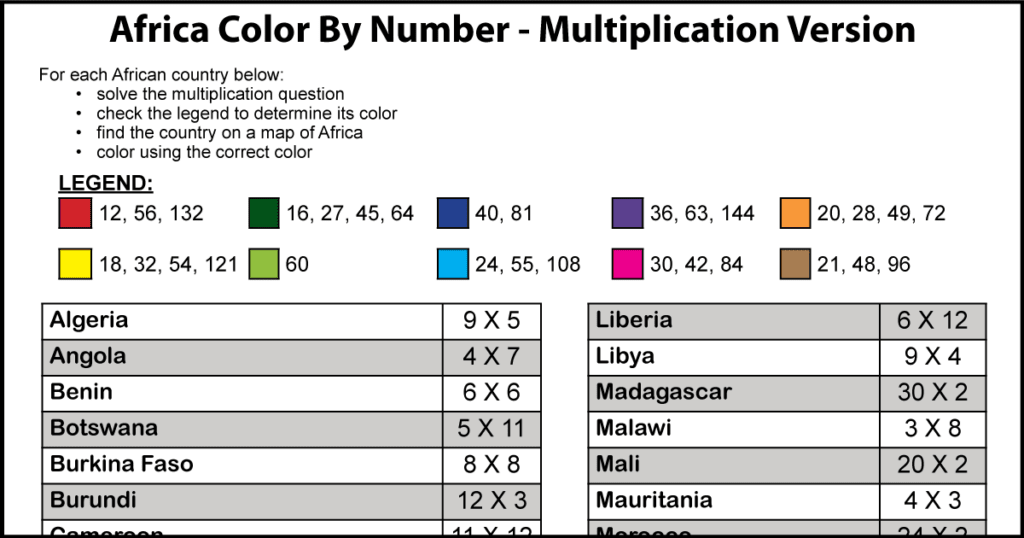 Math
First kids need to solve the multiplication problem.
If the child knows the answer, they look at the legend to see which color goes with the number. In this instance, they would see that the number 45 needs to be coloured dark green.
Geography
The next step is to find Algeria on a map of Africa.
Kids that are new to learning African geography can use a map with the country names on it.
And kids who are more familiar with African geography can have more of a challenge by having a map without the names of the countries.
Art
Once they've located the country Algeria, they can color it dark green.
Answer Key
If they get all the multiplication questions correct, the African map will be coloured like this: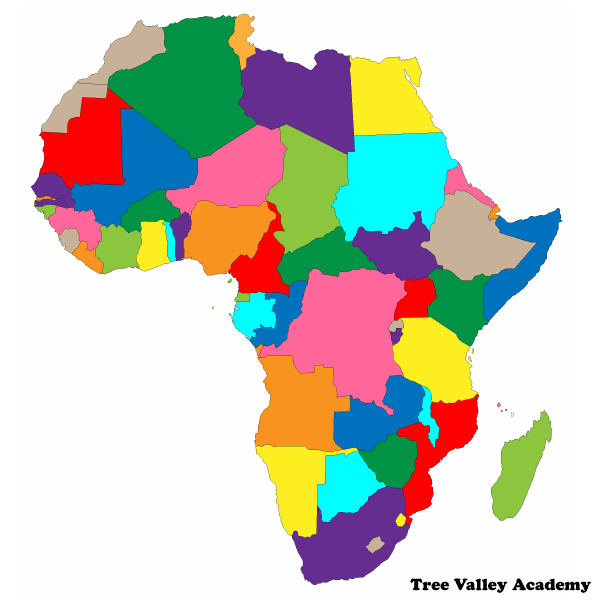 Printing Map of Africa
My go-to place for downloading printable maps for anything Geography related is at d-maps.com. It's free, so you can grab yourself a map there.
For easy reference, here are 2 possible maps:
If your child is a beginner with African geography, it might be best to print out a map of Africa that has the countries names on it.
But if your student already has experience with African geography and is ready for more of a challenge, then you might wish to print out a blank map of Africa that doesn't have country names on it.
For easy printing instructions: click on the .pdf button which is on the left near the top of the d-map website. Then File – Print or however you print on your device.
Printable Color by Number Multiplication Worksheet
You can grab the freebie below!
After entering your email address, the 2 page .pdf will open.
You only need to print the first page. The second page is the answer sheet.
More Multiplication Worksheets
For more fun multiplication coloring activities, try this color by number of the United States or this free "Who Am I"? multiplication game.
To help your child practice their times tables, you can grab a copy of these printable multiplication flash cards.