Here is a printable silent letters crossword puzzle for elementary students around 3rd grade.
It's a fun spelling activity for kids to work on vocabulary and spelling words with silent consonants.
The crossword puzzle for kids is free to download and print.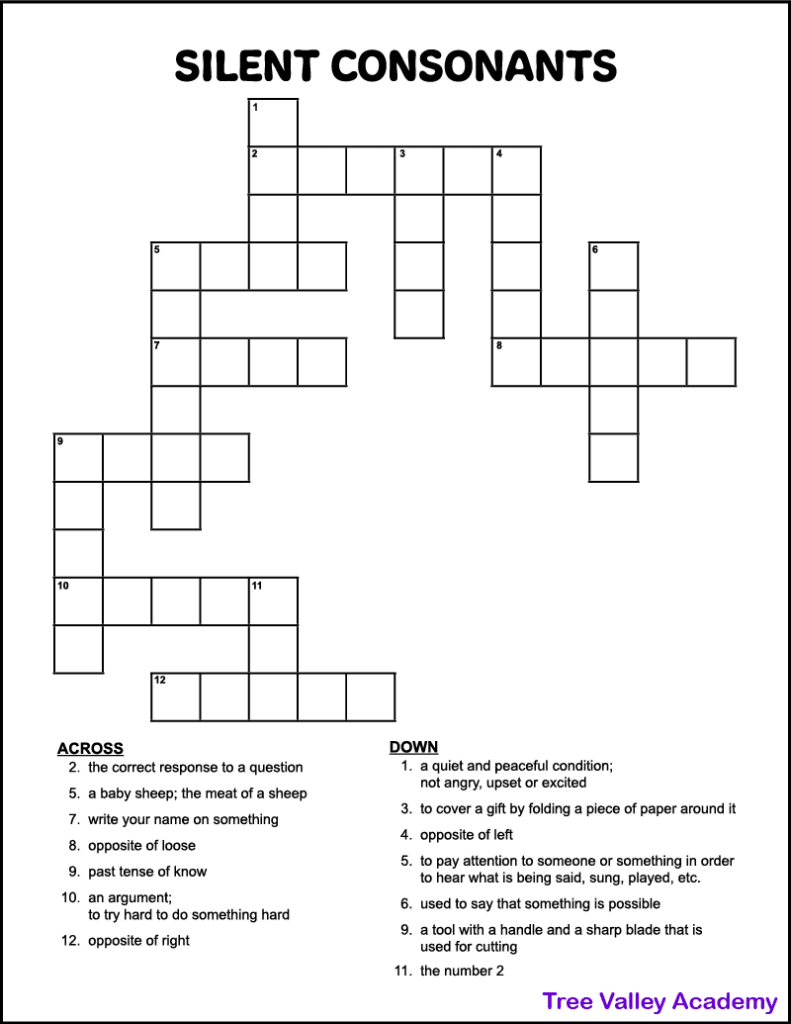 About This Crossword Puzzle
This printable crossword puzzle has 13 words for kids to identify. All the words have one or more silent consonants.
The puzzle's words are from the silent consonant themed 3rd grade spelling list (plus a 2nd grade word).
It's a fun way for kids to:
practice their spelling of these 3rd grade words
improve their vocabulary skills.
The clues are often the definition of a word. For each of the 13 clues, kids will need to figure out which word is being defined.
No doubt they will find some clues easier to solve than others. Correctly solving and spelling the easier words should give some extra letters to help them identify the words they might not figure out on the first try.
Words with Silent Letters
The words of the puzzle include these silent letters and digraphs: L, T, W, KN, GN, WR, MB & GH.
L – calm
T – listen
W – answer
KN – knew & knife
GN – sign
WR – wrap, wrong
MB – lamb
GH – fight, might, right, tight
Printable Crossword Puzzle
The silent consonants crossword puzzle can be downloaded free below.
The pdf includes an answer page.
Silent Consonants Crossword Answer Key
Here's the puzzle's answer key: