My 4 year old has a poster with the pictures of 60 local birds and their names. I keep it near the window so my daughter can consult it throughout the day when she looks at the birds outside.
She will come to me several times in a day, to ask me to help her read the name of a bird that she thinks she sees.
We see a variety of birds, but probably the most common, is the Blue Jay. At any given time (in the winter), we probably see 10-20 blue jays when we look out the window.
Educational Coloring Worksheet of a Blue Jay
To help my daughter improve her birding observation skills, I created a coloring worksheet of a Blue Jay.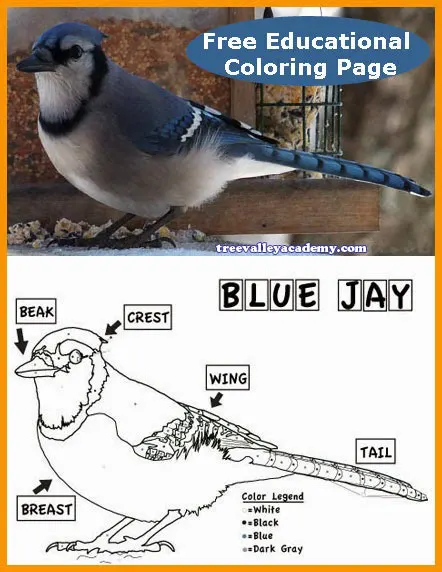 It's a very detailed coloring project, and requires a little bit of advanced coloring skills.
I told my daughter she didn't have to color it all at once, and could color a bit at a time. Well this is the sort of challenge she appreciates, and had it colored within 15 minutes.
The second part of the project (the cutting & gluing part) she had little patience for afterwards, so we completed that part at another time.
Subscribe below to get instant access to the free 2 page printable coloring worksheets.