Grab one of these fun printable fairy tale fill in word puzzles for kids.
They are free to download and print.
Both puzzles are decorated with cute fairy tale images that can be colored if desired.
What Is A Fill in Puzzle?
Fill-in word puzzles are fun word games you can play by yourself. They look similar to a crossword puzzle, but instead of being given clues, you are given the answers right from the start.
The challenge is figuring out where each word goes. You win once you've succeeded in fitting every word into the puzzle.
Here are more detailed instructions on how to solve a fill-in puzzle.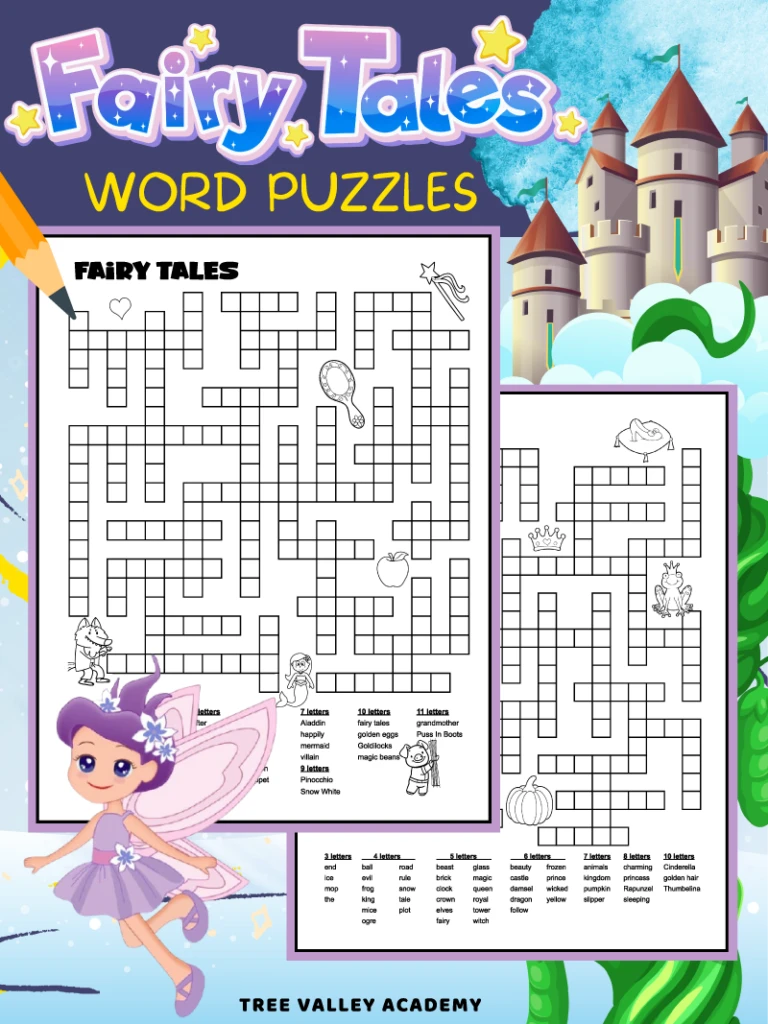 Difficulty Level
Both fairy tale puzzles have an easy to medium level of difficulty.
It's fun for ages 8 to adult.
The puzzles are also a fun and educational vocabulary and 4th grade spelling activity. Many of the words are from this fairy tale themed 4th grade spelling list and also include the fairy tale spelling words from 2nd and 3rd grade.
Fairy Tales Fill In Word Puzzle
The first fill-in word puzzle has 45 fairy tale words to fit in the puzzle – 3-letter words up to 11-letter terms.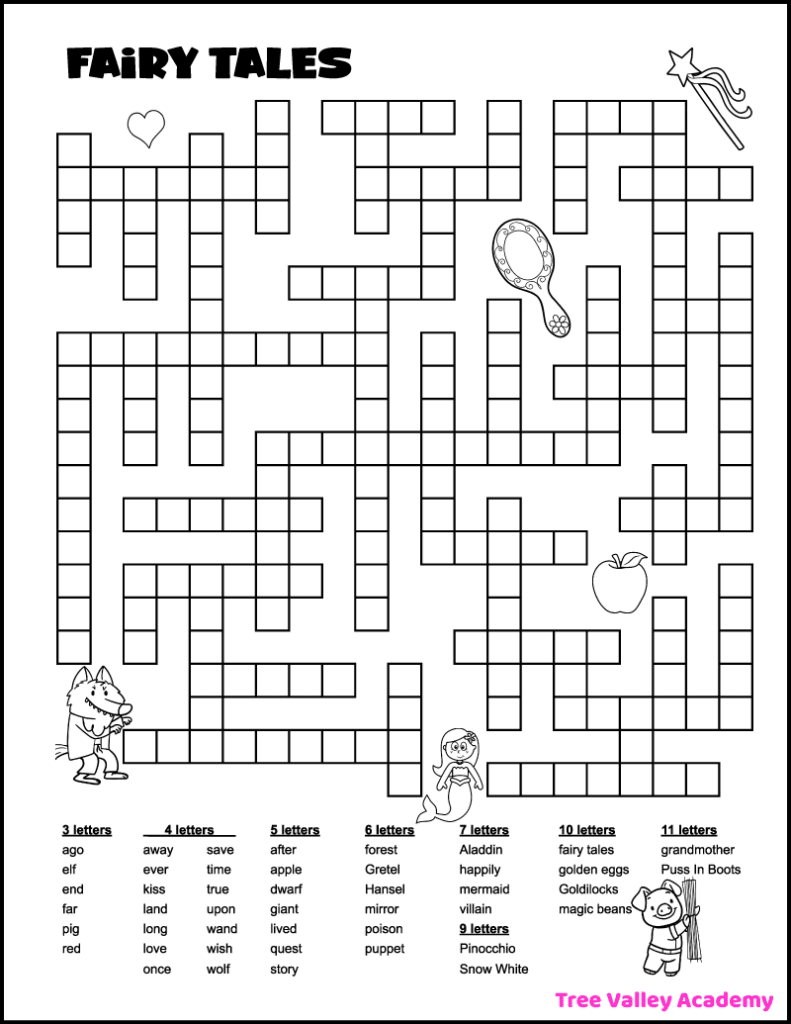 It has a lot of common words found in fairy tales, like:
once upon a time
far far away
lived happily ever after
The words of the puzzle go along well with the fairy tales:
Puss In Boots
Jack and the Beanstalk
Pinocchio
Snow White
Hansel and Gretel
Aladdin
Goldilocks and the Three Bears
Little Red Riding Hood
Fairy Tale Word Puzzle
This next fairy tale word puzzle is a bit more challenging than the previous one since there are at least 3 words per group of letters.
There are 47 fairy tale words to fit in this puzzle – 3 to 10 letter words.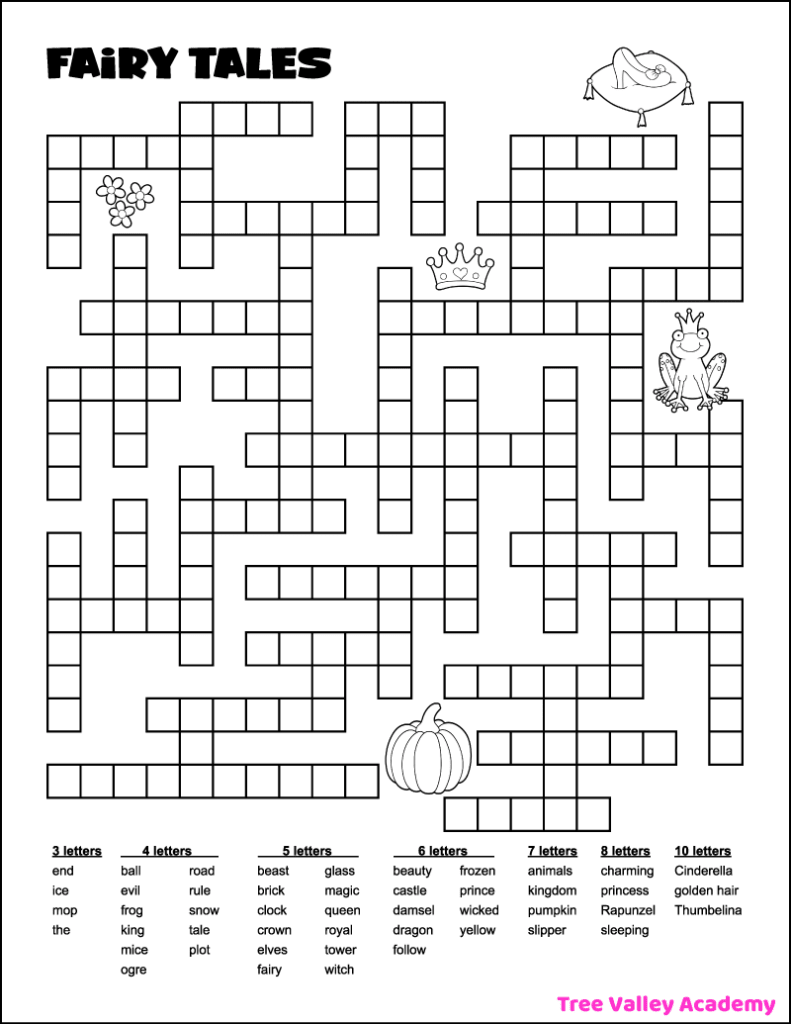 This fill in puzzle will make a fun book activity for kids reading one of these fairy tales:
Cinderella
Thumbelina
Rapunzel
The Snow Queen
The Frog Prince
Sleeping Beauty
The Wizard of Oz
Beauty and the Beast
Free Printable Fairy Tales Word Puzzles
Both printable fairy tale word puzzles can be downloaded free below.
The PDF will give you 2 fairy tale puzzles as well as their answer sheets.
Fairy Tale Fill In Puzzle Answer Keys
Here are the answer keys for these fairy tale themed fill in word puzzles: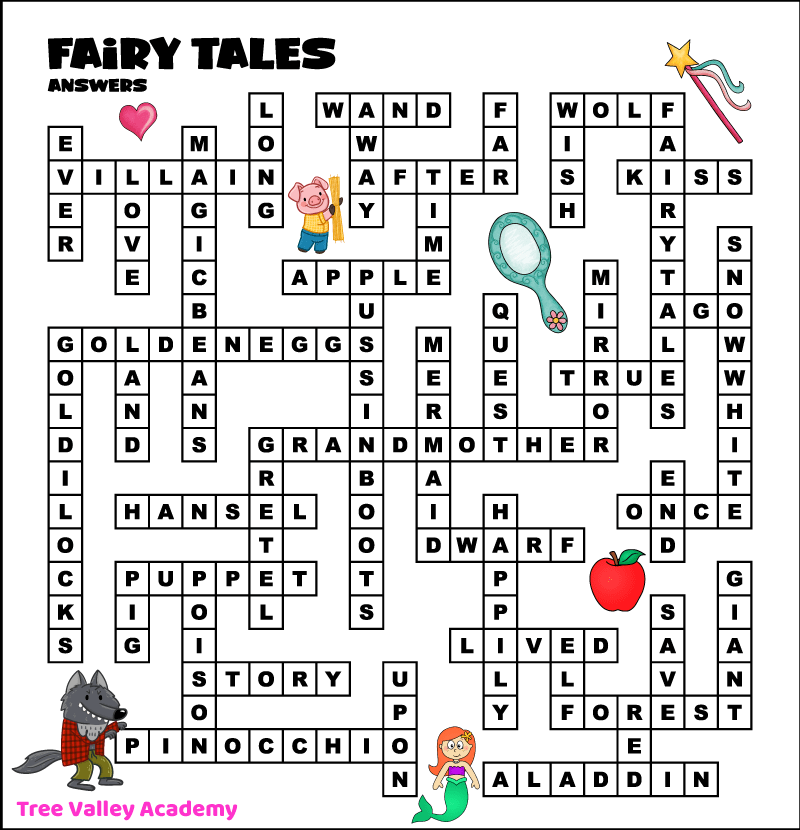 And here are the answers of the 2nd puzzle: