Grab a copy of these printable football party games. They are fun printable indoor football games for adults and kids to play before and during the big game.
The 9 page printable pdf includes:
32 football themed charades words
a prediction sheet with 12 different questions to answer
12 bingo cards
Whether you're hosting a viewing party of the big game or just want to get your kids involved in and have them learn a bit about football, these printable games will be fun to have.
You can download them free below. You can even choose to print them in the colors of the team you're rooting for.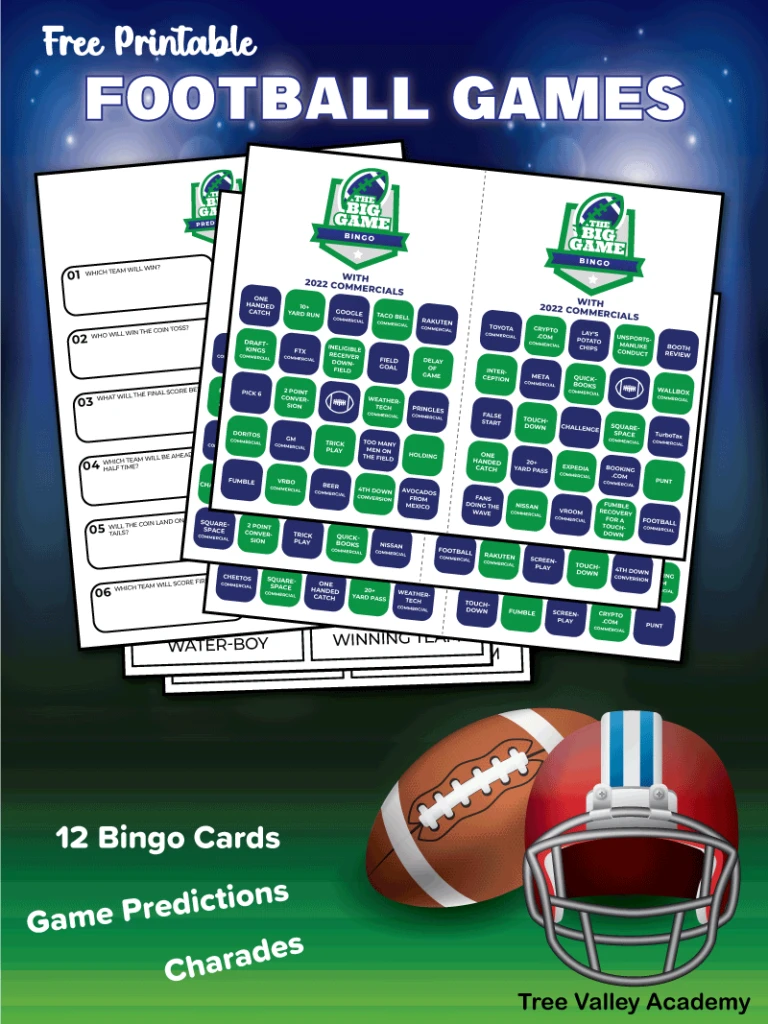 Football Charades Game
Before the big game, or during the commercials, adults and kids can test their football vocabulary with a game of charades.
Have your family and friends split into teams. Then they can take turns trying to get their team to correctly guess the word on their paper by acting it out. Expect a lot of laughs.
The downloadable pdf contains 32 football themed words or phrases.
The only prep needed is to cut out the word strips and put them in an empty container, perhaps a bowl or paper bag.
Football Game Predictions Printable
Before the game starts, you can have each person at your football party predict how the game will go.
The pdf has a prediction printable with 12 questions to answer. Print out one sheet for each person watching the game.
Even kids will be able to write their predictions to these questions:
Who will win the game?
Who will win the coin toss?
Will the coin land on heads or tails?
What will the final score be?
Which team will be ahead at half time?
Which team will score first?
Who will be the MVP of the game?
Which team will have the first turnover?
Will there be a safety during the game?
Which team will make the most field goals?
Will a team score in the final 2 minutes of the game?
Will the game go into overtime?
As everyone watches the game, they can give themselves a point for every prediction they got correct. The person with the most points at the end of the game wins.
Football Bingo Cards Pdf
Bingo is a fun football party game to play during the big game or any football game during the season. There's 12 printable football bingo cards you can print out.
Each of the cards include a variety of things you might see during a game. It's also mixed with commercials. It doesn't matter where you live, or which commercials will air in your country, this will work for any country, and any year.
Commercials
Rather than have specific brand commercials, the bingo cards have categories of commercials. And there's some fun ones. You might find things like:
fast food commercial
candy or chocolate commercial
movie trailer
beer commercial
video / tv streaming service commercial (this would include things like Apple TV, Netflix, Disney+, Amazon Prime, etc.)
artificial intelligence product commercial (think google, Alexa, robot vacuum's, etc.)
soft drink commercial
cleaning product commercial
car commercial
football commercial
cellphone commercial
commercial with a dog, etc.
A Fun Way For Kids to Learn About Football
Playing football bingo is fun for adults and kids – both super fans and those that don't know anything about football.
For kids that don't know a lot about football, it can be a fun way to wet their curiosity and have them learning a bit about the game.
They will probably be asking questions like: "What's a 2 point conversion?" "What's a false start?" "What does interception mean?"
How to Play Football Bingo
To play bingo you mark when you see something during the game that you have on your bingo card. The first person to get 5 things in a row wins. It can be 5 things in a line in any direction – horizontal, vertical, or diagonal.
Printable Football Viewing Party Games
The football indoor party games for Sunday's big game can be printed or downloaded free below.
The 9 page printable includes:
a prediction sheet
charades words
12 bingo cards
You have 3 color options to choose from. You can even choose the colors of the team you're rooting for. You can choose between:
dark blue and green
midnight green and silver
red and white
Get the printables in the color of your choice by entering your email address in 1 of the 3 boxes below and clicking its button. Choose the box that represents the colors of your choice.
You will then have immediate access to the football game printables on Google drive. From there you can download them directly to your computer or print them. You can choose between:
Midnight green and silver printables:
Red, gold, black and white printables: