Here are over 20 books kids that love "Frozen" are sure to enjoy.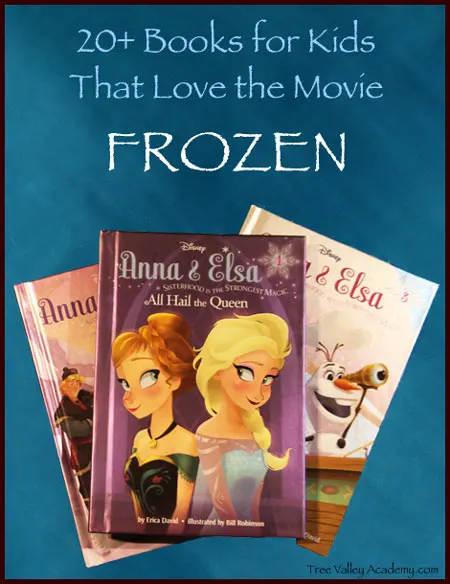 Starting with the book that started it all. The story that the movie "Frozen" was inspired by, the fairy tale by Hans Christian Andersen:
#1 – The Snow Queen
Frozen Books for Toddlers
Books for 4-6 year olds
These "Frozen Step Into Reading" books are great for helping kids learn to read.
Books for Grades 1-4 (Ages 6-9)
I'm currently reading this "Anna and Elsa" series to my daughter, about a chapter a day. Since it's FROZEN, she has an interest in reading them.
I will say some books she enjoyed better than others.
The first book was a little too character developing and not enough real adventure or action for her taste but she still wanted to continue reading it. We did enjoy the other books we've read so far a lot more than the first.
It is a smidge advanced for my 5-year-old. Some pages have pictures on them and I find she enjoys those pages a lot more as she can better visualize the story.
Learning to create mental pictures that the printed words describe is an important reading skill that she is getting a lot of opportunities to develop. Her familiarness with the movie does help her but I think in a year or 2 she would enjoy this series much more.
Turning An Obsession With Frozen Into a Love of Reading
I used my 5-year-old's obsession with the movie Frozen in a positive way to help foster her love of reading.
My daughter is definitely going through a Frozen phase. She would gladly watch the movie daily if I let her, and has watched it an uncountable amount of times to date.
I enjoyed the movie as well, but I have to admit, I look forward to her moving on from this obsession and from becoming an easy target of marketing schemes.
Almost every shopping trip has her asking me to buy some Frozen related item – it doesn't matter if it's shampoo, cereal, or a kleenex box. In fact, many times she doesn't even know what the item is, but it has a picture of Anna and Elsa on it so therefore it must be great.
She chose a blue snowsuit this year because it reminded her of the colours in Frozen. She has Frozen rain boots, running shoes, underwear, costumes, and often asks me to do her hair in an "Elsa braid" or sometimes an "Anna braid".
So it was time to turn this obsession into something positive and help inspire my daughter to love reading.