One of the first skills a Grade 1 student learns in a French school is the French alphabet. Below you'll find a no prep lesson plan to help your child learn the alphabet in French.
This will be especially helpful for the English speaking or FSL (French Second Language) homeschooling parent who would like their child to learn French, but might struggle to teach this subject since they aren't fluent in the language.
If that describes you, I've made today's lesson easy for you.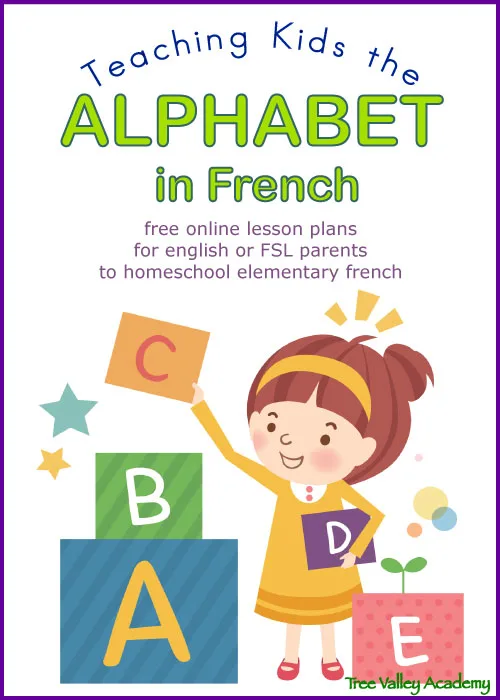 About This French Alphabet Lesson Plan
Today's lesson is perfect for any beginning student of the French language: your preschooler, Kindergarten student, 1st grader, or older.
Schedule about 40-45 minutes for this French class where we cover the French alphabet from A-Z.
This no-prep class consists of:
2 short YouTube videos – to help kids learn the pronunciation of each of the letters from A-Z
several online activities and exercises – to help them practice what they have learned.
Let's get started! 🙂
Youtube Videos
To begin, have your child watch the YouTube video below. Ask them to repeat each letter out loud after it is said.
Next let's watch this Youtube video of the alphabet song.
You might want to play this video a few times for them to try and sing along with the alphabet in French.
Online Activities
And now time to practice the French alphabet. Here are some online activities for your child to do. Click on the link below to get started.
#1
Do activities 11-15 (15 min or less)
Activity 11: click on letters on the keyboard to hear the letter in french
Activity 12: Alphabet rap song. Click on the speaker to hear the song. Child is supposed to repeat and try and sing a long.
Activity 13: Click on an image to hear the missing letter. Drag and drop the correct letter.
Activity 14: Click on the "Allons-y". The audio will say "Trouve le…" (Find the..) Click on the letter heard.
Activity 15: Discover the mysterious words. Click on any hidden letter with a question mark to hear the letter. Click on the letter you heard on the keyboard. Continue to solve the word. There are several words.
#2
More alphabet practice (about 20 minutes – give or take)
Click the green play type arrow to hear a letter in french. Click the letter in that row that you heard. If you are correct you will see a little happy face. When all 12 are complete click on the >> >> >> on the right side of the blue area that looks like:

That will bring up a new page to complete. Click on that button after each page. There are 8 pages in total.
Skills to Review
To round out our French alphabet lesson, here are 3 skills to cover in this class:
Learn the alphabet in French. (Récite l'alphabet.)
Check, done.
The link is where you can hear the audio of the French translation at Google Translate.
These letters can be lowercase or uppercase. (Ces lettres peuvent être minuscules ou majuscules.)
Vocabulary / Pronunciation : minuscules, majuscules
For more french lessons, see my homeschooling french page.