Are you an english speaking or FSL (french second language) parent struggling to homeschool elementary french? That's the challenge I faced.
My daughter did her Kindergarten year and part of Grade 1 in a french school, which gave her a great start learning french.  But in order to homeschool, it is required (in the province of Québec, Canada where I live) that I make sure she learns to read and write in french.  It needs to be equivalent to what she would learn if she were in a french school.
After tons of research, talking to french elementary teachers and scouring the internet for Canadian french resources, I was ready for homeschooling french to my Grade 1 daughter.
Join me in this Grade 1 french series, as I share resources and lesson plans for you to include french in your homeschool.  Learning the alphabet in french is one of the first skills a Grade 1 student learns in a french school.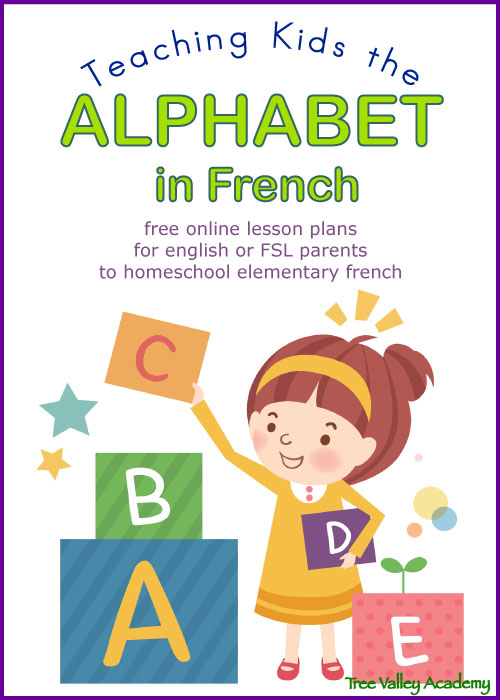 Skills to Learn
Il y a 26 lettres dans l'alphabet.  (There are 26 letters in the alphabet).
Ces lettres peuvent être minuscules ou majuscules. (These letters can be lowercase or uppercase.)
Learn the alphabet in french.  (Récite l'alphabet.)
See the video's and online exercises below to help kids learn the alphabet in french.
Youtube Video's
Here are 2 short youtube video's for kids to learn the alphabet in french:
Online Exercises
#1
Do activities 11-15 (15 min or less)
Activity 11: click on letters on the keyboard to hear the letter in french
Activity 12: Alphabet rap song.  Click on the speaker to hear the song.  Child is supposed to repeat and try and sing a long.
Activity 13: Click on an image to hear the missing letter.  Drag and drop the correct letter.
Activity 14: Click on the "Allons-y".  The audio will say "Trouve le…" (Find the..) Click on the letter heard.
Activity 15: Discover the mysterious words.  Click on any hidden letter with a question mark to hear the letter.  Click on the letter you heard on the keyboard.  Continue to solve the word.  There are several words.
#2
TakaABC, jeu abécédaire pour apprendre l'alphabet (about 5 minutes)
Put the mouse over any letter you are unsure of to hear the letter in french.  When you think you're ready, click on the purple arrow to go to the next screen.
#3
More alphabet practice (about 20 minutes – give or take)
Click the green play type arrow to hear a letter in french.  Click the letter in that row that you heard.  If you are correct you will see a little happy face.  When all 12 are complete click on the >> >> >> on the right side of the blue area that looks like: 

That will bring up a new page to complete.  Click on that button after each page.  There are 8 pages in total.
For more french lessons, see my homeschooling french page.
SaveSave
SaveSave
SaveSave