Join me in this Grade 1 french series, as I share resources and lesson plans for you to homeschool french.  Learning the french alphabet is one of the first skills a Grade 1 student learns in a french school.
Kindergarten or preschool students, or any beginner in the french language will also benefit.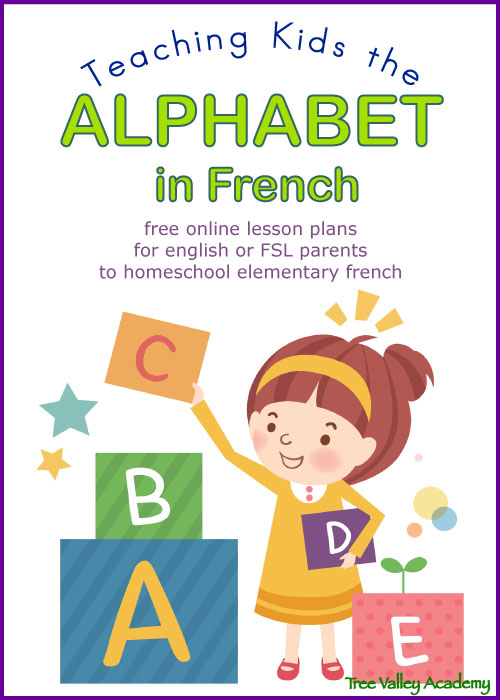 Skills to Learn
There are 26 letters in the alphabet. (Il y a 26 lettres dans l'alphabet.)
These letters can be lowercase or uppercase. (Ces lettres peuvent être minuscules ou majuscules.)
Learn the alphabet in french. (Récite l'alphabet.)
See the video's and online exercises below to help kids learn the french alphabet.
Youtube Video's
Here are 2 short youtube video's that will teach the french alphabet for kids:
Online Activities
Here are some online activities to give your child some french alphabet practice:
#1
Do activities 11-15 (15 min or less)
Activity 11: click on letters on the keyboard to hear the letter in french
Activity 12: Alphabet rap song. Click on the speaker to hear the song. Child is supposed to repeat and try and sing a long.
Activity 13: Click on an image to hear the missing letter. Drag and drop the correct letter.
Activity 14: Click on the "Allons-y". The audio will say "Trouve le…" (Find the..) Click on the letter heard.
Activity 15: Discover the mysterious words. Click on any hidden letter with a question mark to hear the letter. Click on the letter you heard on the keyboard. Continue to solve the word. There are several words.
#2
More alphabet practice (about 20 minutes – give or take)
Click the green play type arrow to hear a letter in french. Click the letter in that row that you heard. If you are correct you will see a little happy face. When all 12 are complete click on the >> >> >> on the right side of the blue area that looks like:

That will bring up a new page to complete. Click on that button after each page. There are 8 pages in total.
For more french lessons, see my homeschooling french page.