Download a free copy of 7 color by number printables of arctic animals.
The color by number worksheets are fun for kindergarten or preschool children. It will give kids a lot of practice identifying the numbers 1-5.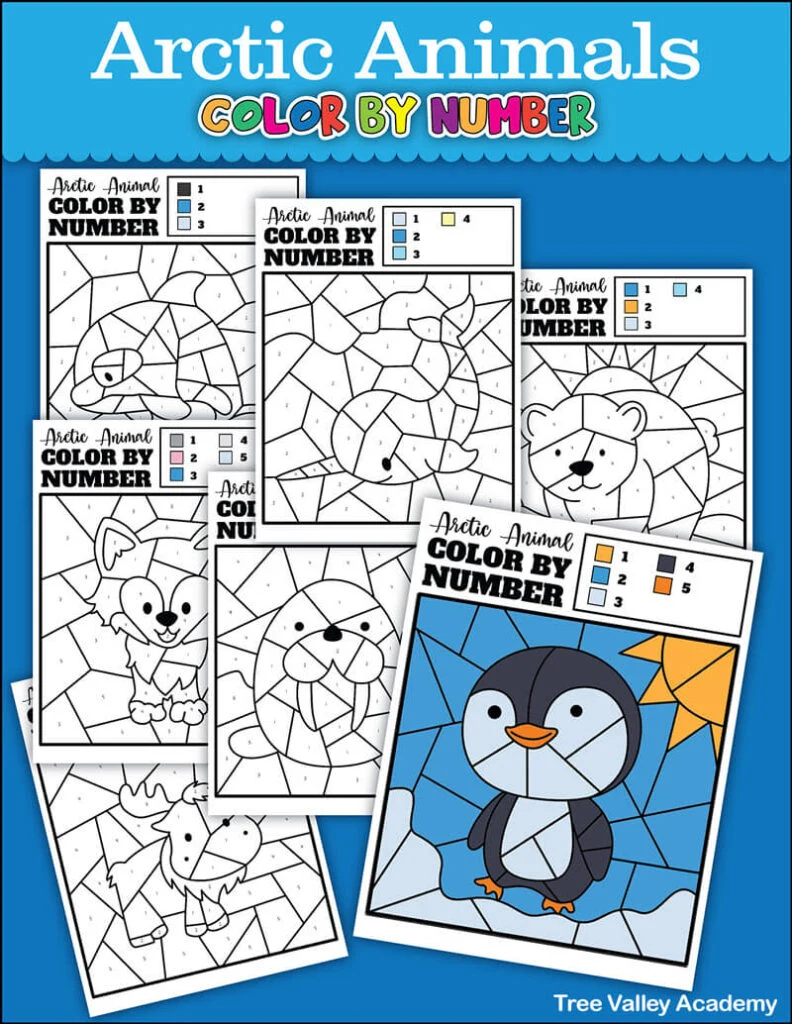 There are 7 different arctic animals coloring pages. You can download them all free below. There's a:
penguin
walrus
polar bear
arctic fox
moose
narwhal
orca (also known as killer whale)
Preschool Easy Color by Number Worksheet 1-3
The easiest color by number worksheet is a coloring page of an orca.
It is perfect for pre-k children. It's a fun coloring worksheet to help kids learn to identify the numbers 1-3.
Color by Number 1-4 Coloring Pages
There are two printable color by number pages that will give preschoolers or kindergarten students number recognition practice of the numbers 1-4. They are the adorable narwhal and the polar bear.
A narwhal is a type of whale that lives in the Arctic waters.
1-5 Color By Number Worksheets for Kindergarten
Kindergarten children can practice recognizing the numbers 1-5 and have fun coloring with these coloring worksheets:
arctic fox
moose
walrus
penguin
Penguins do not live in the arctic but are still a cute winter animal.
Printable Color By Number Math Worksheets
The color by number printables can be downloaded free below.
The downloadable pdf includes all 7 arctic animals.
More Preschool or Kindergarten Winter Activities
Preschool or kindergarten children who can count to 30 might enjoy these connect the dots coloring pages of winter animals.
Another fun and educational winter activity sheet for children is this kindergarten winter word search.