Early elementary aged students can work on vocabulary and spelling with this bread themed crossword puzzle for kids.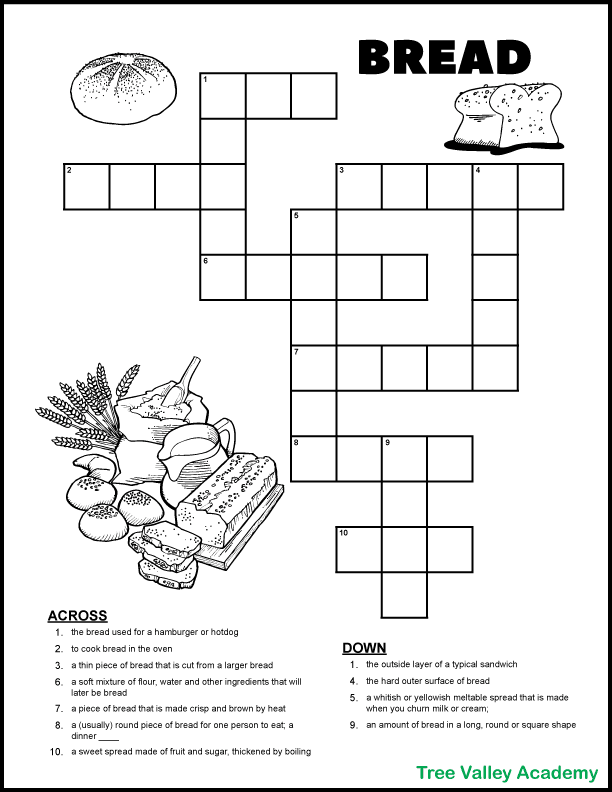 Spelling of Bread Themed Words
Most of the words of this printable puzzle are at a 2nd grade spelling level. The words are part of the bread themed spelling list of these 2nd grade spelling words.
A crossword puzzle with the same words as a spelling list is a great way for kids to work on learning the spelling words.
Bread Themed Vocabulary
A crossword puzzle is a fun way for kids to build their vocabulary skills. It's almost a worksheet in disguise.
The clues are often definitions, and kids will need to think of the word that matches each definition.
Crossword Puzzle Clues & Answers
To help you determine if the level of this crossword puzzle is right for your child, below you'll find the 11 words of the puzzle along with their clues:
the outside layer of a typical sandwich (BREAD)
the hard outer surface of bread (CRUST)
a whitish or yellowish meltable spread that is made when you churn milk or cream (BUTTER)
an amount of bread in a long, round or square shape (LOAF)
the bread used for a hamburger or hotdog (BUN)
to cook bread in the oven (BAKE)
a thin piece of bread that is cut from a larger bread (SLICE)
a soft mixture of flour, water and other ingredients that will later be bread (DOUGH)
a piece of bread that is made crisp and brown by heat (TOAST)
a (usually) round piece of bread for one person to eat; a dinner _____ (ROLL)
a sweet spread made of fruit and sugar, thickened by boiling (JAM)
Printable Crossword Puzzle
The bread themed crossword puzzle is free to download for your student(s).
The pdf of this printable puzzle comes with an answer page to make things easy for teachers or homeschooling parents.
You can download the 2nd grade crossword puzzle below: