Here are 6 free printable Groundhog Day color by number coloring pages.
The color by number worksheets are ideal for kindergarten aged children.
They are a fun educational activity for February 2nd, the day the groundhog named Punxsatawney Phil first emerges from hibernation and makes a prediction on when we can expect Spring.
The Groundhog Day coloring pages will give children a lot of practice identifying the numbers 1-12. It is also a fun way for them to practice learning to read colors.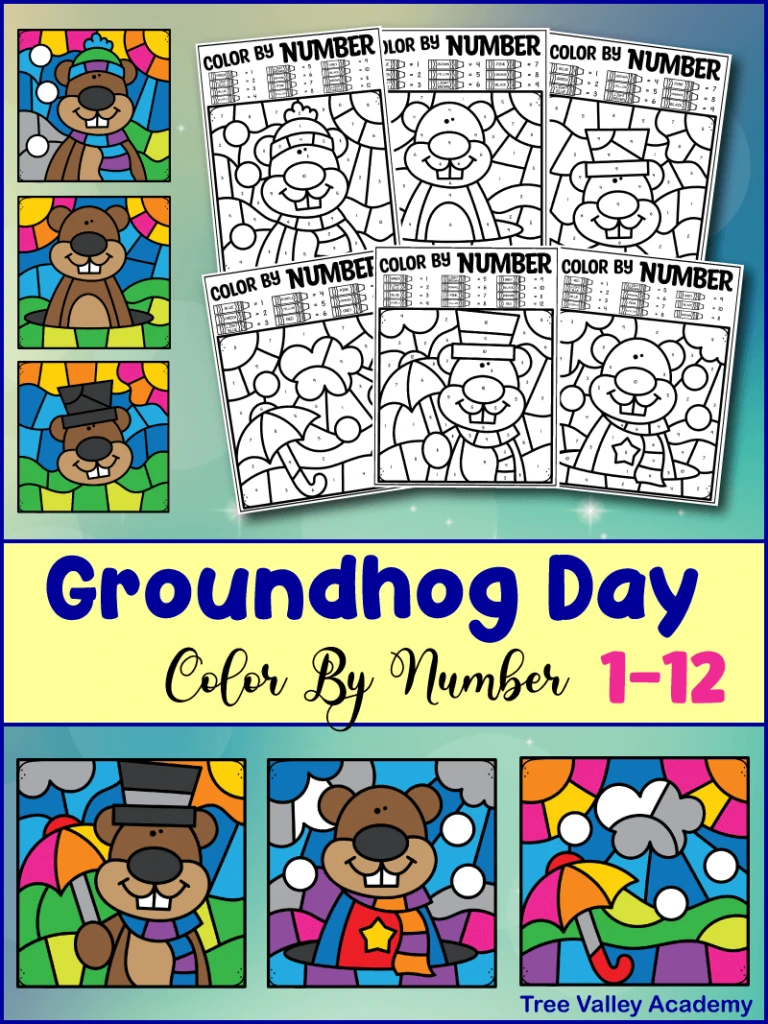 Color by Number 1-9 Coloring Pages
There are three printable color by number pages that will give preschoolers or kindergarten students number recognition practice of the numbers 1-9.
Children will be able to choose between pictures of:
a ground hog wearing a top hat in spring
a groundhog sitting in his hole during the spring
an umbrella, some snowflakes, rain and snow clouds. This picture shows the weather changing during that transition time when winter is not completely over but it's not fully spring yet either.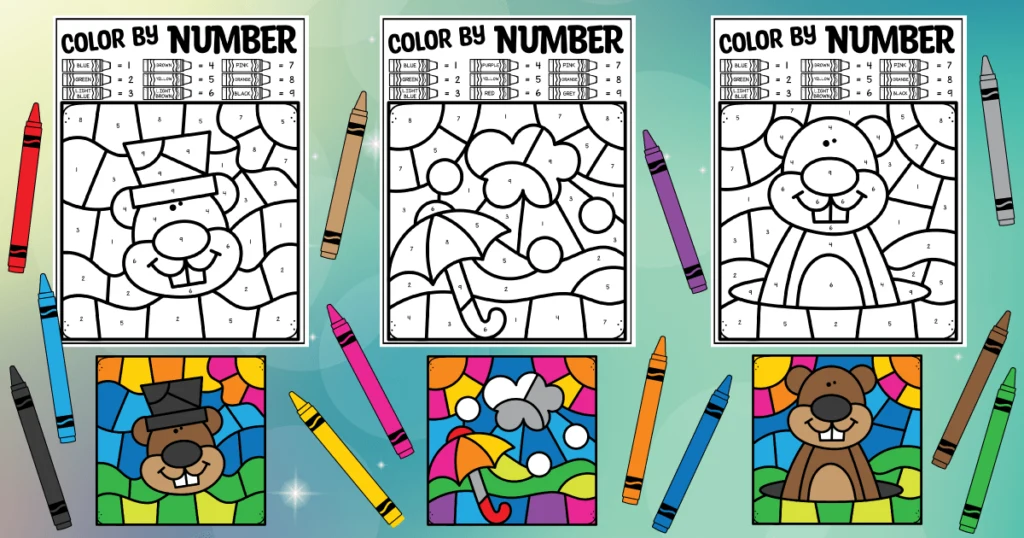 Color by Number 1-11 Printable
There's another color by number worksheet that will help kids learn to identify the numbers 1 to 11.
It's a picture of a ground hog looking out of his hole when it's snowing outside. He's wearing a winter coat and scarf.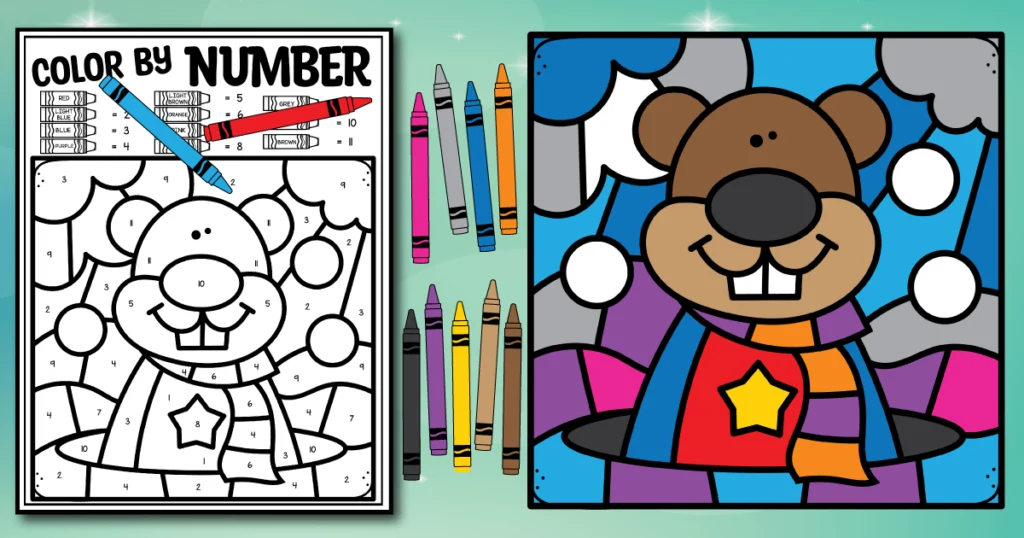 Color By Number 1-12 Worksheets for Kindergarten
There are two groundhog coloring pages where students can practice recognizing the numbers 1-12.
In the first one, it's snowing and a groundhog is wearing a winter hat and a scarf.
In the second one the groundhog is wearing a top hat and a scarf while holding an umbrella.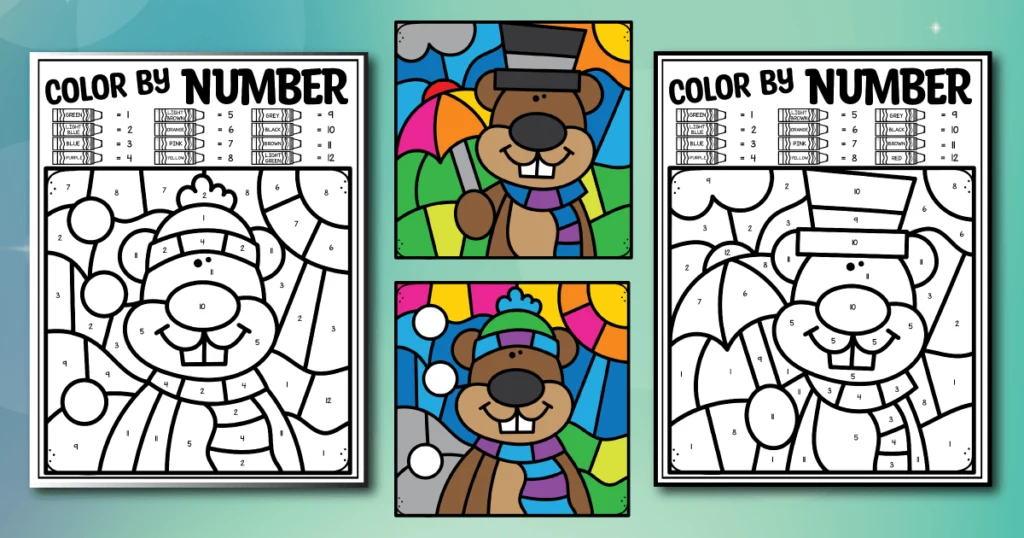 Learning to Read Colors
Besides number recognition, children will be able to learn or practice reading colors. Each of the color by number worksheets have images of crayons for kids to color with a name of its color inside each crayon.
Children that don't know how to read the colors can still do this activity independently.
Give them a small box of crayons and show them where to read the name of each color. When they find a crayon that matches the color name of a crayon on the printable, they can use that color to color the crayon picture.
Crayon Colors
The colors needed for these color by number printables are:
yellow
blue
light blue
red
green
light green
purple
orange
pink
brown
light brown
grey
black
Printable Color By Number Math Worksheets
The 6 printable groundhog color by number coloring pages can be downloaded free below.
The downloadable pdf also includes an answer sheet that shows how the 6 images should look when colored.
More Groundhog Day Worksheets
Looking for more fun Groundhog Day activities? Grab these phonics color by rhyme Groundhog Day worksheets.