We had a chance to try Home School Navigator Reading and Language Arts Curriculum with my second grader.
Home School Navigator is a full reading and language arts curriculum for homeschooling families of students at a Kindergarten to fifth grade level.
It is especially helpful for homeschooling parents who want to help their children become strong readers and writers, but are unsure how to go about it and would welcome some support.
There is no need to worry about planning your child's year for reading and language arts, the program has that all laid out.
It's a one year subscription to a full curriculum that includes teaching video's, worksheets, detailed instructions, and all printables needed.
The school year (36 weeks) is organized into 9 monthly themes.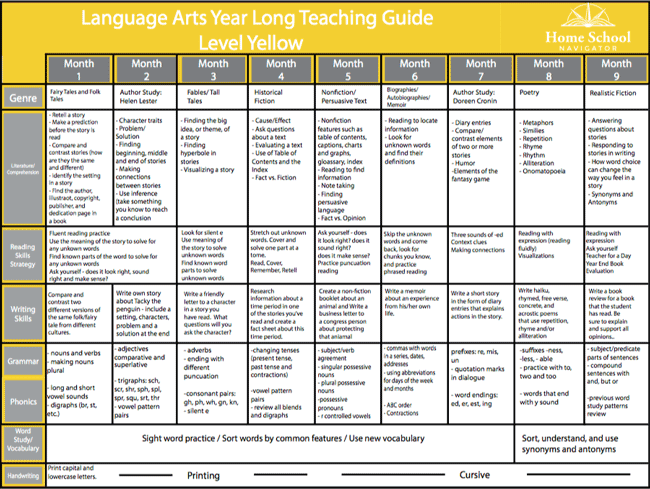 We are working in the yellow level which corresponds to a 2nd grade reading level. The monthly themes for 2nd grade are:
Fairy Tales and Folk Tales
Author Study: Helen Lester
Fables / Tall Tales
Historical Fiction
Nonfiction / Persuasive Text
Biographies / Autobiographies / Memoir
Author Study: Doreen Cronin
Poetry
Realistic Fiction.
Each month has a list of books for your child to read and work with that goes along with the monthly theme. In the 2nd grade, the child will read and study 50 books. In addition to these 50 books, the plan has daily independent reading where the child can read books of their choosing.
The schedule allows for learning about and working on:
the monthly theme
reading comprehension
reading fluency
writing
spelling
grammar
phonics
vocabulary
handwriting (which includes printing, cursive, and keyboarding in later grades), and more
There's a daily learning plan which includes a teaching guide for the parents.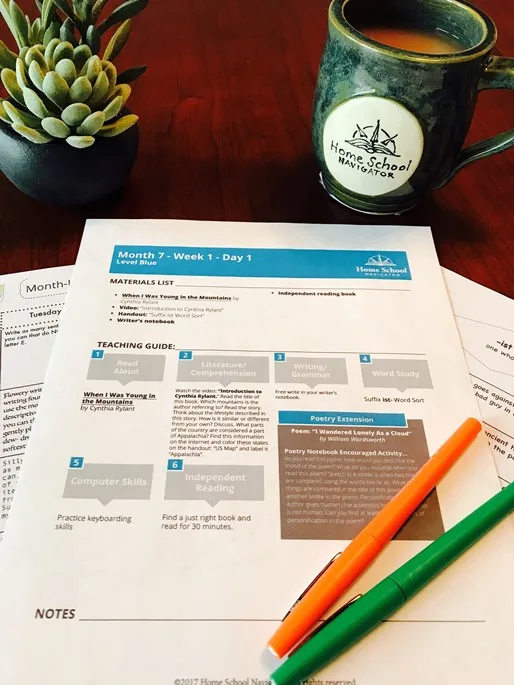 You can print out the daily plans if you choose. I preferred to save paper and just view the plans online.
It's organized well online so that you can filter down quickly from the year, month, week, and day you are working on. Then each day is divided into more specific areas. Here's a screenshot of the basic plan for the 2nd month, 1st week in that month, 2nd day of that week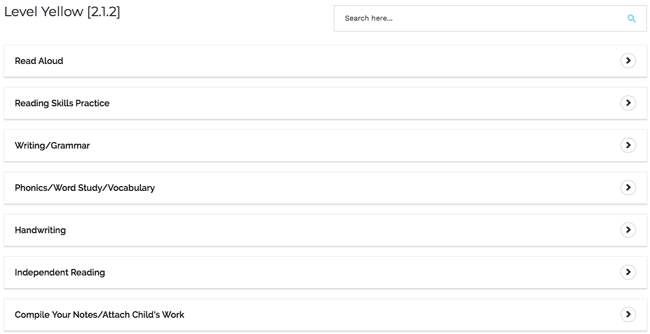 You can open each one to find the instructions, video's, links to handouts, YouTube video read aloud's etc. For example, opening "Reading Skills Practice" for this day, will display:

There's another feature that I didn't personally use, but the program allows you to upload your child's daily work to make creating a portfolio easy at the end of the year.
My Opinion and Thoughts on Home School Navigator
There are pro's and con's to any curriculum choice and somethings are just a matter of individual preference.
What I Liked
I feel it is a solid curriculum that provides a full high quality education in this subject. That's always important because at the end of the day, all the bells and whistles mean nothing if the foundation is lacking. So far this is the most complete reading and language arts curriculum that I've tried to date.
I like how easy it is to navigate, and how well everything is organized.
I like that all printables can be printed monthly (or yearly) in advance. I prefer doing all the prep work at one time so I don't have to worry about it throughout the year.
I like the teaching on the video's. There were things I would never think of teaching my daughter, so it was handy to have all that teaching already prepared at the push of a button.
There's a large variety of worksheets. I appreciate the variety to help keep things interesting and prevent boredom. Answer sheets also make things easy for parents.
I really enjoy that the learning is divided in monthly themes. I like the themes chosen and how they are expanded on.
I appreciate the writing component of the program. At first I didn't think I would like it as much as I did. I prefer extremely low prep, no fuss, not too involved for me as the parent. And there is a word wall component to the program that initially seemed like more work than it was worth – a great idea for a classroom, but more than this overworked mom wanted to do. In the end, it's really not a big deal, and I'm seeing the wisdom in this method as I'm witnessing my daughter's writing improving.
What I Don't Like
I wish there were more video's.
Also, while the teaching on the video's are top-notch, the actual video quality could be improved on at times. A few video's I found were too quiet. I could hear, but my volume had to be at max and everything around me silent. Some video's I would have preferred if they could have zoomed in a bit more at times so we could better see what was being written, etc.
For each year, there is a list of books needed (50 for 2nd grade). It's good we have the list of all the books in advance, but it could be a bit of a challenge to find all the books. I guess it depends where you live and how good your library is. I live in an area where french is the primary language so english children's books are not so plentiful. I could buy books online, and I do sometimes, but 50 books would get expensive. Most of the time, I'm able to find a YouTube read aloud of a book and find poetry online, but this is one area that makes this curriculum a bit more challenging.
Another area that's not my preference but I'm working around is the amount of paper needed. I don't mind printing printables (even a lot of them) that are a good use of paper. But some of the printables (mostly the ones that have to do with word wall practice) are a bit of a waste of paper. I have chosen not to print those, and instead have my daughter print and write the words in a separate workbook. And as mentioned earlier, I view all the plans online, instead of printing.
In summary, I would recommend Home School Navigator if you:
have homeschoolers between Kindergarten and Grade 5
are looking for a quality reading, writing and language arts education for your child
would prefer to have everything planned out for you so you don't have to think of it
would appreciate prepared teaching video's to make things easier
don't mind printing worksheets, etc.
don't mind the idea of a word wall
have a good library or other means of finding about 50 specific children's books in a school year.