A few weeks ago, my daughter and I were invited to tour a dairy farm. It was a very educational experience, not only for my daughter but for myself as well. I sometimes wonder who exactly is homeschooling, my daughter or myself, because I feel I'm getting a second education with all the fun field trips and educational outings we participate in.
Visiting the farm was a big adventure for my almost 5 year old. There were so many mud puddles to stomp around in and hay bales to climb. She didn't wait for an invitation to start climbing any and all hay piles she saw.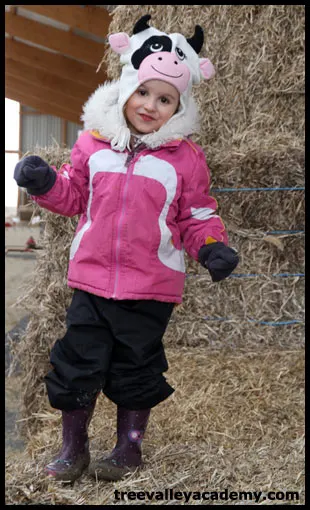 Cows were a bonus for her. The mud puddles I honestly think were her star attraction.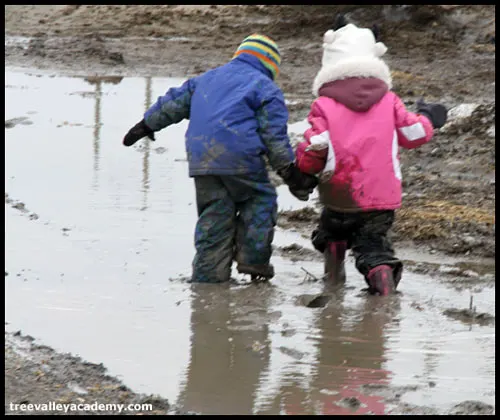 Here is one of the cow barns we went into. It was a little bit dark in here as you can see from the picture. I bet these cows were wishing they could be frolicking in the pasture. I'm not sure if they get to go outside, but I sure hope they're not always stuck in there.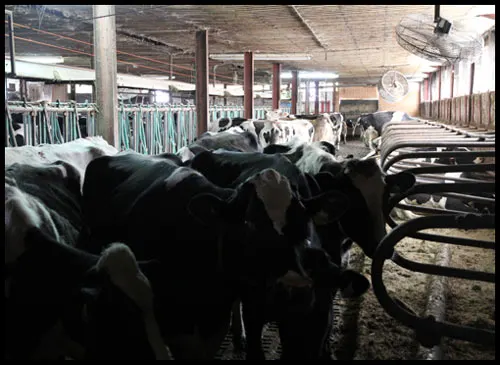 A new barn was being built. It looks like a pretty fancy, well lit barn. All the metal separators are so that all the cows can eat without being pushed out of the way. Otherwise the more timid cows might never get enough to eat. Only one cow per stall, so once a cow goes in a stall to eat, it can be sure of access to the food. The cows food goes in front of where the cow will stand. Only the cows head can access the food. That way it stays clean, and separate from any cow waste. As you can see in the photo, there is only a raised ledge large enough for the cow to stand, so the poop from the cows should fall on the lower area. The slit in the ground you see is a track. You can't see it in the photo as there are some buckets in the way, but at the end of the barn, there is something that looks like a large mower. It will go down the track and clean up all the poop. Technology has sure helped in the farming business.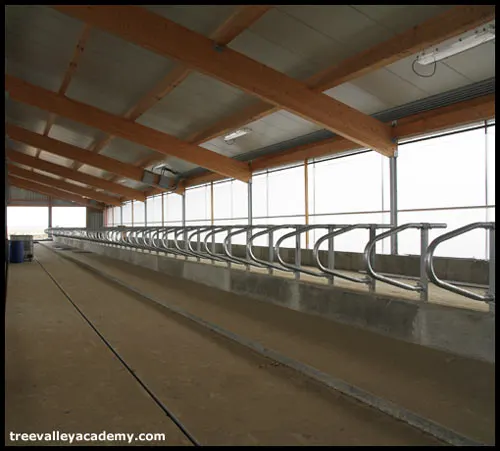 In this photo, you can see the idea of the poop falling to the lower level, making for easier clean up.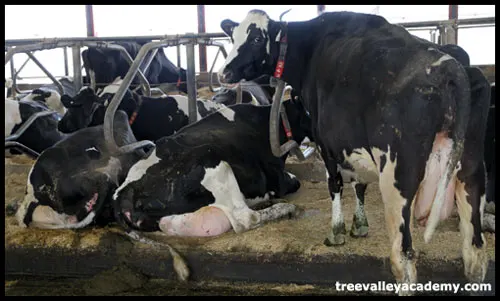 In the new barn, there is also a slatted floor for the cow waste to fall below.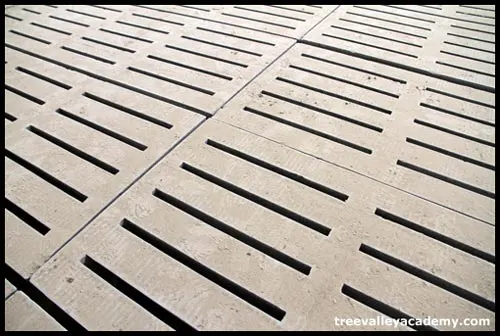 Here is a cow eating. You can see how only his head can reach the food.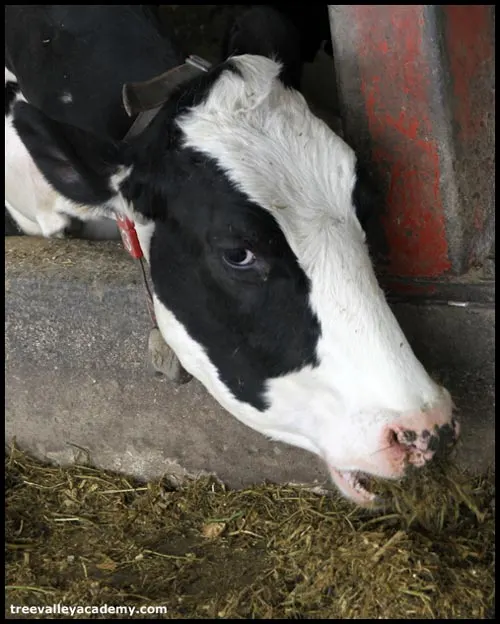 The biggest thing I took from the visit is that cows are such cool animals. They are so full of personality and each one is different. They love to play and are very curious, social animals. If they were a lot smaller and could be trained to go to the bathroom outside, I think many would have them as a family pet, just like a dog or cat. I have a new love of cows.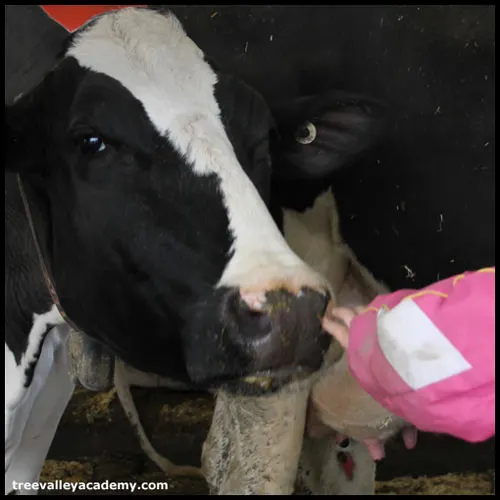 I don't know how many cows I saw reach their head to check out my daughter's cow hat. They were very curious about this new "cow". The cow in the image below gave my daughter a huge slurpy lick, from her face all the way to the top of her hat. And it had hay on it's tongue so it wasn't a clean looking lick. Needless to say, when we got home, that hat got washed, and so did my daughter's face.
You can see the cow has hay all over it's head. That's because my daughter and a little boy who lives at the farm threw a few handfuls of hay at it. The cow could have left the area to avoid all the hay throwing but it chose to stay and play. I think all three of them – the two kids and the cow – were having fun playing.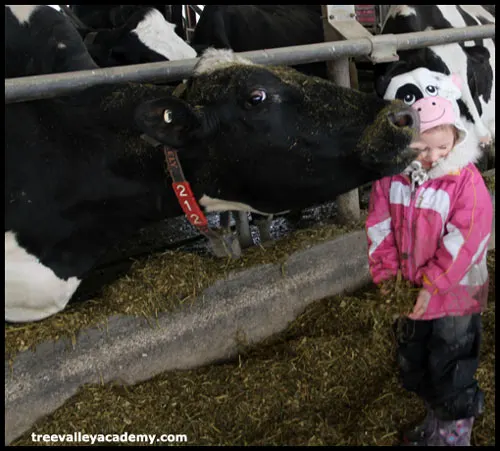 A big part of visiting a dairy farm is learning how the cows are milked.