As you probably know, there's a lot of research and effort that goes into choosing a years homeschooling curriculum.  After much thought, here are our 2nd grade homeschool curriculum choices.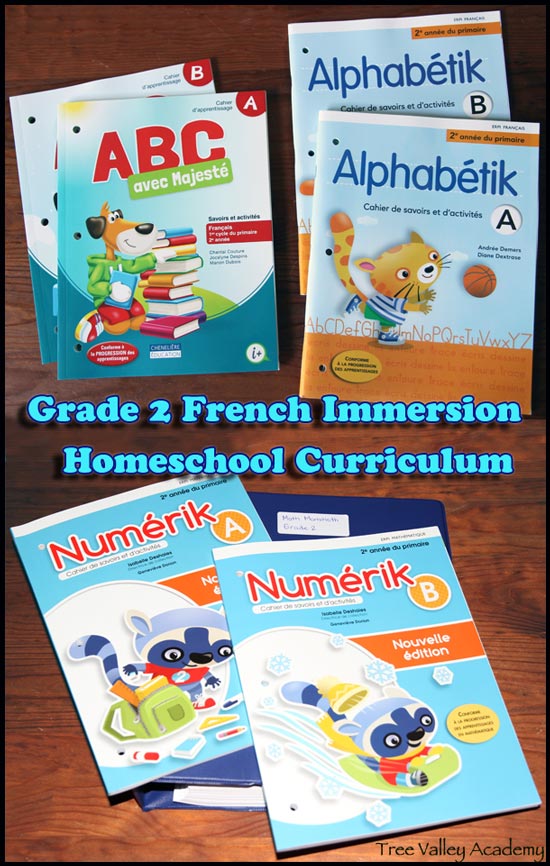 Core Subjects
As we are registered with a french school board, at the end of Grade 2 my daughter will need to pass a math and french test in order for us to be allowed to continue to homeschool.
And so the core subjects of our french immersion homeschool are math, french and english.
Math
The curriculum the french public schools use is called Numérik.  And so to be prepared for the test she will write, we will complete Numérik.  There are 2 workbooks A & B.
Pros:
colourful and kid friendly looking
won't take too long to complete
she'll learn the math terms in french
Cons:
covers too many topics which doesn't allow enough time for mastering a topic
As I want my daughter to receive a solid foundation in math and I don't feel Numérik is sufficient for that, we will also be doing Math Mammoth.   This will help her really progress in her math skills.  The only con is there's a lot of work to do, so this will take some time.
French
Equally as important for us and a much more challenging subject for me to teach is french.  I need to be able to teach my daughter everything a french child would learn in school.
So we will be using "ABC avec Majesté", which is the curriculum they use in the local school.
Since we are english and need all the practice we can get for my daughter to pass the french test, we will also be doing "Alphabétik".
French audio books "Rat de bibliothèque numérique" (Série Rouge et Jaune) will help my daughter with learning to read in french.
My daughter will also be spending several hours a week in dance class which is taught in french, and we will participate in french community events.
For more information see "Curriculum Ideas for Homeschooling Grade 1 or 2 French"
English
Learning how to read and write in english is just as important to us since we are an english family.  We'll need to work on reading, reading comprehension, phonics, grammar, spelling, vocabulary and writing.
Reading
We have quite a library of books at home and additionally have a library card.
My goal is to build my daughter's love of reading and so for the most part she will read the books and topics that interest her.  Her likes and dislikes seem to be changing faster than I can keep up, so it remains to be seen which books or series we will cover this year.
Reading Eggspress, a part of the Reading Eggs programs, is an online reading program that my daughter just loves.  She views it as a game, not work.  She is self-motivated to read books to collect eggs for a variety of rewards.  It's also great for reading comprehension, phonics, grammar, vocabulary and writing stories.


Reading Comprehension, Phonics, Grammar, Vocabulary
I bought 3 workbooks that I feel will allow her to cover these skills quite thoroughly:
Complete English Smart (Grade 2)
Complete Canadian Reading (Grade 2)
the english section in Complete Canadian Curriculum (Grade 2)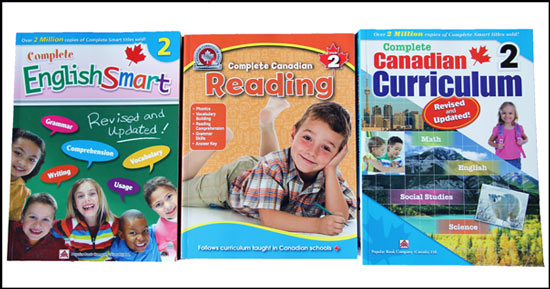 We will also be using:
Grammar Galaxy Nebula (Text & Mission Manual) a complete language arts curriculum that teaches with a 36 week story and an accompanying mission manual.  On first glance it appears to cover a lot of areas that my typical workbooks don't, like finding books in a library, the various types of reading materials / books, a good focus on vocabulary, etc.  I look forward to this one and it looks like something my daughter will enjoy.
K5 Learning (online lessons, activities & games) My daughter enjoys this and it's a fun supplement.
For my full review, see K5 Learning Review.  
Spelling
I will be creating my own themed spelling activities to make learning Grade 2 spelling words enjoyable.  I will be posting them as I create them throughout the year.  For an example of what I mean, see Apple Themed Spelling Activities for Grade 1.
Writing
Lately my daughter has been enjoying writing lyrics to songs she composes.  So I will help nurture this hobby and any other form of writing she might wish to do.
Handwriting
I plan to work a couple of minutes a day on printing correctly one letter per day with my daughter.  My hope is by the end of the year that my daughter will have a proper pencil grip and write all her letters (& numbers) correctly.
Cursive Writing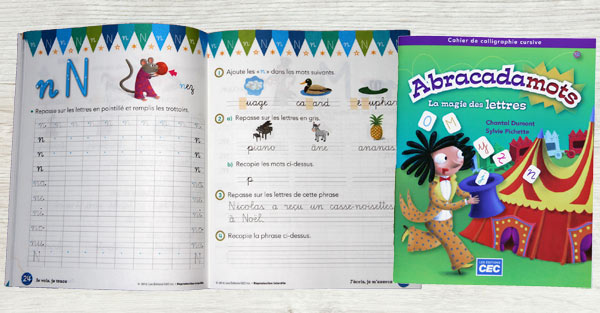 Extra Subjects
We have so much work ahead of us with the core subjects above that our extra subjects will be limited to:
Science
Music
Art
Gym
Life Skills
Bible Study
Science
the science section in Complete Canadian Curriculum (Grade 2)
Social Studies
the social studies section in Complete Canadian Curriculum (Grade 2)
Music
Art
HomeArtStudio – Second Grade
ArtAchieve – art classes level 2
Gym
dance classes
swimming membership
membership to community sports complex which has times for basketball, badminton, etc.
free local skating
membership to provincial parks for hiking, kayaking etc.
Life Skills
membership to SkillTrek with lessons for various life skills
sewing classes with her Omee
we will do a bit of coding for the Hour of Code in December
Bible Study
learning the names and order of the books of the bible
so many free downloadable activities, video's, books etc. to teach children the bible at JW.org
we will try to memorize various bible verses
It's going to be a busy homeschooling year.  The only way I'm going to be able to pull off all this learning is with a good schedule.  On Wednesday, as part of this Back to School Blog Hop, I will be posting our Grade 2 schedule.

SaveSave
SaveSave
SaveSave