If you're a new homeschooling parent, consider beginning your homeschooling journey with a deschooling period.
What is deschooling?
Deschooling is the first step taken before you start homeschooling your child. It is necessary after rescuing your child from the school system. Deschooling is temporary.
It is an adjustment period taken to recover and heal. It is a time to step back to:
heal a child's curiosity
clear the mind
unravel the school mind set
explore new or old interests
get connected and find joy in your surroundings
observe and interact
trigger endless questioning
It is not a free for all, staying in your p-jays and watching TV all day. Rather, it is a time to learn how a child learns best.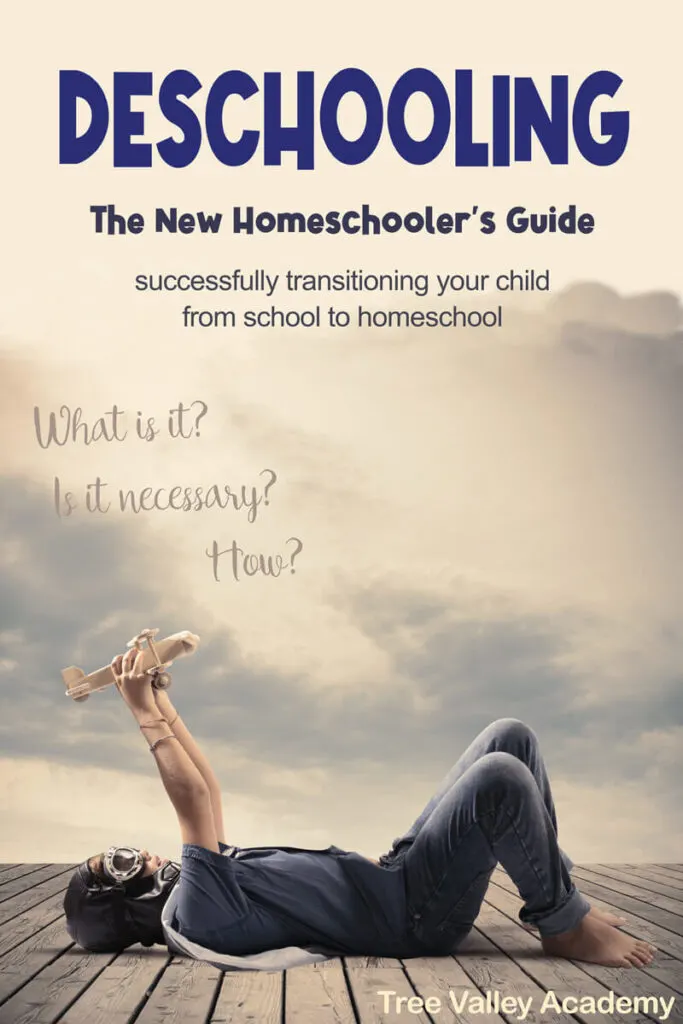 The actual term "deschooling" was popularized by Ivan Illich, a social critic, who in 1971 wrote the book "Deschooling Society." In it, he acknowledges that learning should not be limited to a specific time period dictated by the confines of an established curriculum but rather that learning should be weaved throughout one's lifespan. In order to accomplish this, one must reach a goal of loving to learn. The concept of deschooling will assist in that.
Why is deschooling important?
Simply put, deschooling will make the difference between having a successful, enjoyable experience full of fun, passion, and adventure versus an extremely disagreeable experience full of struggle, complaining, and disconnect.
Taking the time for deschooling will prevent you from repeating the same mistakes made in the institutionalized school system, with their cookie cutter, one size fits all philosophy that made you take that big step to homeschool in the first place.
Without taking the time to deschool, you could possibly make homeschooling worse than school.
Another very interesting reason is that the parent or child could experience a time of grieving. The child might miss their old school friends or teachers. And the parent might grieve the freedom to get done or do the many things they did before. I even missed the back to school excitement at the beginning of a new school year.
Why many skip deschooling
Many parents feel pressured into skipping this most important step and jump right into homeschooling because they fear falling behind. They want to prevent educational gaps.
But not to worry. Remember that under the public school system, there are a lot of time gaps. There is time lost or spent:
getting ready for school in the morning
transporting back and forth to school
going from one class to the next
dressing and undressing to go outside
calming disorderly behaviours
standing in lines
standardized testing and weeks preparing for these tests
school assemblies
a lot of waiting for everyone in the class to finish a task before they, as a group, can move on to something else
In school, a child learns to achieve good grades, but you want them to learn for the love of learning. Learning should become a lifelong skill. One needs to learn to learn.
School has been described as an institution similar in its makeup to a prison.
You are put into lineups, you sit in rows, and you are constantly interrupted by bells which move you forward to something else. You are told when to exercise, when to read, when to eat, where to sit. Everything is controlled and supervised.
Rather than be confined into a 6′ x 9′ x 12′ cell in which they can pace, they are now thrown into the world of no walls. To become comfortable with this freedom will take time and can be difficult. One has to develop a different mindset.
And just as it takes time for a newly released inmate to adjust, so it will take time for your child to adjust to their new freedom into the world of learning.
What happens if you don't deschool? My personal experience
From my own experience, I cannot emphasize enough the importance of taking the time for deschooling.
I was all eager beaver to embark on our new journey of homeschooling. I was very conscious of the competencies outlined by the local school board and wanted to have a good accounting for our time spent.
Within a short period of time, I had shopped around and invested in a curriculum that I felt was good. For example, I ended up spending over $2,000 on a science program. Actually, I became a curriculum junkie. There were so many options available.
I basically ended up replicating the school environment at our home.
For a short period of time my enthusiasm rubbed off on my little student and she was happy to show off. She was doing exactly what she had been programmed to do at school.
But within a few weeks, I was pulling my hair. My student had developed a long face, grumbling, whining, and complaining; taking forever on the simplest of things and becoming distracted, bored, and disinterested by almost everything.
Well, it was back to the drawing board.
How long should you deschool?
To start your new and exciting journey of homeschooling, the accepted formula for deschooling is approximately 1 month for every year of school attended.
Actually, the time frame is determined by the child themselves.
Children who had a more traumatic experience in school need more time to heal than a child who did not mind school as much.
You will notice a willingness to learn reborn as the curiosity and creativity are rekindled. You will observe them discover things they are interested in. Most of all, they will relearn to make use of their own time.
When you see these things then get them started on their new homeschooling adventure.
When should you deschool?
Deschooling should start after you have removed your child from school and before you begin your homeschooling.
Do not fall into the trap of deschooling during the summer holidays.
Summer break is a mindset of the regular school system. Your child will have been programmed to see this time as "free" time.
It is not till after school starts and your child realizes, "hey I'm not going back", that there is a shift in the mindset. This will then be the time to start the period of deschooling.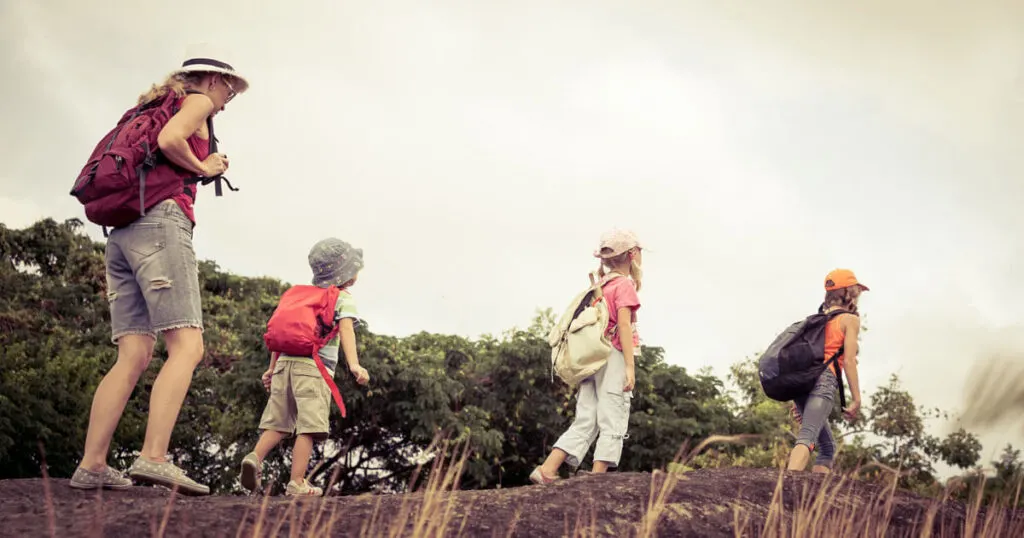 How to start Deschooling
First, implement a routine. Your child should develop a sense of communal living. They should be given age appropriate chores. Perform self-care such as making their bed, brushing their teeth, and getting dressed.
Have a breakfast.
Set limits on screen time and allow your child time for unstructured play.
Also, connect with other local homeschooling groups to share ideas and create a social network. Facebook is a great place to do this.
Deschooling ideas
Deschooling is not a time for any formal learning or to create a learning plan but rather a time to discover how your child operates. How do they learn? What do they like? Follow the rabbit holes into their interests, their curiosities. Observe.
This can easily be accomplished while enjoying various and surprisingly educational activities. Here are some ideas:
Have great conversations. Take about 20 minutes a day for each child. Ask questions. Listen, even when it is boring. Be interested.
Go on field trips. Go to the Tourist Information Centre in your area and discover places tourists enjoy visiting. Visit the zoo, the planetarium, the aquarium, the museums, parks, markets, or pet stores.
Visit the library.
Do word puzzles.
Play with LEGOs.
Play board games.
READ, READ, READ. Everything and anything. Read for the love of reading. Choose something else if you are not enjoying it. Read aloud to each other. Listen to an audiobook. Look at picture books.
Watch documentaries.
Volunteer.
Build in Minecraft.
Arts and crafts.
Hiking.
Write some poetry or write a new song.
Take apart old donated electronics.
Learn survival skills.
Go camping.
Find a new hobby.
Explore the arts, local plays, or concerts.
Do some baking or cooking.
Write and put on a play or puppet show.
Bird watching.
Photography.
Dance.
Find a pen pal.
Explore the outdoors. Kids' curiosity will naturally discover the joy in this.
Make a family tree. Interview family members for life stories that can be preserved as part of family history.
Go fishing.
Gardening.
As you can see by these suggestions, your child is still learning, although not through a structured curriculum.
What is the difference between deschooling and unschooling?
Deschooling is the transitional period of time from when you leave the school system to when you actually start homeschooling. It is a time of healing for the child and a time of observation for the parent on how the child learns.
Once you have deschooled your child and have discovered how your child learns best, you can then choose a philosophy or model for homeschooling. One of the choices could be unschooling.
Unschooling basically is a method that is curiosity driven as the child interacts with the world around him. The child determines what, where, when, and how, and the parent facilitates.