Let's Go Geography has online geography lesson plans to teach Kindergarten aged kids thru to Grade 4.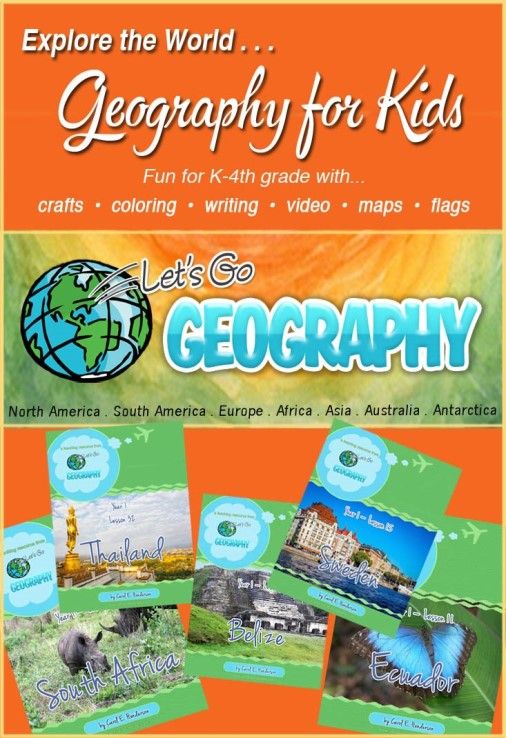 You have the option of choosing between purchasing lesson plans for a full school year or half a school year.
Each school year (there are 3 in total) has 36 weeks of lesson plans. The 36 weeks are made up of:
26 weeks studying a different country per week
2 weeks for studying 2 different sections of the US
4 review weeks
4 weeks to take a break from Geography
You can either log in to your account to access the .pdf for the country of the week, or you can click directly on the link in a weekly email. There are 5 main categories of activities (or chapters) for each country:
mapping
the flag
music (the anthem)
learning about the country (virtual sightseeing)
arts & crafts
Mapping
What It Is
Color the country on a map and answer some questions (generally verbally, so parent participation is required) about the country's location. For older students there could be a few more advanced questions.
My Thoughts On This Section
The link to the printable maps are maps I've used before and some of the questions are basic questions that I could come up with myself.
But I still largely appreciated this section. There were questions that a parent would have had to do research about a country to be able to think of so this saved me time. As well, it was quite evident in this section that the author is a geography teacher in real life as the mapping instructions were often quite educational in itself. Overall, I found this section very educational.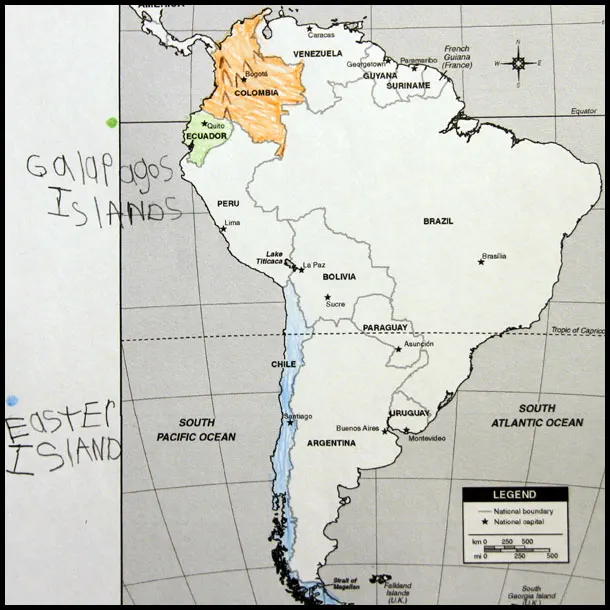 How We Used It
My daughter coloured the country on the map. I would ask her the questions and she would look at the map and verbally answer. Then she would draw and do any extra mapping required.
The Flag
What it is
Some countries had a bit of extra information about the country's flag, other's didn't.
There is a page per continent with a spot to glue a completed flag for each country of that continent learned about in the current year.
There is another page to print out with a tiny flag to color, cut out, and glue.
My Thoughts on this Section
This section frustrated me a bit as it felt like a lot of wasted printer ink just for a required tiny rectangle. The paper itself had a much larger coloured flag and text on it.
I would have appreciated this much more if there was only one page or so to print out with all the flags to cut out for the year.
How We Used It
We just drew our own flag on a separate paper to glue on to the page.
The Music
What it is
Some information on the national anthem, part of the lyrics, and a link to watch and listen to the anthem.
My Thoughts on this Section
I think many would appreciate this.
How We Used It
Actually we didn't. As Jehovah's Witnesses, we remain politically neutral, and do not sing a countries anthem, so we skipped this section.
Learning About The Country
What it is
Some educational information about the country being studied, with images, and links to youtube video's and other resources.
My Thoughts on this Section
Overall we used this section well. It gave just enough information without feeling like you were bombarded with too much information.
For the most part I appreciated this section, but some countries I appreciated more than others.
The links to the video's were usually quite welcome, not too long but a great way to do some virtual sightseeing in a short time – largely quite enjoyable and educational. But there were some video's that I felt were on the boring side and too dry for my 7 year old to even pay attention to.
I enjoyed the images that were used.
How We Used It
If I would have read the informational paragraphs word for word, my daughter would not have grasped a large part of it. So I paraphrased, took out maps, and used the information to teach it. We clicked on video's and used the images.
Arts & Crafts
What it is
Often a coloring page and a craft with information that would instruct further about the country being studied.
My Thoughts on this Section
The section was informative. Some would appreciate this section more than others.
How We Used It
In our house we do a lot of arts and crafts. My daughter is used to doing a much higher level of arts and crafts. So we mostly used this as a teaching tool and looked at the crafts and learned more about them. This provided value for us, even tho we didn't actually use this as intended.
Final Thoughts
I wasn't a fan of everything, but that's ok because the parent is able to pick and choose which activities they wish to do. The author even says as much in the "Note From The Author".
The idea is to spend about an hour a week learning about a country, and depending on the individual child, the parent can adapt the learning that would be best suited to them.
For us there were enough activities that we benefited from. Add to that the fact that it saves me time if I were to create my own lesson plans, and I see enough value in it to justify the reasonable cost.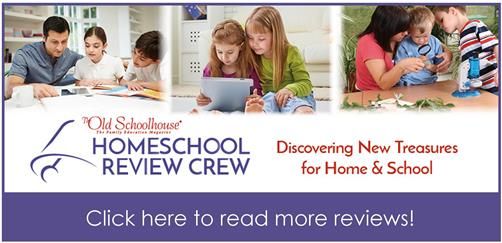 Save
Save