My 6 year old is good at math, but she's not a big fan of doing pages of traditional worksheets. To foster her love of math, I am always on the look-out for finding fun but well thought out ways to learn different math skills. And I'm slightly picky lol, especially when it comes to math. If I can't find something that I feel will be ideal, usually I end up creating my own curriculum, which takes time. So when I find something I can get excited about, I get excited, haha.
I emailed Warm Hearts Publishing to see if they would mind if I took a closer look at their "One In A Million Place Value Packs". It looked like a great teaching tool to me but I couldn't be sure without trying it, and more importantly, getting my daughter to try it. Warm Hearts Publishing was nice enough to send me a copy for review.
After my daughter had a chance to play with it, my final verdict is: I wished I thought of this lol. Yes, I most definitely think this is a great math tool for teaching kids place value in a fun, game-like way. It succeeded my expectations. And I know we will use it in a variety of ways in the future when working with place value and even learning to decompose numbers as an addition strategy.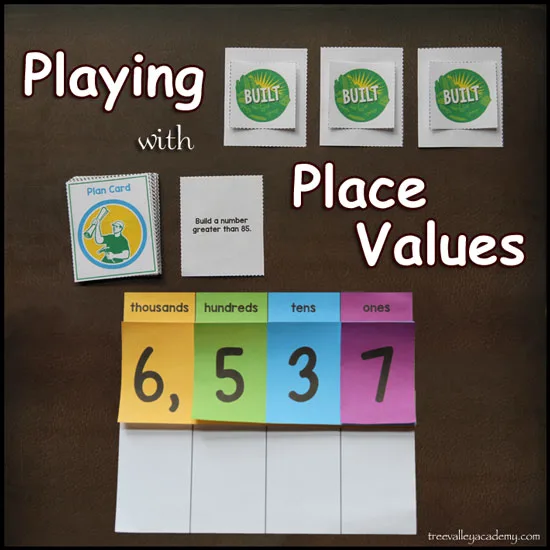 Preparation and Set Up
Now down to the nitty gritty. The first step was printing and cutting. The .pdf is 92 pages but you won't need to print them all out, and there are a few pages that are best printed double sided. I found it best to go through and jot down which pages I wanted to print ahead of time. One word of caution, the actual printing page number differs slightly from the page number written at the bottom of each page, so just be sure that you're writing the correct page numbers down. That's really my only complaint.
Then expect to spend maybe 30 minutes cutting out the cards etc. Perhaps plan your cutting time for when you're watching a show on TV.
You have a choice between a color version or a black and white version. I appreciated having the choice because the black and white version would be cheaper on ink. However I really wanted my daughter to enjoy learning place value and decided the color would make things more appealing for my 6 year old and plan to laminate it for durability. Afterwards, I read on their site the idea of printing the black and white version on coloured card stock. If I had to print it again, I would probably choose that option.
For now, I chose to only print out what I needed for my daughter to play up to the thousandth place value. Later when she's quite comfortable, at that point we will print out the pages we need to expand the game to the millionth place value.
Playing the Game
There are a few game variations with instructions explained in the pack. The one way we played was, I was the architect and my daughter was the builder. I gave her a plan and she had to build a number according to the plans. When given the choice, usually she likes to build bigger numbers, as you can see from the image above lol.
She enjoyed building the numbers, and was especially determined to get "Built Cards" for her all the numbers she built. I enjoyed the learning I could see happening. There were 3 main learning areas we will be using this tool for:
place value's
learning to read numbers (Before I, as the architect, would approve her build and give her a Built Card, I would ask her to tell me the number she built. It was great way for her to learn this skill.)
decomposing numbers (we will be using this to help us with addition strategies)
SaveSave