Here are some fun Super Mario coloring pages and paper crafts.
It's an easy coloring activity for kids of all ages. Kids will color and then build their character.
This Super Mario inspired kids activity includes a coloring sheet for 10 different characters, friends, and enemies:
Mario
Luigi
Princess Peach
Toad
Yoshi
Goomba
Koopa Troopa
Boo
Bullet Bill
Shy Guy
A pdf with all 10 coloring sheets is free to download.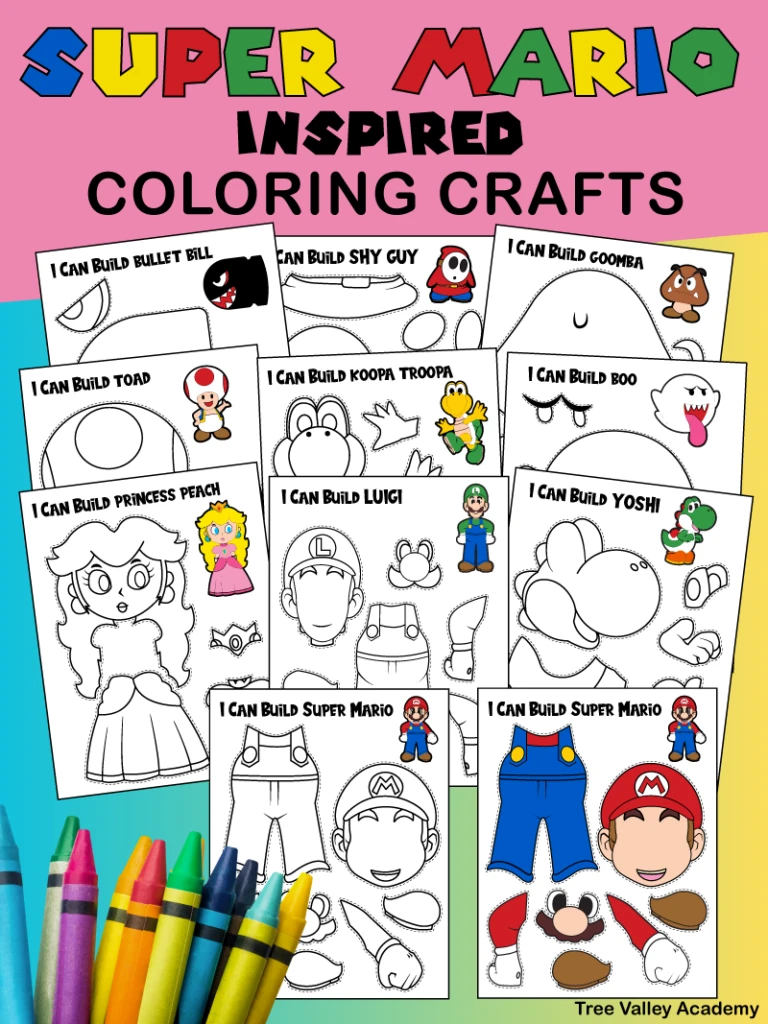 Whether you have a group of kids to entertain, or just one, this will keep the kids quietly coloring and crafting.
Supplies Needed
Kids will need:
a printable coloring page with the character of their choice
crayons or pencil crayons
scissors
a glue stick
a sheet of 8 1/2″ X 11″ cardstock or construction paper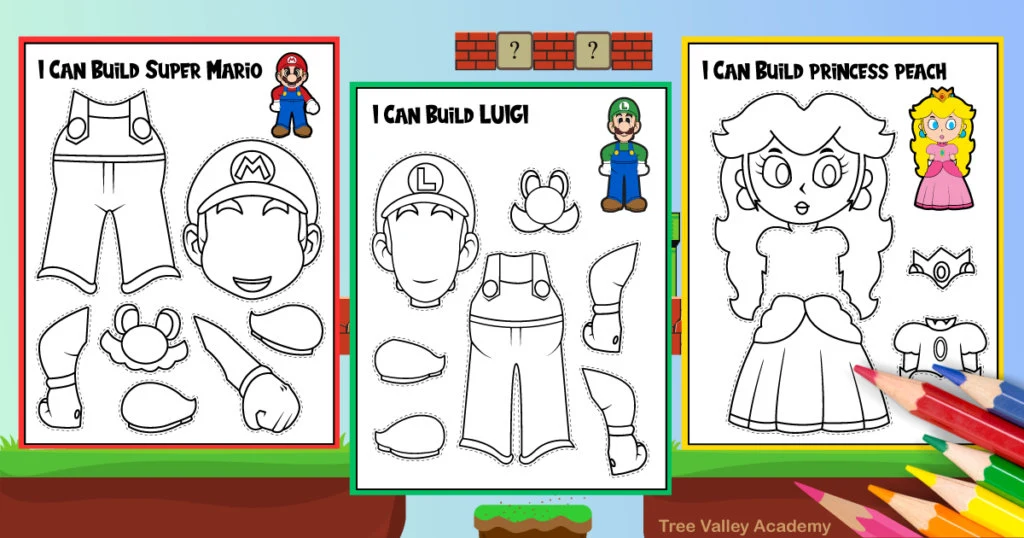 Directions
This no prep arts and crafts activity has 4 simple steps:
Step 1
Color the different body parts of your character.
There is a small colored image of the character on each page. it's useful as a reference for kids to identify which part they are coloring and the colors needed.
For kids that only wish to do the paper craft (and not color), there is a fully colored version of the page included in the pdf. If using that version they can skip this step and go straight to step 2.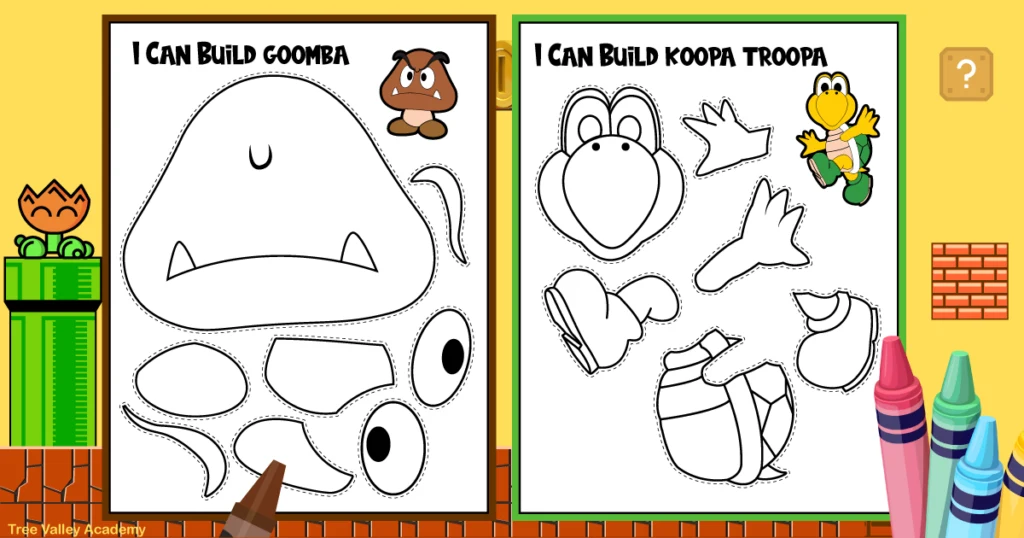 Step 2
Carefully cut out each individual piece on the dashed lines.
Step 3
Using the colored image of the character as a reference, build the character by moving each piece into its correct spot.
Step 4
Glue the pieces into place on a sheet of cardstock, or construction paper.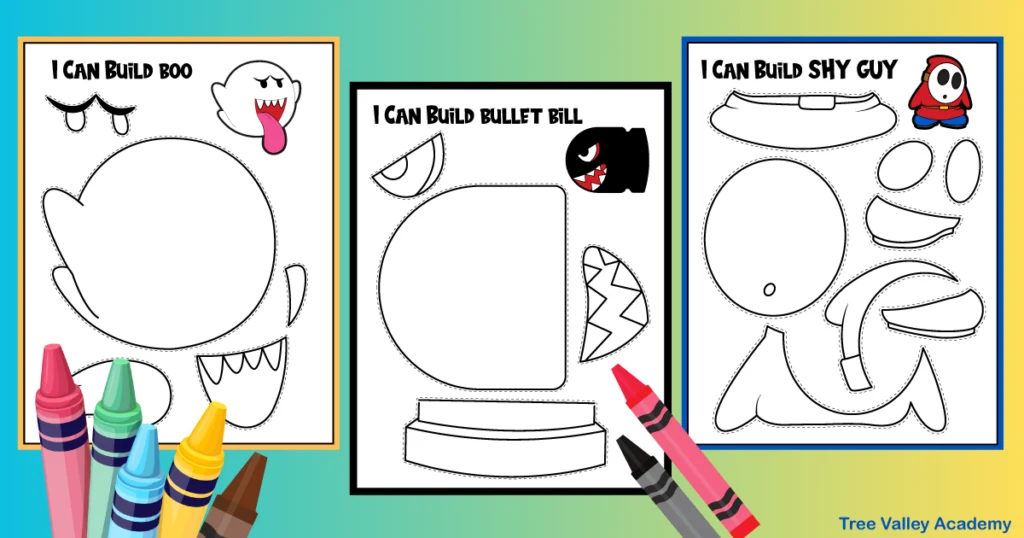 Easy No Prep Activity
If you need a quiet activity to entertain a group of kids, this no prep activity can be a fun option.
Kids of all ages seem to love Super Mario video games and movies, making this a good activity when you have a group with a variety of ages.
Preschoolers will be able to work on their fine motor skills and practice color recognition. While older kids will get to enjoy the relaxation coloring brings.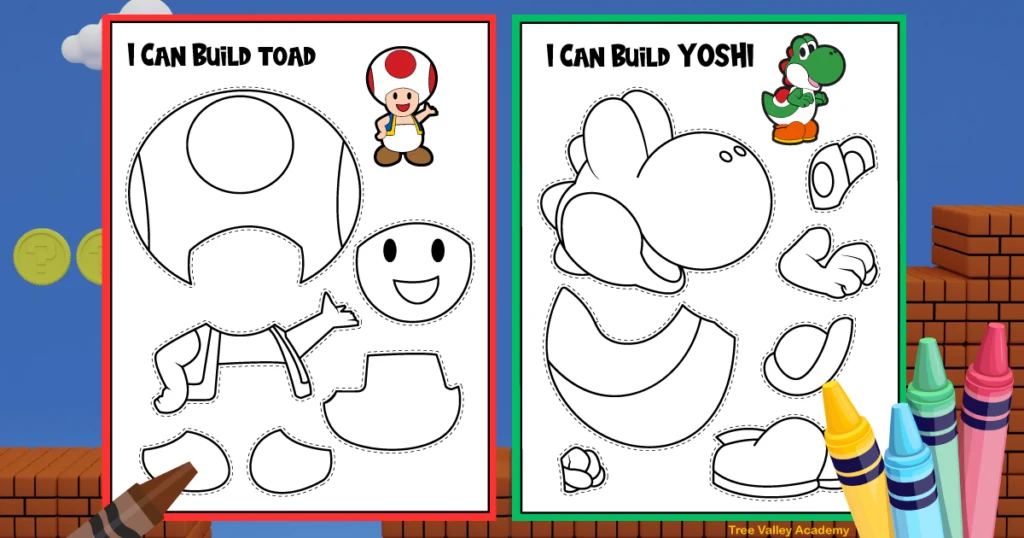 Printable Super Mario Coloring Sheets
You can download all 10 Super Mario coloring pages below.
The free pdf is 20 pages. There are 2 versions of each page. The coloring page version and a craft only fully colored version.
More Fun Super Mario Activities
Looking for more Super Mario activities? Try one of these Super Mario Perler bead patterns.