You'll find the 1st grade spelling words for weeks 21-24 below. As well as spelling worksheets that go along with the words for each of those weeks.
And if a phonics blend has not been seen in previous weeks, it will be mentioned in the week it is first seen.
This will give you a roadmap of a good time to teach these blends to your children.
Word Shape Puzzles
You also have the option to print out a weekly word shape puzzle to go along with each week's spelling words.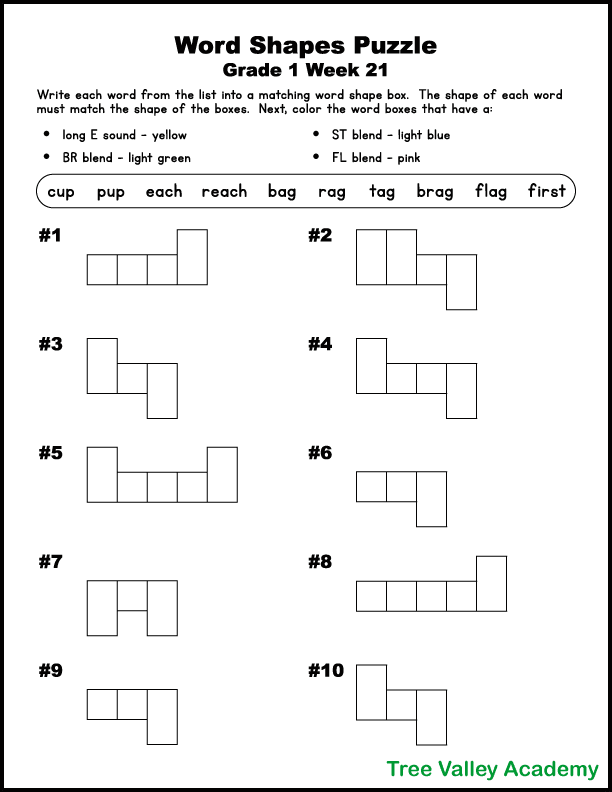 The grade 1 spelling worksheets will help kids work on learning the spelling of their weekly words.
They will first write each of the words in a word box that matches the shape of the word. After they will be given different phonics sounds to hunt for in their list of words.
The student will then be directed to color the word boxes that contain those given phonics sounds, a specific color.
The pdf of these free printable word shape puzzles can be downloaded at the bottom.
More First Grade Phonics Worksheets
Another fun worksheet to go along with these spelling weeks is this Groundhog Day color by rhyming word coloring page. It uses nearly all the words in weeks 21 and 24, and some of the words in weeks 22 and 23.
Grade 1 – Week 21
The spelling list for the week is:
cup
pup
each
reach
bag
rag
tag
brag
flag
first
Phonics Blend Introduced
This week the BR blend first appears in our 1st grade words this week. This would be a great week to highlight this phonics sound.
Grade 1 – Week 22
Here's the spelling list for week 22:
beg
leg
peg
big
dig
fig
pig
wig
water
other
Grade 1 – Week 23
The spelling words for week 23 are:
dog
fog
jog
log
dug
hug
jug
mug
rug
were
Grade 1 – Week 24
Here are the spelling words of week 24:
all
ball
call
fall
hall
tall
wall
small
called
long
Phonics Skills Introduced
This following phonics skills are new this week:
SM blend
NG digraph
suffix ED
Printable Grade 1 Word Shape Puzzles
You can download the free printable word shape puzzles that go along with the 1st grade spelling weeks 21-24.
The pdf includes an answer page to make things easier for teachers and homeschooling parents.
1st Grade Spelling Worksheets
Here are the links to get the word shape worksheets and spelling lists for the other grade 1 weeks:
And here is the link to go back to the master list of these first grade spelling words where you can download a .pdf of all 32 weeks.